Akshay Kumar's Jolly LLB2: A promising sequel to the 2013 courtroom comedy
SAN FRANCISCO (Diya TV) — 
Jolly LLB, a 2013 Hindi Courtroom Comedy-drama made a huge success at the box-office directed by Subhash Kapoor. And this 2016 spring we are going to have another tastefulness by this director who is coming up with Jolly LLB 2 starring the award winning Akshay Kumar which is all set to hit the theaters this Friday, 10th February.
The story line is another Courtroom-drama which is about a blunt, abrasive and yet oddly compassionate Advocate Jolly, who spends many years fighting petty cases. As annoying as it gets, Jolly does not make much of a living and decides to do something more and be well settled as a fully fledged lawyer who wants to see himself having his own office. Deciding this, Jolly moves with lots of hopes from his small town Kanpur to the city of Nawab's, Lucknow.
Having spent those year in chaos, Jolly is looks to jump into an opportunity that would come along his way, Once he gets a glimpse of such an opportunity Jolly decided to jump into it and make an innocent mistake with irreversible consequences which make him ready for a big flight with the ruthless advocate Mathur played by Annu Kapoor.
"The script is jam-packed with sarcastic humor and has a great script based on true incidents which plays as a lens to our society." said the Airlift actor Akshay Kumar in an interview. The film is all about a fully fledged package that has comedy, drama, romance and at the same time a social message conveying to the audience. Akshay Kumar further adds that," there is always a struggle between good and evil but this film is also very much about principles and morals. In particular, it is all about never compromising on those values for the sake of a quick buck".
We have always seen Akshay Kumar creating a franchise for movies, but have never seen him be a part for one. "There's always some expectations when coming into an existing franchise, especially when the first film was so appreciated. But I treat each script and film as a fresh project, regardless of whether or not they are existing franchises or not", added Akshay Kumar.
Although having a clearance from the Central Board of Film Certification- the Bombay High Court on Monday ruled that Jolly LLB 2 can be screened only after the four controversial shots in the film are removed. The said four scenes were – a shot where a scared judge is hiding behind the chair, another where a shoe is hurled, a scene with objectionable signalling and dialogues in an argument scene.
Furthermore, the producers have accepted the court order for the four cuts in Jolly LLB. Looks like the movie is all set for a smooth release this Spring.
"I think the audiences will be leaving the theaters feeling entertained and hopefully inspired"
Time to take a glance Jolly, check out the official Trailer for Jolly LLB 2. Watch the film and leave us your comments regarding this courtroom comedy.
https://www.youtube.com/watch?v=MRD8q5LpJ-I
One-on-One with Prime Minister Modi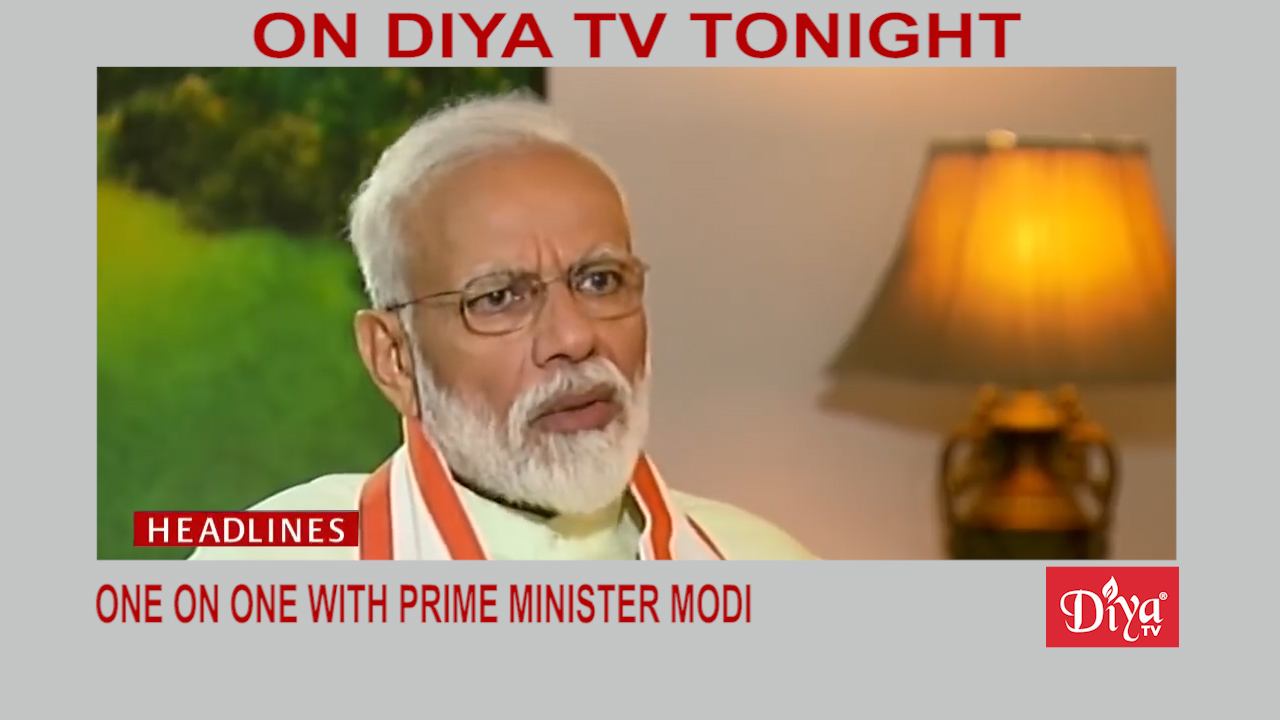 NEW DELHI (Diya TV) — In a rare sit-down interview in the middle of an election, Indian Prime Minister Narendra Modi discusses his first term and what he plans to accomplish if he is elected to a second term. Watch the full interview tonight on a special Diya TV Dialogue at 7 pm.

Two U.S. Senators are urging more negotiations with India over a Trump administration plan to end preferential imports because it could raise costs for American consumers.

Meanwhile, India purchased a missile system from Russia. Indian Defense Minister Nirmala Sitharaman is hopeful the deal will avoid sanctions and scrutiny from the U.S.

Thiru Vignarajah a former federal prosecutor, who also once served as deputy Attorney General in the state of Maryland, announced he is running for mayor of Baltimore as a Democrat.

And our entertainment reporter, Kari Lane will take you behind the scenes at the Indian Film Festival of Los Angeles, an event proudly sponsored by Diya TV, full of some of the brightest stars you will soon see on the silver screen.

Ravi Kapur & Alejandro Quintana contributed to this report.

Bollywood actress Tabu honored at 2019 IFFLA Opening Night
LOS ANGELES (Diya TV) — The 17th annual Indian Film Festival of Los Angeles (IFFLA) is officially underway, kicking off the festivities last night at the Ahrya Fine Arts Theatre in Beverly Hills with a tribute to the renowned Bollywood actress Tabu.
Christina Marouda, Founder and Executive Director of IFFLA, introduced Tabu's notable accomplishments. "Her work and personality embody everything that IFFLA is about" Marouda said "being fearless, versatile, independent in spirit, unwilling to compromise, brilliant in the range of her performances, and simply beautiful. With half of the festival's 2019 line-up directed by female filmmakers, this [year's IFFLA] couldn't be a stronger celebration of women in Indian cinema."
The audience was treated to a moderated interview with Tabu in which she discussed her interest in flawed and immoral characters, as well as how she has enjoyed combining a career of commercial success with one of artistic reinvention.
The interview was followed by a screening of Tabu's most recent film Andhadhun, directed by Sriram Raghavan and co-starring Ayushmann Khurrana. The black comedy is a triumph of chaos in all the right ways; weaving humor with horrible acts of violence, shifting storylines and ratcheting up the tension. Tabu brings her legendary intensity to every scene, flowing effortlessly from casual and comical to duplicitous and menacing. She is a villain in a story with no true hero, allowing her to flex her most manipulative muscles.
IFFLA is unabashedly confronting diversity in Hollywood, not as a trend, but as a mission. Not only featuring a curated set of film programs designed to support the growing interest in the Indian entertainment industry, but – just as importantly – supporting filmmakers of Indian and South Asian descent in career development and expanding opportunity as they establish themselves in various mainstream Hollywood systems.
This years programming includes Ronny Sen's directorial debut Cat Sticks, which screened at Slamdance, Ashish Pandey's Kashmir-set drama Nooreh, which won at Busan, family drama Love Goes Through Your Mind, directed by UCLA alum Ronak Shah and Safdar Rahman's Chippa. Additional programming also features a TV-centric panel titled 'Breaking in Brown: Making it to Series in TV's Golden Age' featuring the work of South Asian talent in broadcast and streaming.
The 17th annual Indian Film Festival of Los Angeles (IFFLA) is taking place April 11-14, 2019 at Regal L.A. LIVE in downtown Los Angeles. The Opening and Closing Night Galas will be at the Ahrya Fine Arts Theater in Beverly Hills. For tickets and information on programming visit https://www.indianfilmfestival.org
Diya TV is a proud sponsor of the festival
Homeland Security Secretary Nielsen resigns
WASHINGTON, DC (Diya TV) — Kirstjen Nielsen, the US Homeland Security Secretary, is stepping down over major differences with the administration on how to implement President Trump's immigration policies.

Meanwhile, President Trump continues to campaign around the nation to make the case for his re-election in 2020. Over the weekend, he told a Las Vegas crowd India is charging 100% tariffs to the U.S. on many things and he wants to reciprocate. He added the Senate is not doing enough to change what he calls "stupid trade."

The South Asian Bar Association's Northern California chapter held their annual fundraising gala, a chance for judges, attorneys and the next generation to network and honor their peers.

The NBA Champion Golden State Warriors are moving to San Francisco in the fall, so they held their final Bollywood Night in Oakland. We'll take you behind the scenes and introduce you to a member of the Warriors Dance Team that choreographed an epic Bollywood dance.

And Ravi Ahuja, the former CFO of Fox Networks, is now Walt Disney Television's CFO and president of business operations.

Ravi Kapur & Alejandro Quintana contributed to this report.