Dropcam Cofounder Aamir Virani joins Felicis Ventures

SAN FRANCISCO (Diya TV) — Last week, Dropcam co-founder Aamir Virani joined Felicis Ventures while the company's other co-founder got hired at Apple.
Virani, who left Nest in 2015 after its acquisition of Dropcam, explained his departure by saying, "I wasn't really a big company person. I just don't think that mentality is right for me. I like trying to figure out how to make something useful for customers, then figuring out how to create a business that will ensure it survives."
Google and Nest acquired Dropcam in 2014 for $555 million, and unlike Virani, who referred to Google as one of the world's greatest companies, Duffy went public with his regrets over the sale of the company he fostered.
That attitude largely explains why Virani, for the last year or so, has chosen to do a limited number of angel investing and to advise a small group of startups, many of them from his personal network of contacts he made while attending Rice and Stanford University.
He's been focused on companies such as Luma, an Atlanta-based company that makes slick-looking WiFi routers; Petasense, a San Jose-based company whose sensors help facilitate predictive maintenance on machinery; and Loop, a San Francisco-based company whose tablet-like device helps families organize their media, as well as communicate.
When it comes to his collaborations with Felicis, Virani says he's most interested in "data centric products and services, hardware, software, cloud services — most of it seems like it's focused on the connected home and workplace."
Harvard to host 17th annual India Conference this February
CAMBRIDGE, Mass. (Diya TV) — For the 17th year in a row, the graduate students at Harvard University will host an India Conference. It will take place during the weekend of February 15-16, 2020. Two days of exciting discussions through panels, mixers and networking will fill the halls of the Harvard Business School and Kennedy School of Government.
The theme for this year's conference is Foresight 20/20 – a look at what to expect from India in 2020 and beyond. As one of the largest student led conferences in the USA, the Harvard India conference attracts the biggest headliners from every field – from politics, business, entertainment & the arts. And this year is no different.
With more than 100 speakers and 1000 attendees, the conference promises to have something for everyone. This year's biggest draw from the entertainment genre is veteran Bollywood actor and self proclaimed ambassador to India, Anupam Kher. Kher has a long standing list of accolades within the film industry. In addition to his acting roles, he has been a producer, director and teacher at his own acting school. Most recently he played the role of Dr. Vijay Kapur on NBC's primetime drama 'New Amsterdam'.
Some other notable speakers this year include founder of the India Today Group, Aroon Purie, Indian Olympic athelete Dutee Chand, comedian and actor, Vir Das, partner at Softbanks' Vision Fund Lydia Jett & politician and India's ruling party (BJP)'s sherpa to the G20, Suresh Prabhu.
The harsh winter in Harvard doesn't seem slow down or dull these brilliant minds in any way. The India Conference at Harvard continues to retain its standing as the conference of choice for deliberating issues ranging from technology, media, politics and eduction to creating solutions for India's path towards global leadership. The event features brainstorming sessions and sincere discussions on the very real and large scale problems that are uniquely Indian.
Diya TV is a media sponsor to the event and will be on-site covering conference. To receive a 20% discount use code RDAY20 here and to know more about the conference or speakers, head to the IndiaConference.com
Indian Ambassador, Shringla speaks to U.S. Congress about Kashmir
WASHINGTON (Diya TV) — Indian Ambassador to the U.S. Harsh Shringla met with members of Congress at a private roundtable briefing, hosted by Southern California Congressman Brad Sherman. Sherman, who has been a supporter of India, took to Twitter recently to share his concerns about Kashmir and said serious questions about Kashmir were asked at the briefing.
President Trump is being urged to fix the H1-B visa process and do away with country-specific limits, with the latest effort for reform being spearheaded by 60 U.S. business school deans and CEO's.
In an earthquake, seconds matter. So on the anniversary of the deadly 1989 Loma Prieta earthquake that rocked Northern California, state officials announced the launch of America's first statewide earthquake early warning system.
Tabla Maestro Zakir Hussain will be coming to Boston next month to perform at the Berklee India Exchange, where he will also be conferred with an honorary doctorate by the esteemed music school. A Zakir Hussain Scholarship at Berklee is also being established.

And we have incredible video of three kids from India rescuing their dog from a snake that's equal parts courageous and nuts.
Ravi Kapur contributed to this report.
Federal Court rules Trump must turn over tax returns | Diya TV News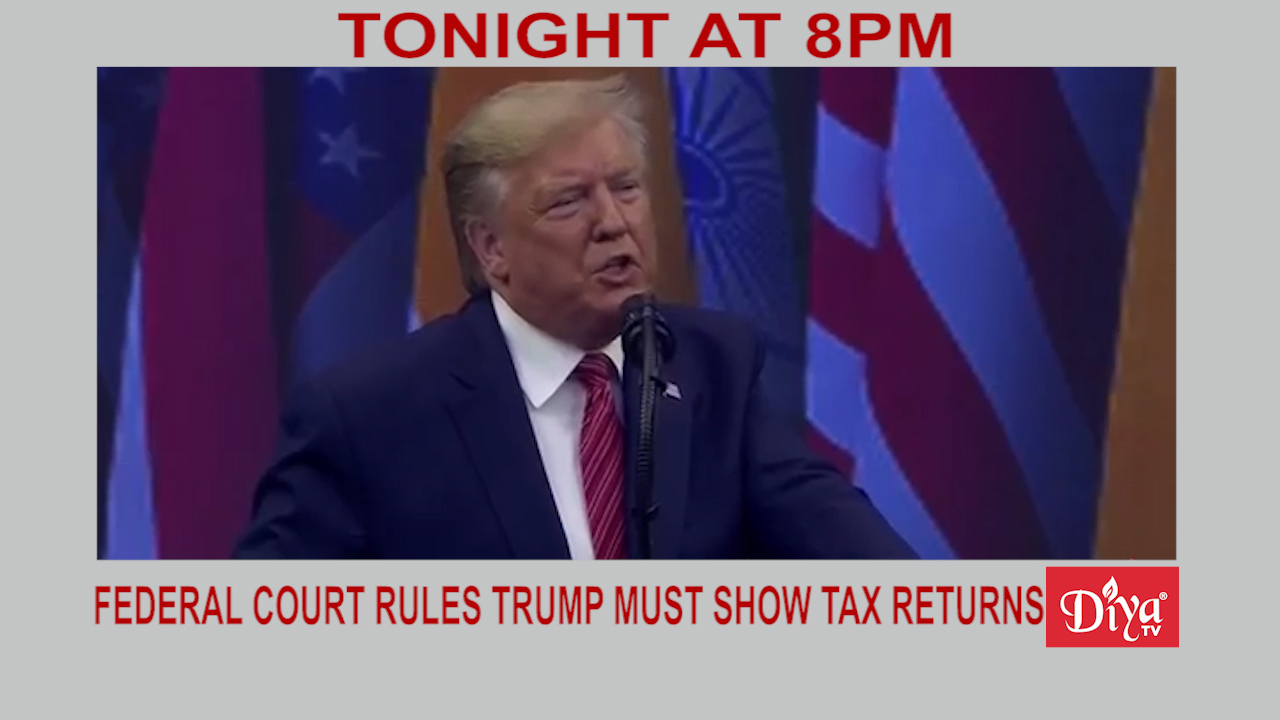 NEW YORK (Diya TV) — A federal judge ruled President Trump must turn over eight years of his personal and corporate tax returns to Manhattan prosecutors, striking down the President's argument that a sitting president cannot be criminally investigated. The ruling was quickly appealed and this case could end up in the Supreme Court to answer the constitutional question of whether presidents can be charged with a crime.
Meanwhile, the President celebrated a victory by FCC Chairman Ajit Pai, as a federal appellate court upheld most of the FCC's repeal of net neutrality. It also ruled the FCC cannot preempt state net neutrality laws, meaning the rules of the road in states like California remain in place.
The U.S. House Foreign Affairs Committee announced their Asia-Pacific and Non-Proliferation Subcommittee will be holding a hearing asking State Department officials and human rights activists to chime in on Human Rights in Kashmir, the Tamils of Sri Lanka, Muslims in Assam and the human rights situation in Pakistan, which includes the Sindh Province.
Lockheed Martin announced they will build F-16 wings exclusively in India, helping in integrating Indian industry into the $165 billion fighter aircraft market.
Ravi Kapur contributed to this report.