Sundar Pichai and Sergey Brin lead Google protest against immigration ban
MOUNTAIN VIEW, Calif. (Diya TV) — On a day their homepage featured the illustrated likeness of Fred Korematsu, Google employees gathered on their campuses around the country to speak out against immigration policies of the new federal administration. They used the hashtag "#NoBanNoWall."
Using the hashtag "NoBanNoWall", large crowds assembled at the company's headquarters in Mountain View, California, as well as at their various offices around the world holding signs which read, "Ban fascists, not religions," and "Free hugs for an Iranian." Those in attendance in Mountain View said Google chief executive Sundar Pichai and co-founder Sergey Brin both spoke, and Brin expressed gratitude for being admitted to the United States from the Soviet Union during the Cold War.
#GooglersUnite Sundar and Sergey addressing the crowd. pic.twitter.com/jY0vOi0ye4

— William Rucklidge (@wjrucklidge) January 30, 2017
The demonstrations were organized by Google employees, and more than 2,000 attended the Mountain View protest, according to those in attendance.
It came in response to President Trump's executive order restricting travel from seven Muslim-majority nations and indefinitely banning Syrian refugees spurred protests over the weekend at airports around the country. Google has established a $4 million fund for the Immigrant Legal Resource Center, International Rescue Committee, UNHCR and American Civil Liberties Union, (one of the main organizations fighting the ban).
The keynote speaker at Google's Mountain View headquarters was Soufi Esmaeilzadeh, a product manager on Google Assistant, who was on a plane from San Francisco to Zurich when rumors began to leak that the executive order would be signed.
An Iranian-born Canadian citizen who has lived in the U.S. for the past 15 years, Esmaeilzadeh attended Brown University and Harvard Business School and had been working at Google for more than five years.
President Donald Trump has downplayed protests of the ban, tweeting Monday: "There is nothing nice about searching for terrorists before they can enter our country. This was a big part of my campaign. Study the world!" Google shares fell more than 2.5 percent on Monday.
Google employees posted tweets of the protests:
So proud to work at @Google, a company that 2x'd matching to ACLU, hosted a protest on campus, and sent its founder to #SFO. #NoBanNoWall pic.twitter.com/Is7plv6xFd

— Tarun Galagali (@tarunjg24) January 30, 2017
#NoBanNoWall protest at #Google. So proud to work here. pic.twitter.com/oVDbxipAxx

— Lan Haarmann (@lhaarmann) January 30, 2017
Googlers starting to gather at Google HQ for #NoBanNoWall protest pic.twitter.com/8kBvaVtk8E

— Isaac (@isaaccp) January 30, 2017
Federal Court rules Trump must turn over tax returns | Diya TV News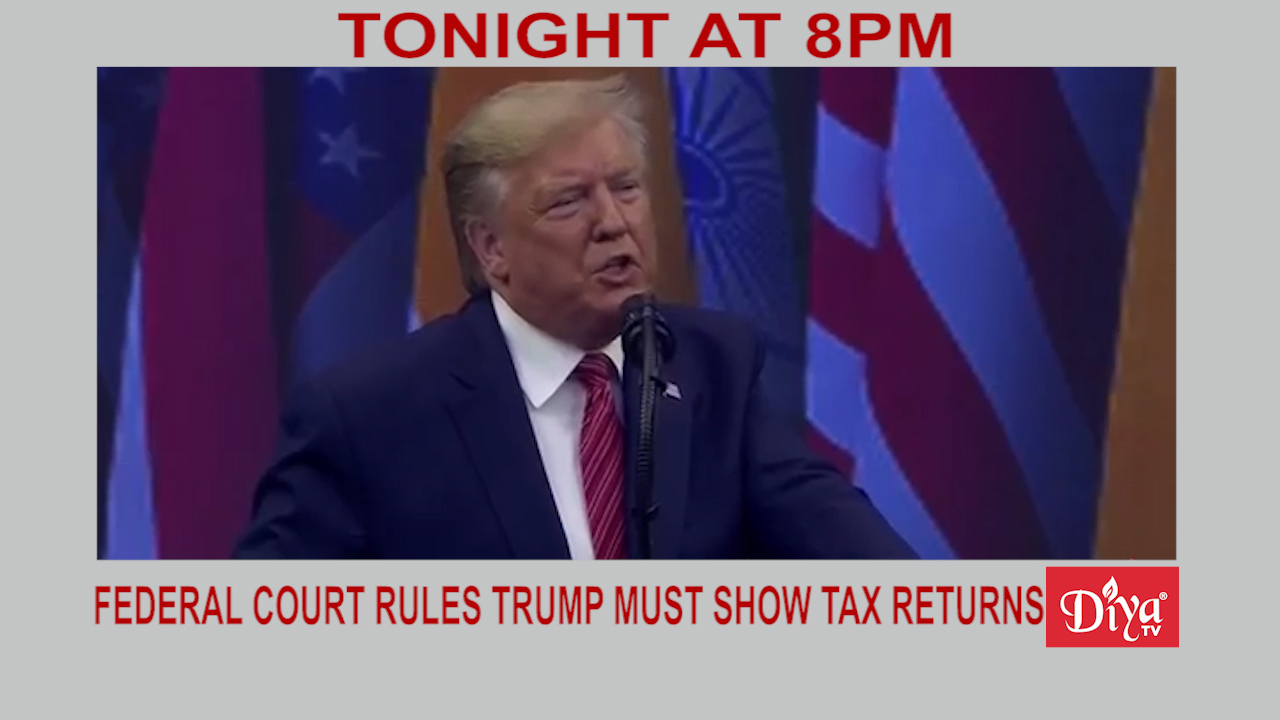 NEW YORK (Diya TV) — A federal judge ruled President Trump must turn over eight years of his personal and corporate tax returns to Manhattan prosecutors, striking down the President's argument that a sitting president cannot be criminally investigated. The ruling was quickly appealed and this case could end up in the Supreme Court to answer the constitutional question of whether presidents can be charged with a crime.
Meanwhile, the President celebrated a victory by FCC Chairman Ajit Pai, as a federal appellate court upheld most of the FCC's repeal of net neutrality. It also ruled the FCC cannot preempt state net neutrality laws, meaning the rules of the road in states like California remain in place.
The U.S. House Foreign Affairs Committee announced their Asia-Pacific and Non-Proliferation Subcommittee will be holding a hearing asking State Department officials and human rights activists to chime in on Human Rights in Kashmir, the Tamils of Sri Lanka, Muslims in Assam and the human rights situation in Pakistan, which includes the Sindh Province.
Lockheed Martin announced they will build F-16 wings exclusively in India, helping in integrating Indian industry into the $165 billion fighter aircraft market.
Ravi Kapur contributed to this report.
Tech CEO Pradyumna Samal convicted of large scale H1B fraud
SEATTLE (Diya TV) — Tech CEO Pradyumna Samal was convicted of large scale H1B fraud. The CEO of two companies that supplied workers to companies like Microsoft and Amazon plead guilty to using fake documents to get H1-B visas. The Indian national Samal was sentenced to seven years in prison for what federal authorities say "was the largest and most sophisticated H-1B visa fraud scheme we have prosecuted in Western Washington." 
Inder Singh, a Los Angeles-based Indian American community leader, has died. He was 86 years old. Singh was involved in the inception of a number of Indian American non-profit organizations in the effort to build a stronger relationship between the U.S. and India. Indian Ambassador to the U.S. Harsh Shringla said on Twitter that Singh's contributions have been "significant and his leadership will be greatly missed."
Indiaspora launched ChaloGive.org, their first online giving campaign that runs October 2nd to the 8th. The goal is to increase levels of giving by the Indian diaspora, inspired in part by the success of Giving Tuesday in the U.S. and Daan Utsav in India.
Ravi Kapur contributed to this report.
Lewandowski spars with Rep. Jayapal in impeachment probe
WASHINGTON (Diya TV) — Former Trump Campaign Manager Corey Lewandowski sparred with Rep. Jayapal among others, before a House Judiciary committee, taking on a barrage of questions from members of Congress who are trying to build a case towards the impeachment of President Trump.
100,000 petitions were delivered to the Gates Foundation in Seattle, asking them to rescind the award they plan on giving to Indian Prime Minister Modi for his clean India initiative because of his stance on Kashmir.
Federal investigators, including the FBI, are looking into potential misconduct by Mithril Capital, a venture capital firm co-founded by Peter Thiel and Ajay Royan. Royan has a 20 year relationship with Thiel and has raised in excess of $1 billion, $300 million of which came from Thiel. Some investors are frustrated Mithril is sitting on their money rather than investing in startups, while raking in as much as $30 million per year in management fees.
Hundreds of alums from the Indian Institute of Technology gathered in Southern California for their annual convention, featuring some of the brightest minds in technology.
Ravi Kapur contributed to this report.