Donald Trump Secures Electoral College Win
WASHINGTON (Diya TV) — Donald Trump will be the next president of the United States.
Not considered news since his Nov. 8, when he defeated Democratic nominee Hillary Clinton by collecting 306 electoral votes. This despite losing the popular vote by nearly three million.
On Monday, the result was ratified by the voters of the Electoral College, who gathered in state capitols across the United States to formally vote for president. The voting is still in progress, but by early evening, Trump surpassed the 270 required, according to the Associated Press. The news agency tracked voting from capitol to capitol. The result came despite the efforts of Trump opponents, who wrote letters to his electors trying to persuade them to change their vote.
Adding insult to injury, not only did that not happen, but more electors tried to defect Hillary Clinton Monday than from Trump, by a count of seven to two, as of Monday afternoon. Three Democratic electors chose to vote for Sen. Bernie Sanders instead of Clinton — one from Maine, one from Minnesota and one from Colorado. The electors' votes, however, were disallowed because of state rules binding them to the statewide popular vote winner.
The most tumult occurred in Washington state, where four Democrats broke ranks and rejected Clinton. Three voted for Colin Powell, marking the first electoral votes for an African-American Republican, and the first time in history a major party elector crossed the aisle and supported a candidate of the opposing major party. The fourth elector, Robert Satiacum, cast his ballot for Faith Spotted Eagle, a Native American environmental activist.
India, Pakistan spar over women's rights in Kashmir
NEW YORK (Diya TV) — At the United Nations, both India and Pakistan's representatives took shots at their counterpart over women's rights. Islamabad's outgoing envoy to the UN, Maleeha Lodhi, said the women in Jammu and Kashmir were suffering due to the communication blackout in the state. India's First Secretary to the UN Paulomi Tripathi said, without naming Pakistan, these "baseless statements" were ironic given the amount of honor killings that take place there annually.
Rajeev Majumdar is the new president of the Washington State Bar Association, becoming the first state bar president of South Asian descent in the United States.
For the first time, India entered the ranks of the top ten countries sending visitors to the United States, with tourists from India spending nearly $16 billion in the U.S. in 2018 alone.
And while the Kings and Pacers played two entertaining games in Mumbai, their legacy will include supporting five under-resourced schools in and around the region, outfitting them with Smart Classrooms, STEM training and new basketball courts.
Ravi Kapur contributed to this report.
Federal Court rules Trump must turn over tax returns | Diya TV News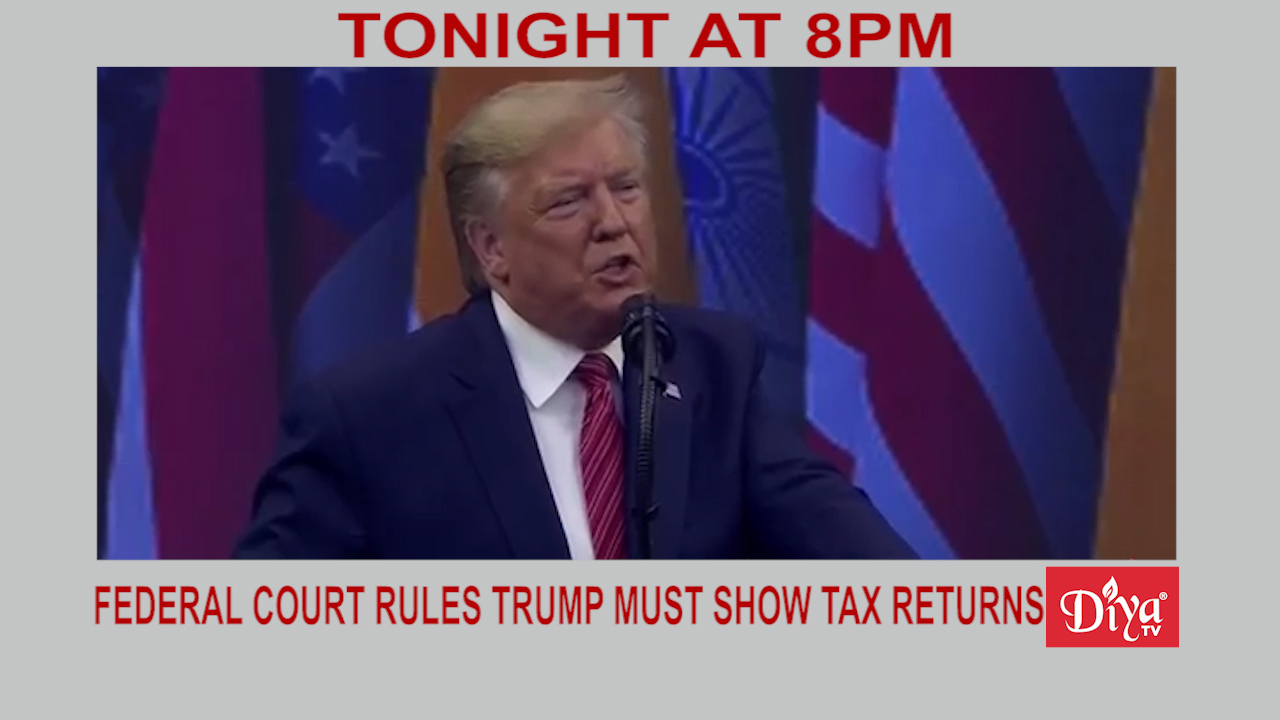 NEW YORK (Diya TV) — A federal judge ruled President Trump must turn over eight years of his personal and corporate tax returns to Manhattan prosecutors, striking down the President's argument that a sitting president cannot be criminally investigated. The ruling was quickly appealed and this case could end up in the Supreme Court to answer the constitutional question of whether presidents can be charged with a crime.
Meanwhile, the President celebrated a victory by FCC Chairman Ajit Pai, as a federal appellate court upheld most of the FCC's repeal of net neutrality. It also ruled the FCC cannot preempt state net neutrality laws, meaning the rules of the road in states like California remain in place.
The U.S. House Foreign Affairs Committee announced their Asia-Pacific and Non-Proliferation Subcommittee will be holding a hearing asking State Department officials and human rights activists to chime in on Human Rights in Kashmir, the Tamils of Sri Lanka, Muslims in Assam and the human rights situation in Pakistan, which includes the Sindh Province.
Lockheed Martin announced they will build F-16 wings exclusively in India, helping in integrating Indian industry into the $165 billion fighter aircraft market.
Ravi Kapur contributed to this report.
Gandhi 150th birth anniversary noted around the world
NEW DELHI (Diya TV) —  Celebrations for Mahatma Gandhi's 150th birth anniversary have been ongoing for the past year, but culminated with a ceremony in New Delhi featuring Prime Minister Modi and another in Washington at the Library of Congress. And France's government worked with the Indian Embassy there to issue a stamp in honor of his birth anniversary.
US Commerce Secretary Wilbur Ross and India's Commerce and Industry Minister Piyush Goyal are meeting this week to continue the US-India discussion on trade and investment.
Indiana Governor Eric Holcomb came to New Delhi to strengthen ties between the Hoosier State and India. Infosys has already made a large commitment there. Holcomb is part of a large delegation of Americans now heading Mumbai to take in the first-ever NBA preseason games in India featuring the Indiana Pacers and the Sacramento Kings.
Bollywood turned Hollywood actor Anupam Kher came to the Bay Area to keynote the Akshay Patra annual fundraising gala that helps feed children in India a hot meal during the school year.
Ravi Kapur contributed to this report.