John Glenn, Aviation Icon and former U.S. Senator, dies at 95
SAN FRANCISCO (Diya TV) — John Glenn's legend is otherworldly — he became the first American to orbit Earth, then became a national political figure for 24 years in the U.S. Senate. He died Thursday in Ohio. Glenn was 95.
Ohio State University announced his death. Glenn had recently been hospitalized at the university at the James Cancer Center, though Ohio State officials said at the time that admission there did not necessarily mean he had cancer. He had heart-valve replacement surgery in 2014 and a stroke around that time.
He had kept an office at the John Glenn College of Public Affairs, which he helped found, and also had a home in Columbus.
Then just 40 years old and serving as a test pilot for the Marines, Glenn in 1962 become just one of the seven original American astronauts. He climbed into Friendship 7, the tiny Mercury capsule atop an Atlas rocket rising from the ground in Cape Canaveral. The Cold War had long stoked fears of nuclear destruction, and the Russians were well ahead in the space race — Yuri A. Gagarin and Gherman S. Titov, Russian astronauts, had already orbited Earth the year before.
It was a short flight, just three orbits. But when Glenn was safely back, flashing the world a triumphant grin, new faith that the United States could indeed hold its own against the Soviet Union in the Cold War and might someday prevail emerged.
No flier since Lindbergh had received such a cheering welcome.
Glenn was invited to the White House by President John F. Kennedy and paraded up Broadway and across the land. A joint meeting of Congress stood and applauded vigorously as Glenn spoke at the Capitol.
Glenn was reluctant to talk about himself as a hero. "I figure I'm the same person who grew up in New Concord, Ohio, and went off through the years to participate in a lot of events of importance," he said in an interview years later. "What got a lot of attention, I think, was the tenuous times we thought we were living in back in the Cold War. I don't think it was about me. All this would have happened to anyone who happened to be selected for that flight."
After resigning from the astronaut corps in 1964 because he couldn't find a vacant space seat, Glenn entered the private sector as an executive. He ultimately landed in politics, serving four full terms as a Democratic senator from his home state of Ohio, as well as unsuccessfully running for presidential nomination in 1984.
However, 36 years after his Mercury flight and in the last months of his final senate term, Glenn made his return to space aboard the Space Shuttle Discovery. No matter how many pundits declared his return to space was a political move or waste of money, the yesteryear hero still brought out the crowds as he was launched back into orbit in 1998.
At age 77, he became the oldest person to go to space.
"John always had the right stuff," President Obama said in a statement on Thursday, "inspiring generations of scientists, engineers and astronauts who will take us to Mars and beyond — not just to visit, but to stay."
In his 1999 memoir, written with Nick Taylor, he admitted he was sorely disappointed when he was not the first astronaut originally tapped for a flight. Glenn was the most senior and articulate pilot on the staff, and had already attracted a large portion of the public's attention. He said that he had "worked and studied hard dedicating myself to the program" and that he thought he had a "good shot" at being first. In a letter to a NASA official, Glenn wrote, "I thought I might have been penalized for speaking out for what I thought was the good of the program."
As a senator, Glenn developed an expertise n weapons systems, nuclear proliferation issues and most legislation related to technology and bureaucratic reform. He generally took moderate positions on most issues, though in his last two terms his voting record became more liberal. He was an enthusiastic supporter of President Bill Clinton.
In recent years, honors continued to come his way: the Presidential Medal of Freedom, the Congressional Gold Medal and election to the American Academy of Arts and Sciences. The NASA Lewis Research Center in Cleveland was renamed the John H. Glenn Research Center.
In 2012, about a week before the 50th anniversary of the Friendship 7 flight, a reporter found the 90-year-old Mr. Glenn in full voice and clear mind, but regretting that he had sold his airplane the month before.
Nikki Haley wont run, if Trump runs in 2024
SOUTH CAROLINA (Diya TV) — Former US Ambassador to the United Nations and South Carolina Governor Nikki Haley says she will not make a run for the White House in 2024. But that's only if Donald Trump decides to enter the Presidential race. Haley continues to be mentioned as a potential candidate for the Oval Office, but the Indian American's public comments are being interpreted as an early endorsement for former President if Trump chooses to run again.
And more positive news for India's economy. The International Monetary Fund says it's projecting a 12 and half percent growth rate for the South Asian nation in 2021. That's even stronger than what's expected for China and America's economy this year.
India is going through a historic tech boom for unicorn start ups. These are the companies valued at more than a billion dollars. In a span of four days, the country saw 6 tech unicorns emerge onto the scene. Startups like Groww, Gutshup, API Holdings, Mohalla Tech, Meesho, and Cred all reached valuations of a billion dollars or more. And that's attracting some of the world's largest investors like Softbank and Tiger Global.
Ravi Kapur contributed to this report.
Indian American couple dead in apparent murder-suicide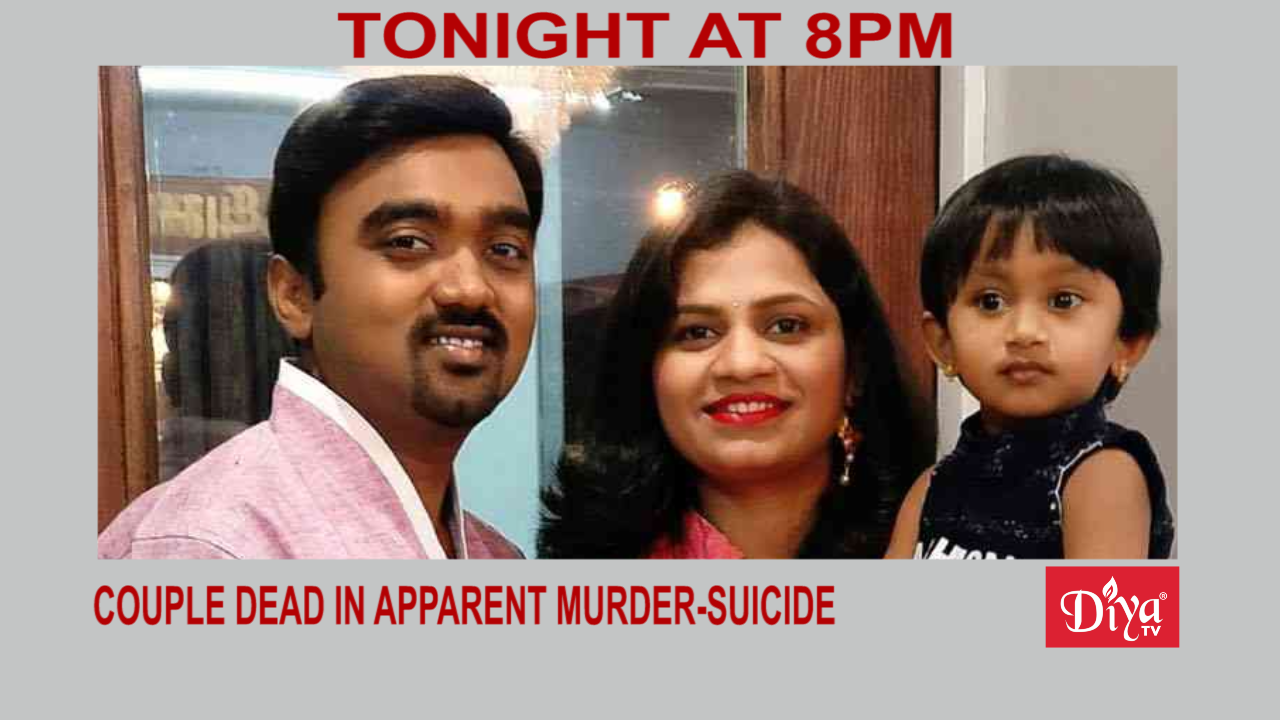 North Arlington, NEW JERSEY (Diya TV) — Authorities in New Jersey are investigating a possible murder-suicide, saying Balaji Rudrawar stabbed his wife Aarti to death. Both were found dead in their home with multiple stab wounds. Their young daughter was found unharmed inside. The motive remains unclear. The man's father told an India-based media outlet his daughter in law was 7 months pregnant.
In Indian waters, a US war ship sailed through India's Exclusive Economic Zone without asking for permission, a violation of that country's law. Both countries remain partners in the region. Sources with the Indian Navy say the move was more about sending a message to China.
As Special Presidential Envoy for Climate John Kerry wraps up his India trip,  he's taking to social media and personally thanking some of the leaders of that region including Prime Minister Narendra Modi of India and now Prime Minister Sheikh Hasina and Foreign Minister Dr. AK Abdul Momen of Bangladesh, saying all the countries involved are committed to address global warming and climate change. Kerry is raising awareness about this issue heading into a climate conference with world leaders later this month. 
Ravi Kapur contributed to this report.
Muslim advocates sue Facebook over not removing anti-Muslim hate speech
MENLO PARK, Calif. (Diya TV) — Frustrated with what it sees as a lack of progress, a group called Muslim advocates, along with law firm Gupta Wessler, is suing Facebook, claiming the social media giant does not consistently remove all hate speech, especially language that targets followers of Islam.  The group is calling out top executives like Mark Zuckerberg and Sheryl Sandberg, demanding the social network start taking anti-Muslim activity more seriously. A Facebook spokesperson says it regularly uses artificial intelligence to remove posts that violate its policies.
"Hugs are back." That's what US Surgeon General Vivek Murthy is saying after seeing an increase in Covid-19 vaccinations all across the nation. Murthy says more and more Americans are becoming comfortable getting vaccinated. And by April 19th, all adults will be eligible for the vaccine. The Indian American doctor says this trend is encouraging, but also says there is still lots of work that needs to be done about battling disinformation.
And a big blow to Indian filmmakers.  The Federal government is cutting the Film Certification Appellate Tribunal, which allowed filmmakers to appeal decisions made by the censors, which has the power and authority to ban certain movies for inappropriate content.  Instead, they will now have to go to lawyer up and go straight to court and fight if they disagree.
Ravi Kapur contributed to this report.