U.S. Naval Engineers unimpressed by India's aircraft carrier, INS Vikrant
NEW DELHI (Diya TV) — When America's top Naval engineers arrived in India to inspect the country's first locally made aircraft carrier they were expecting to be greeted by a near battle-ready ship that would be prepared to help sway China's growing presence in the India Ocean.
Instead, they discovered the carrier won't be operational for at least another decade, and a multitude of other shortcomings: no small missile system to defend itself, a limited ability to launch sorties and no defined strategy for how to use the ship in combat.
The findings alarmed U.S. officials who had hoped India could serve as a curb to China's growing presence in the surrounding waters, according to a report from the Wall Street Journal.
"China's navy will be the biggest in the world soon, and they're definitely eyeing the Indian Ocean with ports planned in Sri Lanka and Bangladesh," retired Admiral Arun Prakash, the former commander of India's navy, said in the report. "The Indian navy is concerned about this."
The inspection, which took place back in February in the port of Kochi, is part of the U.S.'s plan to share aircraft carrier technology with the country. Indian naval officials followed up with a tour of an American shipbuilding yard in Virginia and strategy briefings at the Pentagon in September, according to the Journal's report.
The United States and India are drawing closer and closer as military and political allies, the two nations have gone as far as participating in joint naval exercises with Japan. The U.S. has agreed to sell New Delhi everything from attack helicopters to artillery. Washington has approved proposals from Lockheed Martin and Boeing to build advanced jet fighters in India as well. And finally, in August, the two nations signed a military logistics-sharing accord.
Both Indian and American political officials have said publicly they hope the fostered growth of the relationship will continue to grow under the administration of President-elect Donald Trump, who as a candidate signaled taking a much tougher approach against China. After the U.S. election, the American Ambassador to India said the ties forged with India under President Barack Obama were "irreversible."
Experts worry New Delhi's insistence on building complex military gear largely from scratch, a legacy of its period of nonalignment, has led to severe delays in modernizing its carriers, jet fighters and nuclear submarines and limited its ability to fight.
The first homemade Indian carrier, the INS Vikrant, has fallen short of expectations. An Indian state audit, released in July, found serious faults in its design and construction, from gear boxes to jet launching systems and air conditioning units.
The shipyard building the carrier, which has already cost $3 billion, "had no previous experience of warship construction" and is five years behind schedule, the audit said. India's military sticks by its 2018 deadline.
Information from the Wall Street Journal contributed to this report.
Democrats meet for the third time to debate
HOUSTON (Diya TV) — Democrats met for the third time to debate, this time in Houston. With the field on stage featuring just 10 candidates, it was more rancorous than the first two clashes.
California Senator Kamala Harris launched 'South Asians for the People' in a video tweet to build support for her presidential bid from Indian Americans and other South Asians. Harris is the daughter of the late Indian American cancer researcher Shymala Gopalan.
Another Democratic contender, former Vice President Joe Biden, announced Indian American Amit Jani will serve as Asian American Pacific Islander national vote director. He's currently serving in New Jersey Governor Phil Murphy's administration.
Former Indian Prime Minister Manmohan Singh is levying criticism at the current officeholder, Narendra Modi and his government for focusing on "headline management" rather than acting to improve a slowing Indian economy.
And actress Felicity Huffman received 14 days in prison, a $30,000 fine and community service for paying to rig her daughter's SAT scores.
Ravi Kapur contributed to this report.
India may offer to cut import duties, for U.S. goods
NEW DELHI (Diya TV) — India has a road map in place to spend $130 billion over the next 5-7 years to modernize their armed forces and bolster their combat capabilities over their neighbors. The plan includes procurement of a slew of weapons, missiles, air defense systems, fighter jets, submarines and developing infrastructure for use of AI.
Meanwhile, India and Russia are increasing industrial cooperation and will create new technological and investment partnerships, especially in high-tech, with the goal to increase bilateral trade to $30 billion by 2025.
And to help Indian's space agency ISRO establish a communication link with Vikram, the moon lander lying motionless on the lunar surface, NASA is sending hello messages. NASA's Jet Propulsion lab beamed a radio frequency to Vikram to establish contact, but no luck so far.
Ravi Kapur contributed to this report.
India and Pakistan clash over Kashmir at UN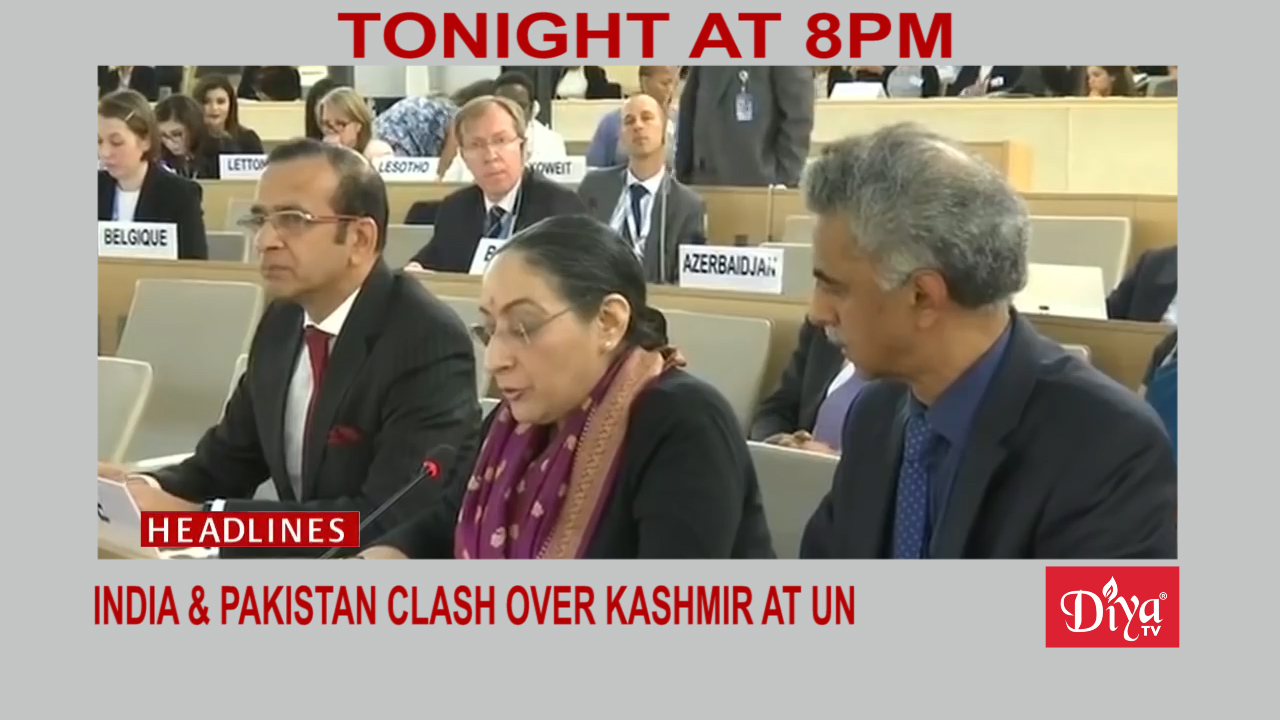 NEW YORK (Diya TV) — India and Pakistan shared their respective narratives over Kashmir before the United Nations. India said its Constitution "guaranteed fundamental rights to all our citizens without any distinction," while dismissing Pakistan as the "the epicentre of global terrorism." Pakistan urged the UN to set up a commission of inquiry into human rights violations, claiming India arrested more than 6,000 people without due process in Jammu and Kashmir.
Meanwhile, Seattle Congresswoman Pramila Jayapal issued her second letter to Secretary of State Mike Pompeo over Kashmir, expressing deep concern about reports of a humanitarian crisis in Jammu & Kashmir.
A NPR producer based in India, Furkan Khan, resigned after major social media backlash from an anti-Hindu tweet that stated "if Indians give up on Hinduism, they will also be solving most of their problems. What with all the piss drinking and dung worshipping." Khan has since apologized and deleted the tweet.
Ravi Kapur contributed to this report.