U.S. Naval Engineers unimpressed by India's aircraft carrier, INS Vikrant
NEW DELHI (Diya TV) — When America's top Naval engineers arrived in India to inspect the country's first locally made aircraft carrier they were expecting to be greeted by a near battle-ready ship that would be prepared to help sway China's growing presence in the India Ocean.
Instead, they discovered the carrier won't be operational for at least another decade, and a multitude of other shortcomings: no small missile system to defend itself, a limited ability to launch sorties and no defined strategy for how to use the ship in combat.
The findings alarmed U.S. officials who had hoped India could serve as a curb to China's growing presence in the surrounding waters, according to a report from the Wall Street Journal.
"China's navy will be the biggest in the world soon, and they're definitely eyeing the Indian Ocean with ports planned in Sri Lanka and Bangladesh," retired Admiral Arun Prakash, the former commander of India's navy, said in the report. "The Indian navy is concerned about this."
The inspection, which took place back in February in the port of Kochi, is part of the U.S.'s plan to share aircraft carrier technology with the country. Indian naval officials followed up with a tour of an American shipbuilding yard in Virginia and strategy briefings at the Pentagon in September, according to the Journal's report.
The United States and India are drawing closer and closer as military and political allies, the two nations have gone as far as participating in joint naval exercises with Japan. The U.S. has agreed to sell New Delhi everything from attack helicopters to artillery. Washington has approved proposals from Lockheed Martin and Boeing to build advanced jet fighters in India as well. And finally, in August, the two nations signed a military logistics-sharing accord.
Both Indian and American political officials have said publicly they hope the fostered growth of the relationship will continue to grow under the administration of President-elect Donald Trump, who as a candidate signaled taking a much tougher approach against China. After the U.S. election, the American Ambassador to India said the ties forged with India under President Barack Obama were "irreversible."
Experts worry New Delhi's insistence on building complex military gear largely from scratch, a legacy of its period of nonalignment, has led to severe delays in modernizing its carriers, jet fighters and nuclear submarines and limited its ability to fight.
The first homemade Indian carrier, the INS Vikrant, has fallen short of expectations. An Indian state audit, released in July, found serious faults in its design and construction, from gear boxes to jet launching systems and air conditioning units.
The shipyard building the carrier, which has already cost $3 billion, "had no previous experience of warship construction" and is five years behind schedule, the audit said. India's military sticks by its 2018 deadline.
Information from the Wall Street Journal contributed to this report.
India's Republic Day celebrated around the world
NEW DELHI (Diya TV) — India held massive celebrations for Republic Day, a day to mark the signing of the Indian Constitution in 1950, featuring floats and a military parade. The revelry extended to the U.S. as well, where Indian Americans also took part in events held by Indian consulates, like this gathering in San Francisco.
Those against the Indian government's new Citizenship Law took the occasion of Republic Day to demonstrate, the largest gathering of which was in Washington, DC, where hundreds of people took to the streets.
President Trump's impeachment trial continued, with his defense team deeming the House Articles of Impeachment as an abuse of the Constitution and a partisan game. Meanwhile, Trump's former National Security Advisor John Bolton revealed in his new book Trump withheld aid to Ukraine until the country would investigate his political opponents, Joe and Hunter Biden. This revelation has Democrats demanding Bolton testify.
And retired Los Angeles Lakers legend Kobe Bryant died tragically in a helicopter crash in Southern California. He was only 41, losing his life alongside 8 others including his teenage daughter.
Ravi Kapur contributed to this report.
Indian Americans now 2nd largest immigrant group in the US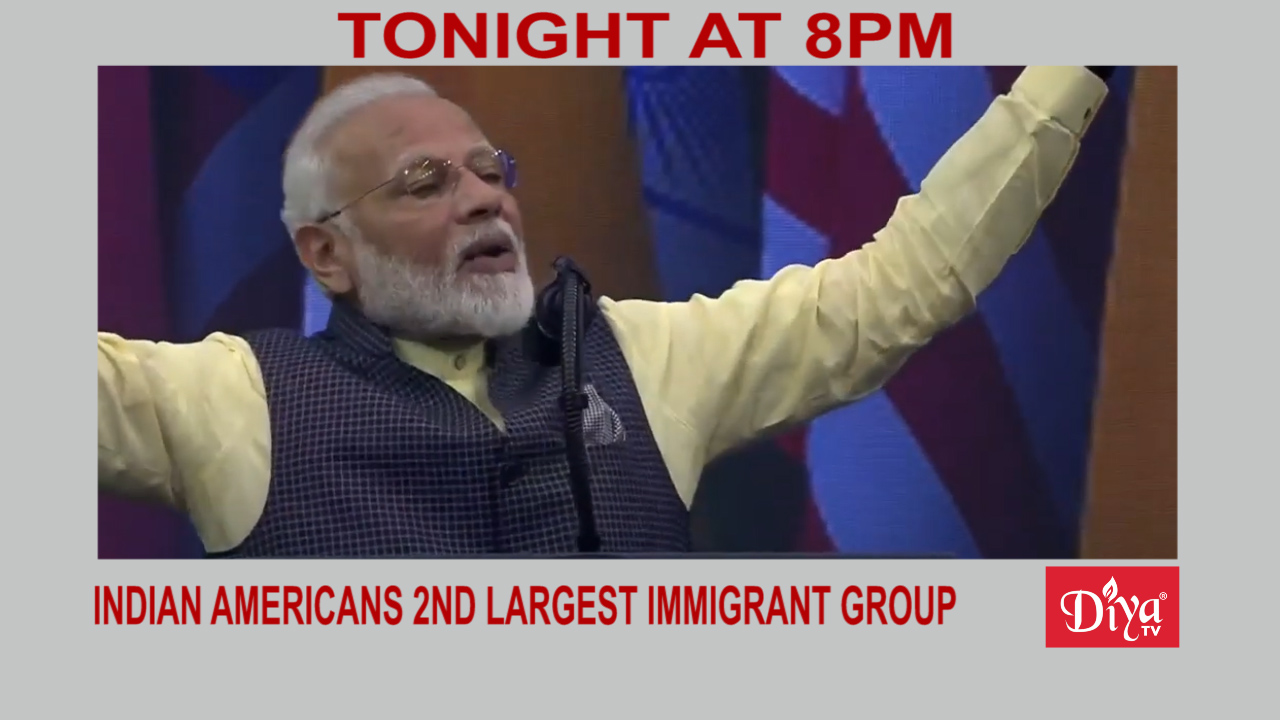 WASHINGTON (Diya TV)  — New data released indicates Indian Americans are now the second largest immigrant group conferred with American citizenship, behind only the Mexican community. Individuals born in India made up 6.9% of the total number of new American citizens, reflecting a rise of 2.7% over the previous year.
Democrats made their final opening argument on the fourth day of President Trump's impeachment trial. A new recording played before the Senate demonstrated the President wanted former U.S. Ambassador to Ukraine Marie Yovanovitch fired, saying on tape: "Get rid of her! Get her out tomorrow. I don't care. Get her out tomorrow. Take her out. Okay? Do it."
The Pentagon says 34 American troops have brain injuries from the missile strike launched by Iran in retaliation for the killing of Qasem Soleimani.
More than 800 people have been diagnosed with the Coronavirus, the ailment that began in China and is spreading around the globe. At least 26 people are dead. Hospitals in China are overwhelmed with patients. The disease has reached Vietnam, Singapore, Japan, South Korea, Taiwan, Thailand and the U.S.
Pharma exec John Kapoor gets 66 month prison sentence
BOSTON (Diya TV)  — Former billionaire CEO John Kapoor was sentenced to 66 months in prison, the culmination of a criminal trial in Boston resulting in the first successful prosecution of a pharmaceutical executive tied to the opioid epidemic. The 76-year-old founder of Insys Therapeutics made the potent opioid painkiller Subsys.
Senators reconvened in the Capitol for the third day of President Trump's impeachment trial. House Democrats argued the president abused his power by pressuring Ukraine for his own personal gain, often playing video of Trump speaking publicly to make their point.
Pakistani Prime Minister Imran Khan at the World Economic Forum in Davos said Osama bin Laden was able to find refuge in Pakistan because groups like Al Qaeda were viewed as "heroes" rather than terrorists. In May 2011, bin Laden was killed by US Special Forces in Pakistan, near one of their military bases.
India is considering incentives to woo Apple and Samsung's suppliers to open factories in the country.
Ravi Kapur contributed to this report.