Ro Khanna defeats incumbent Mike Honda in Congressional race

FREMONT, Calif. (Diya TV) — Fremont attorney Ro Khanna, in his second battle with incumbent Mike Honda and in his third attempt at a congressional seat, has emerged victorious against the eight-term congressman.
Khanna jumped out to an early lead in the race almost immediately after the polls closed, early numbers showed him far out in front. Returns that came during the latter hours from Alameda and Santa Clara counties cemented the victory.
Honda spokesman Vedant Patel said late Tuesday the campaign was not yet prepared to concede the election, according to the Mercury News. Regardless, according to the report, Khanna campaign manager Michael Ambler said they are "confident that Ro will be the new Congressman."
Critics believed Honda had his work cut out for him after Khanna captured the party's nomination at their June state primary. The 75-year-old Honda has also been plagued by a House ethics investigation for more than a year, allegations of using taxpayer funds for campaign purposes have been levied against him.
Khanna told Diya TV during his campaign's victory celebration he was grateful for all the support he's received from his supporters, and was excited to get to work immediately.
At the time, the election between candidates Hillary Clinton and Donald Trump was yet to be decided. That won't stop him for working with either of the candidates though.
"Obviously I was for Hillary, but we've got to come together as a country," he said.
The contest in California's 17th Congressional District got even dirtier just days before Election Day — Mike Honda aired a TV ad portraying Khanna as a slimy Wall Street puppet. Khanna fired back his own ads, portraying Honda as tired and unethical.
When Khanna went up against Honda in 2014, more than 20 points divided the two in the primary, a gap that the challenger closed to less than 4 points by the general election.
Founder of Indiaspora, M.R. Rangaswami was elated as he spoke to Diya TV about the representation of Indian Americans in the House with Ami Bera, Raja Krishnamoorthi, Pramila Jayapal and Ro Khanna all emerging victorious.
"We are one percent of the population and now we are one percent of Congress!", he said.
Indian Americans now 2nd largest immigrant group in the US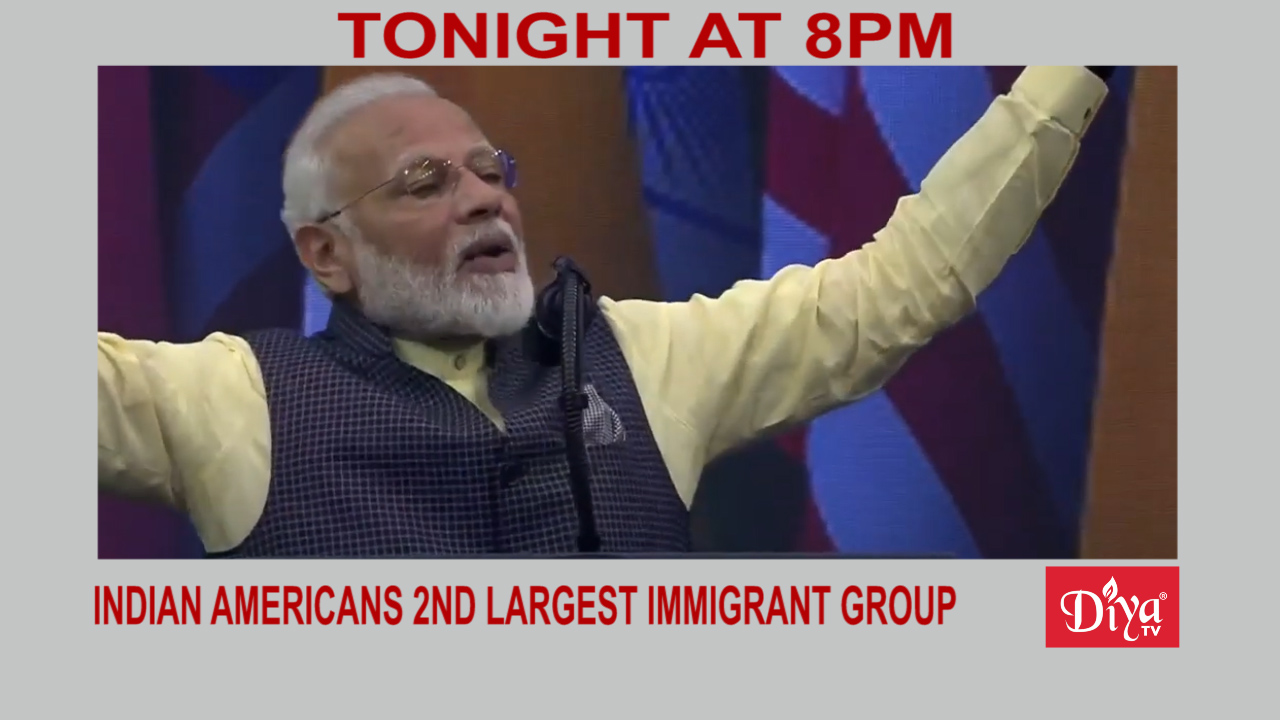 WASHINGTON (Diya TV)  — New data released indicates Indian Americans are now the second largest immigrant group conferred with American citizenship, behind only the Mexican community. Individuals born in India made up 6.9% of the total number of new American citizens, reflecting a rise of 2.7% over the previous year.
Democrats made their final opening argument on the fourth day of President Trump's impeachment trial. A new recording played before the Senate demonstrated the President wanted former U.S. Ambassador to Ukraine Marie Yovanovitch fired, saying on tape: "Get rid of her! Get her out tomorrow. I don't care. Get her out tomorrow. Take her out. Okay? Do it."
The Pentagon says 34 American troops have brain injuries from the missile strike launched by Iran in retaliation for the killing of Qasem Soleimani.
More than 800 people have been diagnosed with the Coronavirus, the ailment that began in China and is spreading around the globe. At least 26 people are dead. Hospitals in China are overwhelmed with patients. The disease has reached Vietnam, Singapore, Japan, South Korea, Taiwan, Thailand and the U.S.
Pharma exec John Kapoor gets 66 month prison sentence
BOSTON (Diya TV)  — Former billionaire CEO John Kapoor was sentenced to 66 months in prison, the culmination of a criminal trial in Boston resulting in the first successful prosecution of a pharmaceutical executive tied to the opioid epidemic. The 76-year-old founder of Insys Therapeutics made the potent opioid painkiller Subsys.
Senators reconvened in the Capitol for the third day of President Trump's impeachment trial. House Democrats argued the president abused his power by pressuring Ukraine for his own personal gain, often playing video of Trump speaking publicly to make their point.
Pakistani Prime Minister Imran Khan at the World Economic Forum in Davos said Osama bin Laden was able to find refuge in Pakistan because groups like Al Qaeda were viewed as "heroes" rather than terrorists. In May 2011, bin Laden was killed by US Special Forces in Pakistan, near one of their military bases.
India is considering incentives to woo Apple and Samsung's suppliers to open factories in the country.
Ravi Kapur contributed to this report.
Tulsi Gabbard sues Hillary Clinton for defamation
WASHINGTON (Diya TV)  — Congresswoman Tulsi Gabbard announced she is suing former First Lady Hillary Clinton for defamation. Gabbard was once Vice Chair of the Democratic Party, but stepped down when she decided to publicly endorse Senator Bernie Sanders for President in 2016. Gabbard says she's been smeared since making that decision by Clinton and her network of supporters.
The Republican-led Senate rejected all 11 Democratic-proposed amendments en route to approving the rules for the impeachment trial of President Trump. The war of words between the two sides got so nasty at one point, Supreme Court Chief Justice John Roberts asked them all to bite their tongues.
Bollywood actress Deepika Padukone was honored with a Crystal Award at the opening session of the World Economic Forum's 2020 annual meeting in Davos, Switzerland. 
The founder of The Live Love Laugh Foundation, Padukone was celebrated for leadership that inspires inclusive and sustainable change.
And for the first time, the Sikh community in the U.S. will be counted as a separate ethnic group in the 2020 US census.
Ravi Kapur contributed to this report.