President Obama endorses Kamala Harris & Raja Krishnamoorthy in video ads
SAN FRANCISCO (Diya TV) — President Barack Obama cut a fresh television ad for a pair of Indian-American political candidates with Election Day now less than one week away.
In a 30-second spot now running in California, Obama says California attorney general Kamala Harris knows "you got to be fearless against the special interests" and talks of how she fought big banks, transnational gangs and "predatory for-profit colleges — and won."
As senator, Harris "will be a fearless fighter for the people of California, every day," the president added.
Loretta Sanchez, who is contesting Harris for the Senate spot, finished in a well-beaten second to the Indian American in June's primary election. Sanchez slammed Obama's July endorsement of Harris, saying then that she had hoped "the leader of the Democratic Party would be focused on defeating Donald Trump and supporting Democratic Senate candidates against Republicans," rather than backing one Democrat against another.
She also suggested that Obama had endorsed Harris because both are black, only to quickly walk back the comments in the face of angry complaints from Democrats.
The president additionally recorded a commercial in support of Illinois businessman Raja Krishnamoorth, who is running for the state's 8th District congressional seat. In the ad, Obama describes Krishnamoorthi as a "good friend" who helped him "develop ideas for building an economy that works for everyone" when he ran for the U.S. Senate.
"When I ran for the U.S. Senate, Raja helped me develop ideas for building an economy that works for everyone. Now Raja's plans will help small businesses grow, raise wages, and help families pay for college. The polls are open now, so don't waste a minute. Vote Raja Krishnamoorthi for Congress," Obama said.
After emerging victorious in the state's Democratic primary, he's now squaring off against Republican Peter DiCianni in this month's general election for the seat.
Krishnamoorthi is making his second crack at being elected to the U.S. House of Representatives, which currently houses only one Indian American, Rep. Ami Bera from California.
Eight South Asian candidates run for San Ramon office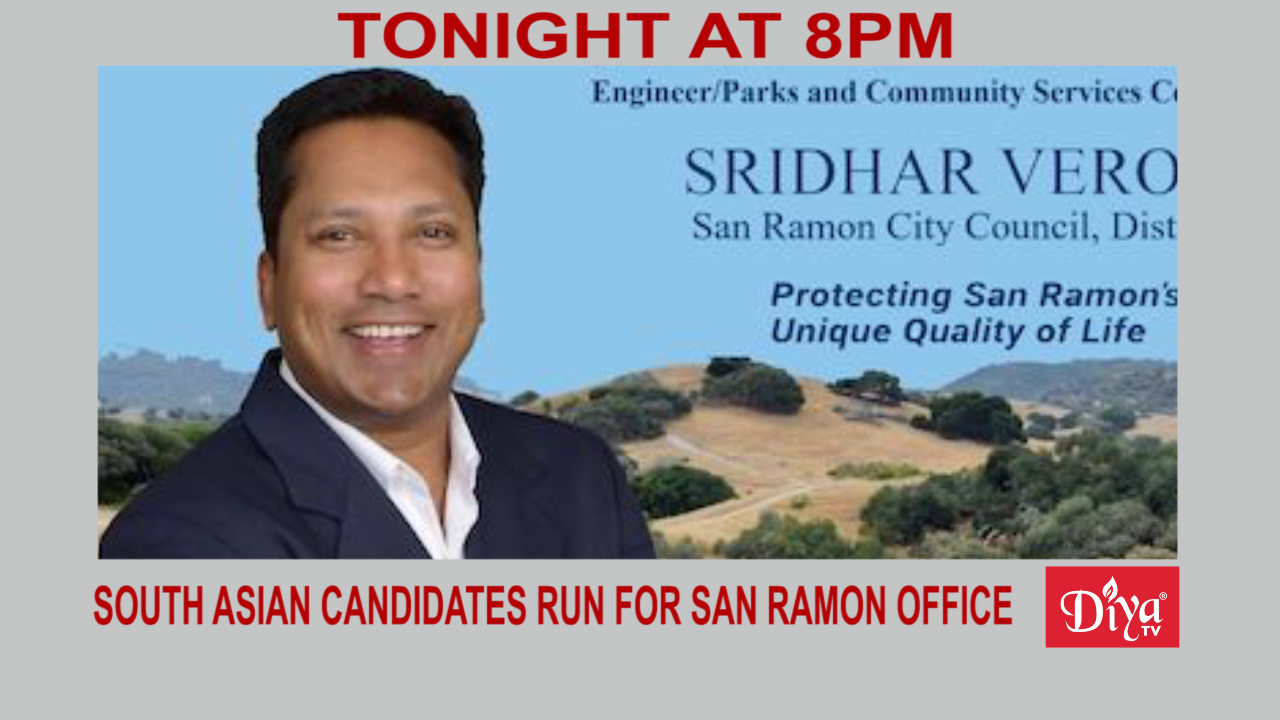 SAN RAMON, California (Diya TV) — We'll introduce you to the eight candidates of South Asian descent running for San Ramon's mayor and city council this year. Located in California's East Bay and renowned for great public schools, San Ramon has seen an explosion in its Indian American population over the last decade. Now community members want to give back and help the city map out its future.
President Trump flew to California to meet with Governor Gavin Newsom and other state officials to discuss the wildfires that have engulfed the state for weeks. Newsom and his team of scientists made it a point to tell Trump climate change is "exacerbating" the wildfires. Toxic air lingers on from California to Washington and new projections indicate the smoke will spread from the Northwest and head to the Midwest.
President Trump announced Indian American Judge Amul Thapar is on shortlist to be named to the Supreme Court if a vacancy happens during his term, joining the likes of Senators Ted Cruz, Josh Hawley and Tom Cotton.
Silicon Valley venture capital fund Sequoia Capital has invested in the most Indian startups that have become unicorns. Sequoia's Indian arm has invested in eight unicorns, including Byju's and Unacademy. SoftBank and Steadview Capital are second with seven unicorns each.
Ravi Kapur contributed to this report.
India and China agree on 5-point plan to deescalate
NEW DELHI (Diya TV) — During a lengthy meeting in Moscow between Indian External Affairs Minister S. Jaishankar and his Chinese counterpart Wang Yi, India and China agreed on a five-point plan to disengage along the Line of Actual Control (LAC), where Indian and Chinese troops have been locked in a nearly five month standoff. The five-point plan is at the direction of Prime Minister Modi and President Jinping to "not allow differences to become disputes."
As America commemorates the 19th anniversary of 9/11, there was some bipartisanship on display in New York when Democratic Presidential nominee Joe Biden and Vice President Mike Pence bumped elbows and spoke briefly ahead of a 9/11 memorial ceremony at the site of the World Trade Center attacks.
As wildfires rage on, toxic air stretched from Washington State to California. Local officials encouraged millions to stay at home to avoid breathing in ash falling from the sky and the poor air quality is likely to continue through the weekend.
Bela Bajaria has been named Netflix's Head of Global TV, a newly created position for the former network TV executive.
The Memphis Grizzlies announced Sonia Raman will join their team as an assistant coach. She spent the last 12 years as the women's head coach at MIT and will be the first ever Indian-American to coach in the NBA.
Ravi Kapur contributed to this report.
Community rallies behind widow of slain Mississippi hotelier
CLEVELAND, Mississippi (Diya TV) — Last month in Cleveland, Mississippi, hotel owner Yogesh Patel was beaten to death by a guest he had evicted. Police arrested Kentarrus Williams in connection with Patel's death. But his demise has left his widow, Sonam, in a challenging spot, trying to manage her grief and a hotel in an area she has no family. Now, community members have set up a GoFundMe page and a Facebook page dedicated to raising $60,000 for Sonam and they are halfway to their goal.
The 2020 fire season is setting records — and the numbers are hard to digest. In California, 3 million acres and counting have burned, featuring 6 of the top 20 largest wildfires in state history. At least eight people in California, Oregon and Washington have died from the latest wildfires and Oregon's governor believes the death and destruction toll will just get worse.
The United States Senate voted unanimously to confirm Diane Gujarati as the newest district judge in the Eastern District of New York. Gujarati is now the first Article III judge of South Asian descent in the state of New York.
Ravi Kapur contributed to this report.