Hoover Institute poll predicts Clinton over Trump in California
SAN FRANCISCO (Diya TV) — With the presidential election now less than one week away, a new poll conducted by Stanford University's Hoover Institution shows Democratic nominee Hillary Clinton capturing California's 55 electoral votes by defeating Republican nominee Donald Trump.
Hoover Institution's Golden State poll, which was administered by the survey research firm YouGov and designed in conjunction with Stanford University's Bill Lane Center for the American West, gives Clinton a 54 to 30 percent lead.
"The question with Donald Trump isn't whether he loses in California, it's how low does he go," said Hoover Institution research fellow Bill Whalen. "If he finishes below 35 percent that puts Republicans down the ticket in competitive congressional races in serious jeopardy."
If the prediction runs true to form, Trump's shortcoming would represent the poorest showing from a Republican in California in the post-Reagan era, even worse than the 1992 election when Ross Perot siphoned off voters from George H. W. Bush and left the Republican nominee with just 33 percent of the vote.
The survey was conducted between Oct. 4 and 14, and featured 1,250 likely voters in the upcoming general election in California. The full results of the survey, which has a margin of error of +/-3.28 percent for the full weighted sample, can be found here.
The cornerstones of Clinton's support in California are millennials, minorities, women and independents.
According to the survey, among voters aged 18 to 29, Clinton leads 64 to 18 percent. She holds a 63 to 24 percent advantage among Hispanics and a 57 to 22 percent edge among Asians. Women prefer Clinton to Trump by a 55 to 27 percent margin. So-called "party preferences" Californians favor Clinton 51 to 23 percent.
Trump received 76 percent support from California Republicans, which was 11 percent less than Clinton's Democratic support. The only demographics in which Trump leads are conservatives (65 to 21 percent) and voters 65 and older (47 to 43 percent), according to the survey.
"A big question going in was whether the young voters, many of whom supported Bernie Sanders in the primary, would vote for Clinton in November rather than abstain or vote for Jill Stein," said Bruce Cain, a Stanford University political scientist. Even in a state where Clinton was destined to win, they are strongly supporting Clinton (64 percent) mainly because more than any other age group they oppose Trump.
The poll also attempted to gauge the voting populous on the various propositions on this year's ballot.
One of those, Prop. 64, which would legalize the recreational use of marijuana, enjoys a 56 to 34 percent lead. Almost expectedly, support for the measure wanes as voters age. 69 percent of millennials are in support of the measure, according to the survey, while opposition doubled among voters 65 and older. Democratic support for the measure currently sits at 66 percent, according to those surveyed, while 59 percent of Republicans are opposed, it said. The measure is winning big amongst Independents, where 61 percent are in favor and only 27 percent are opposed.
BREAKING: Supreme Court Justice Ruth Bader Ginsburg dies at 87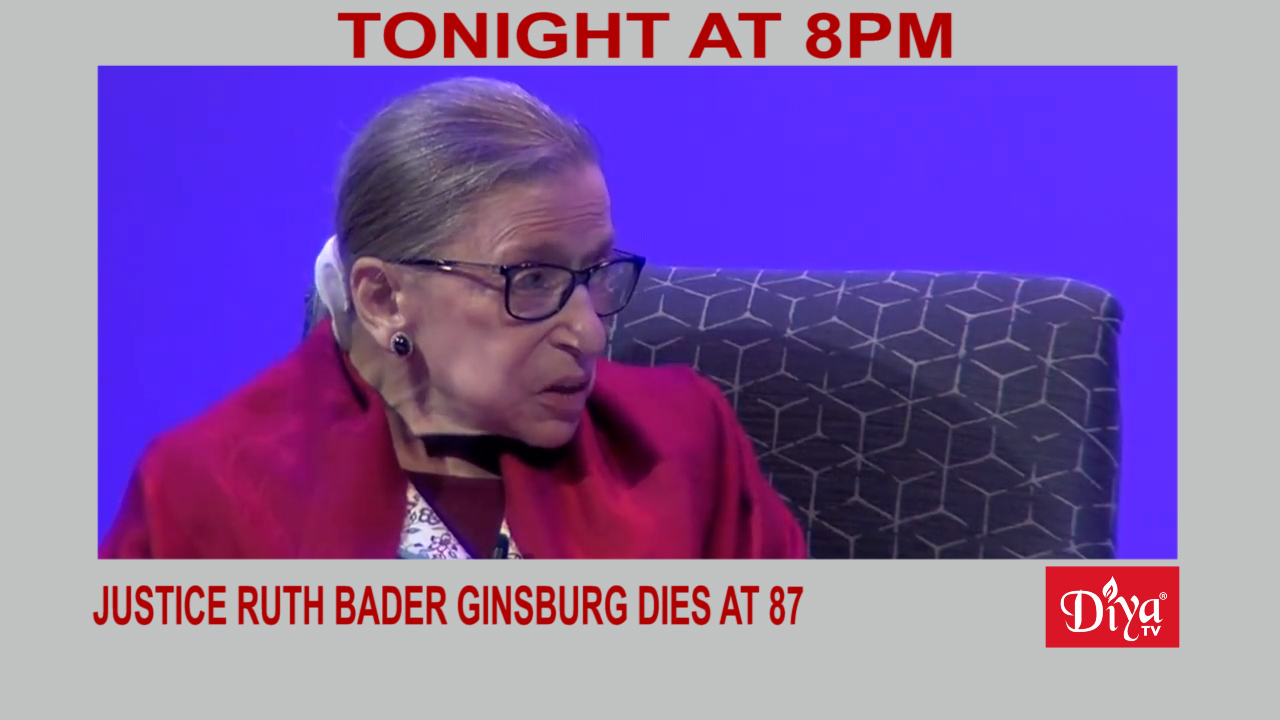 WASHINGTON (Diya TV) — Supreme Court Justice Ruth Bader Ginsburg has died at 87. She was the oldest sitting member of the court. Justice Ginsburg was only the second woman named to the Supreme Court. A cultural and feminist icon, Ginsburg was appointed to the Court by President Bill Clinton, and her passing will set off a showdown in the coming weeks before the November election. In a message left this week as her health waned, Ginsburg said "my most fervent wish is that I will not be replaced until a new president is installed." But Senate Majority Leader Mitch McConnell shortly after Ginsburg's death was announced said the Senate will conduct a vote to replace her and President Trump is expected to put forth a nominee to fill the seat in the coming days.
An Indian American doctor filed a federal lawsuit against the Aurora, Colorado police department after one of their police officers pointed a gun at him on his own property while he was trying to park his car. The incident was captured on video. The officer, Justin Henderson, has been suspended for 40 hours without pay and will be required to attend de-escalation training. 45 year old Dr. Paramjit Parmar, who is known in Aurora for his aid to refugees, believes race affected how he was treated and said Henderson's punishment is "terribly inadequate."
Ravi Kapur contributed to this report.
Recall efforts against Kshama Sawant moves forward
SEATTLE (Diya TV) — The recall effort against Seattle City Councilwoman Kshama Sawant can move forward after a ruling by a King County judge. Superior Court Judge Jim Rogers said four of the six accusations against Sawant are legitimate. They include misuse of city resources, misuse of her position by letting protesters into City Hall, relinquishing her duties of office to an outside political organization and leading a protest to Seattle Mayor Jenny Durkan's house despite her address being protected due to threats from her time as a U.S. Attorney. 
Now, the group of residents leading the recall must get about 11,000 valid signatures before the recall gets on the ballot. Sawant in response said this battle is just the latest attempt by corporate interests and Mayor Durkan to derail her efforts to reform the city and announced she will lead a grassroots campaign to fight the charges.
Meanwhile, Seattle Mayor Jenny Durkan is facing heat as well from U.S. Attorney General William Barr, who suggested prosecutors consider filing charges against her over the mass protests this summer that led some protesters to establish a police-free zone in downtown Seattle. In a tweet, former U.S. Attorney Preet Bharara offered his help to Durkan pro-bono.
Indian Prime Minister Modi turned 70 years old and received birthday wishes from around the globe, including from President Trump, who called Modi "a great leader and loyal friend."
Ravi Kapur contributed to this report.
Indiaspora & AAPI data survey Indian American voters
SAN FRANCISCO (Diya TV) — At a virtual event featuring the former CEO of the Democratic National Committee, Seema Nanda, Democratic Congressman Raja Krishnamoorthi and Republican Ohio State Representative Niraj Antani, non-profit Indiaspora teamed up with AAPI Data to reveal the growing political power of the Indian American diaspora. The joint report says 66% of Indian Americans currently favor Vice President Biden, and 28% favor President Trump. The study shows an enormous rise in political engagement from the community. There are 1.8 million Indian Americans in the U.S. who are eligible voters and both sides of the aisle recognize the need to further engage Indian Americans, who AAPI Data notes is now the largest part of the Asian American community, surpassing Chinese Americans.
Eric Trump, President Trump's son, took part in an Indian Voices for Trump event in suburban Atlanta. It was an indoor rally with appropriate social distancing measures in place. Trump was on hand to win support from the community in a vital state that will be tightly contested this fall. Georgia, like North Carolina, Pennsylvania, Florida, Michigan and Texas are considered in play and have growing Indian American populations.
Ravi Kapur contributed to this report.