Naatak Theater Group recipient of $10,000 grant from Knight Foundation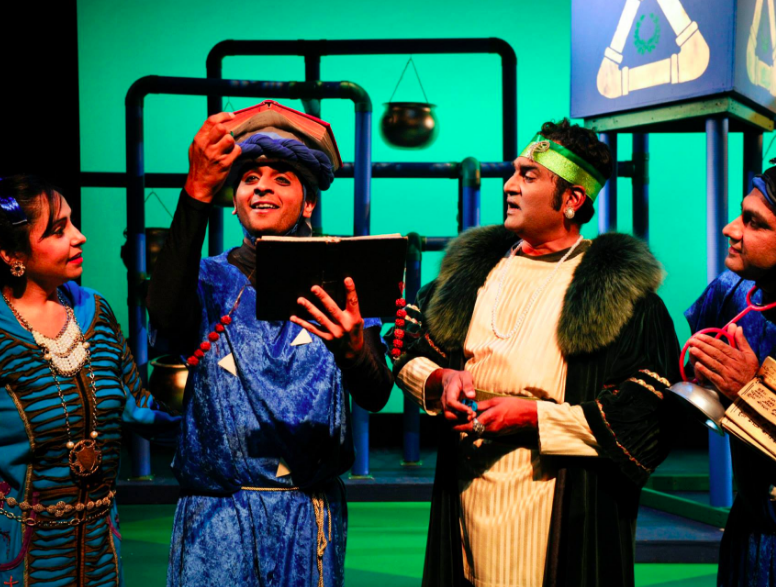 SAN FRANCISCO (Diya TV) — The Naatak theater company, one of the country's most prestigious Indian-American theater companies, has been awarded a $10,000 grant from the Knight Foundation for being a vocal voice in the community.
The John S. and James L. Knight Foundation announced Friday that it awarded 16 organizations in San Jose grants for a range of projects, including a play about Frankenstein that uses virtual reality and a new mobile radio station.
For the past six years, the foundation has awarded arts organizations in San Jose and seven other cities millions of dollars in grants for community projects.
"We work with grantees and discuss a number projects that we can narrow down to what they're excited about and what best fits our strategy," Amanda Thompson, the Knight Foundation's officer of the arts, said. This year, the Knight Foundation is dishing out $400,000 to arts organizations in San Jose, with many of the grants going to projects focused on San Jose's diverse communities.
Naatak will direct the grant towards a new production for 2017 that combines ideas from India's past and America's present, with an emphasis on how the two come together for the local Indian American community.
The main goal of the Knight Foundation, Thompson says, is to support local art, because "if you care about art, it makes you care about your community."
"We're not importing anything," Thompson said. "There's already a lot of great art that reflects the community.
FBI: Amity CEO Ridhima Singh, others accused of major healthcare fraud
SAN FRANCISCO (Diya TV) — The FBI says, CEO Ridhima Singh of Amity Home Health Care is among the 28 people, that include doctors and nurses, accused in the scheme. Federal prosecutors charged the Bay Area's largest home health care provider, Amity Home Health Care, with involvement in a kickback scheme that led to $115 million in tainted claims. The complaint said medical professionals received $8 million worth of bribes disguised as payroll, phony medical directorships, reimbursements, entertainment or gifts, in what the Department of Justice said was simply "a cash for patients scheme."
The man accused of stabbing and killing 62 year old Parmjit Singh in Tracy made his first court appearance. 21 year old Anthony Kreiter-Rhoads of Tracy pleaded not guilty of homicide during his arraignment. Police are still investigating the motive behind the crime.
And Priyanka Chopra & her husband Nick Jonas were named by People Magazine as their pick for 'Best Dressed of the Year.'
Ravi Kapur contributed to this report.
Tracy Sikh community mourns killing of 64 year old Parmjit Singh
TRACY, Calif. (Diya TV) — The Sikh community in Tracy, California is mourning the loss of 64-year-old Parmjit Singh, who was on his routine walk through a park when he was stabbed and left for dead. The FBI is investigating, but so far there is no concrete suspect information, just a person of interest. It has not been determined either whether Singh's death will be classified as a hate crime.
The mayor of Manhattan, Kansas, Usha Reddi announced she is running for the U.S. Senate in 2020 as a Democrat. There is no incumbent challenger for Reddi, but no Democrat has won a Senate seat in Kansas since 1932.
Pulitzer Prize-winning writer and professor Jhumpa Lahiri is taking the helm as director of Princeton University's Program in Creative Writing.
And actor Kumail Nanjiani announced he is joining the cast of the Marvel Studios' "The Eternals." Featuring a diverse cast, Nanjiani tweeted "I'm gonna be a super hero in a purple costume!!!!"
Ravi Kapur contributed to this report.
Imran Khan pens Op-ed in New York Times about Kashmir
NEW YORK (Diya TV) — Pakistani Prime Minister Imran Khan wrote an editorial for the New York Times to argue his case against India's recent move to change their constitution to oversee Jammu & Kashmir more closely. The opinion piece is part of Khan's strategy to internationalize the dispute. So far, the Trump administration is staying out of the matter.
But a few more Democrats in Congress took to Twitter to express their alarm over Kashmir, California Congressman Ted Lieu, Michigan Congressman Andy Levin and Virginia Congressman Don Beyer. Beyer is concerned over the "ongoing communications blackout." Lieu called for "de-escalation." And Levin, who spent a year in India while in college, said "the India of Narendra Modi is not the India I fell in love with."
Meanwhile, some Kashmiris are claiming the Indian army is electrocuting them & beating them with cables and sticks. But the allegations have not been verified and the Indian army called them "baseless and unsubstantiated."
Ravi Kapur contributed to this report.