Airbus asked to pay Rs 192.51 crore for Vijay Mallya's planes
SAN FRANCISCO (Diya TV) — India's Debt Recovery Tribunal Tuesday issued a deposit price of Rs 192.51 crore to aircraft manufacturer Airbus, a pre-delivery payment the tribunal are seeking for the company's purchase of VIjay Mallya's grounded fleet of planes from the now defunct Kingfisher Airlines.
Passing orders on an amended plea filed by the consortium led by the Oriental Bank of Commerce for recovery of the payment, DRT Presiding Officer K Srinivasan directed Airbus to deposit Rs 192.51 crore from any source within eight weeks. The Oriental Bank of Commerce, Corporation Bank and United Bank of India, had submitted that they made a pre-delivery payment of Rs 192.51 crore to Airbus on behalf of Kingfisher Airlines after both parties had signed a purchase agreement in 2005. But the planes were not delivered.
Since Airbus previously failed to repay the pre-delivery payment, the consortium made GoAir and Indigo as parties in the case by filing applications under garnishee proceedings to recover the money. It had sought a direction to the budget carriers to deposit the money to be paid by them to Airbus with it, under garnishee proceedings.
A garnishment is a tool for getting a monetary judgement against a defendant by ordering a third party (the garnishee) to pay the money, otherwise owed to the defendant, directly to the plaintiff. However, during the hearing of the prayer, the budget carriers had opposed it saying it would affect the interest of their business and economy.
Airbus has objected to the proceedings, saying the company was needlessly being dragged into the matter as it was neither a borrower nor a defaulter and questioned the DRT's jurisdiction. In response, the banks' counsel Mohammad Ibrahim had contended that the tribunal had jurisdictional power to adjudicate the matter since the contract was signed in India between banks, Kingfisher Airlines and Airbus, and the aircraft were to be delivered in India and the money was paid in India.
Harvard to host 17th annual India Conference this February
CAMBRIDGE, Mass. (Diya TV) — For the 17th year in a row, the graduate students at Harvard University will host an India Conference. It will take place during the weekend of February 15-16, 2020. Two days of exciting discussions through panels, mixers and networking will fill the halls of the Harvard Business School and Kennedy School of Government.
The theme for this year's conference is Foresight 20/20 – a look at what to expect from India in 2020 and beyond. As one of the largest student led conferences in the USA, the Harvard India conference attracts the biggest headliners from every field – from politics, business, entertainment & the arts. And this year is no different.
With more than 100 speakers and 1000 attendees, the conference promises to have something for everyone. This year's biggest draw from the entertainment genre is veteran Bollywood actor and self proclaimed ambassador to India, Anupam Kher. Kher has a long standing list of accolades within the film industry. In addition to his acting roles, he has been a producer, director and teacher at his own acting school. Most recently he played the role of Dr. Vijay Kapur on NBC's primetime drama 'New Amsterdam'.
Some other notable speakers this year include founder of the India Today Group, Aroon Purie, Indian Olympic athelete Dutee Chand, comedian and actor, Vir Das, partner at Softbanks' Vision Fund Lydia Jett & politician and India's ruling party (BJP)'s sherpa to the G20, Suresh Prabhu.
The harsh winter in Harvard doesn't seem slow down or dull these brilliant minds in any way. The India Conference at Harvard continues to retain its standing as the conference of choice for deliberating issues ranging from technology, media, politics and eduction to creating solutions for India's path towards global leadership. The event features brainstorming sessions and sincere discussions on the very real and large scale problems that are uniquely Indian.
Diya TV is a media sponsor to the event and will be on-site covering conference. To receive a 20% discount use code RDAY20 here and to know more about the conference or speakers, head to the IndiaConference.com
Indian Ambassador, Shringla speaks to U.S. Congress about Kashmir
WASHINGTON (Diya TV) — Indian Ambassador to the U.S. Harsh Shringla met with members of Congress at a private roundtable briefing, hosted by Southern California Congressman Brad Sherman. Sherman, who has been a supporter of India, took to Twitter recently to share his concerns about Kashmir and said serious questions about Kashmir were asked at the briefing.
President Trump is being urged to fix the H1-B visa process and do away with country-specific limits, with the latest effort for reform being spearheaded by 60 U.S. business school deans and CEO's.
In an earthquake, seconds matter. So on the anniversary of the deadly 1989 Loma Prieta earthquake that rocked Northern California, state officials announced the launch of America's first statewide earthquake early warning system.
Tabla Maestro Zakir Hussain will be coming to Boston next month to perform at the Berklee India Exchange, where he will also be conferred with an honorary doctorate by the esteemed music school. A Zakir Hussain Scholarship at Berklee is also being established.

And we have incredible video of three kids from India rescuing their dog from a snake that's equal parts courageous and nuts.
Ravi Kapur contributed to this report.
Federal Court rules Trump must turn over tax returns | Diya TV News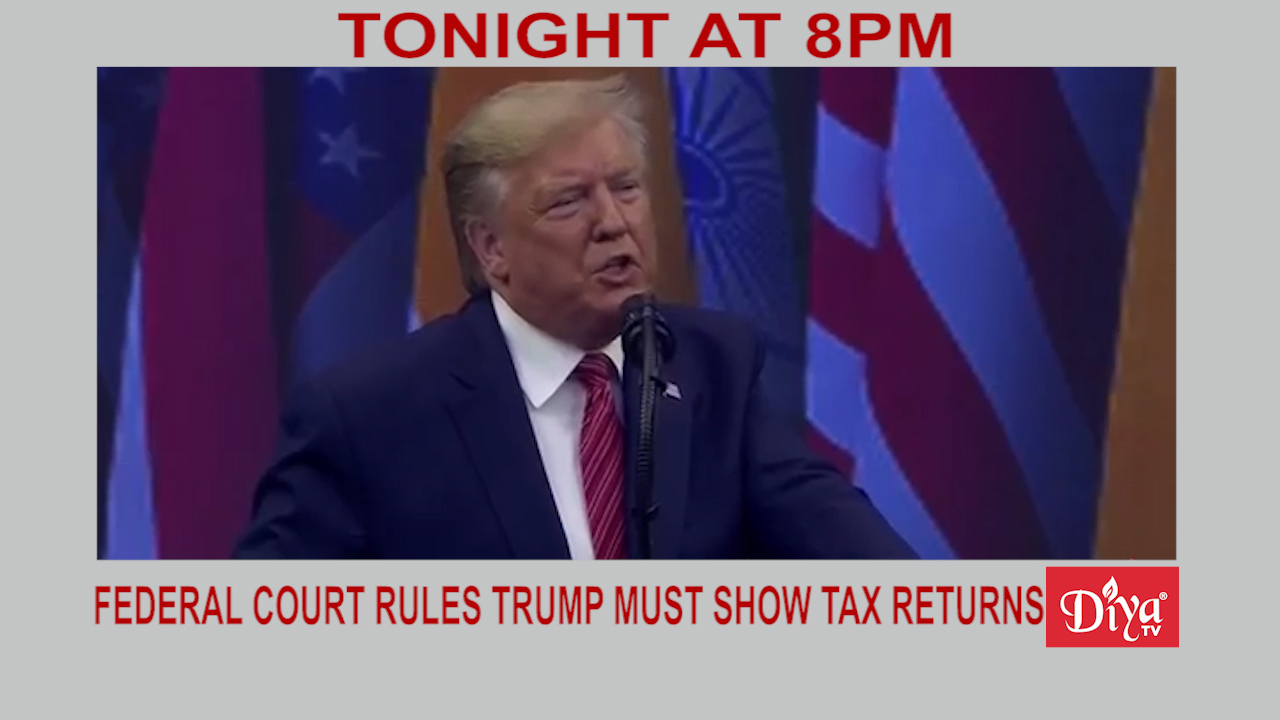 NEW YORK (Diya TV) — A federal judge ruled President Trump must turn over eight years of his personal and corporate tax returns to Manhattan prosecutors, striking down the President's argument that a sitting president cannot be criminally investigated. The ruling was quickly appealed and this case could end up in the Supreme Court to answer the constitutional question of whether presidents can be charged with a crime.
Meanwhile, the President celebrated a victory by FCC Chairman Ajit Pai, as a federal appellate court upheld most of the FCC's repeal of net neutrality. It also ruled the FCC cannot preempt state net neutrality laws, meaning the rules of the road in states like California remain in place.
The U.S. House Foreign Affairs Committee announced their Asia-Pacific and Non-Proliferation Subcommittee will be holding a hearing asking State Department officials and human rights activists to chime in on Human Rights in Kashmir, the Tamils of Sri Lanka, Muslims in Assam and the human rights situation in Pakistan, which includes the Sindh Province.
Lockheed Martin announced they will build F-16 wings exclusively in India, helping in integrating Indian industry into the $165 billion fighter aircraft market.
Ravi Kapur contributed to this report.