Clinton Holds 41-Point Lead Over Trump Among Asian-American Voters
WASHINGTON (Diya TV) — Democratic presidential nominee Hillary Clinton holds a 41-point lead over Republican nominee Donald Trump among Asian-American registered voters headed into November's presidential election, according to a survey released Wednesday.
The Fall 2016 National Asian American Survey, taken between Aug. 10 and Sept. 29 in 11 different languages, found that 55 percent of registered voters intended to vote for Clinton compared to 14 percent for Trump. Eight percent intended to vote for a different candidate, and 16 percent had not yet decided, according to the survey. Seven percent of registered voters declined to give an answer.
In a swing scenario — where a voter is still undecided — Clinton's lead grows to 43 points, with 59 percent of registered voters intending to or leaning toward voting for Clinton compared to 16 percent for Trump and 16 percent who were undecided or refused to answer.
"The big takeaway is a continuation of what we saw in the Spring 2016 survey — an Asian-American population that was become more Democratic over time," Karthick Ramakrishnan, the survey's director, said. "We see that Trump is likely a significant reason for that shift. Trump's unfavorables are like nothing we've seen before."
The survey found that 67 percent of surveyed voters had a "very unfavorable" or "unfavorable" opinion of Trump, compared to 36 percent for Clinton.
When poised to account for the greatest issue facing the United States, 26 percent of respondents said that the economy was most important, followed by 12 percent saying national security, and 10 percent saying racism, with 23 percent of Asian-American voters under the age of 34 said that racism was the most important issue facing the country. Fifty-eight percent of respondents has a "very unfavorable" or "unfavorable" opinion of the Republican party, while nine percent held "somewhat favorable" or "very favorable" views. Regarding the Democratic party, 30 percent of respondents held "very unfavorable" or "somewhat unfavorable" views compared to 60 percent who had "somewhat favorable" or "very favorable" views.
"The electorate is important, one, for the presidential election, there are a few states like Virginia and Nevada and North Carolina where they will likely help to determine the outcome," Ramakrishnan said. "Even in states with a smaller Asian-American population like Ohio and Florida, they could play a role given how close those races are."
AAPI Victory Fund gets a brand new name
WASHINGTON DC (Diya TV) — The largest network of Asian Americans is flexing it's political and financial capital. The group once known as the AAPI Victory Fund is rebranding itself as the AAPI Victory Alliance to fight back against the rising hate crimes and harassment against Asians and misinformation about the community. In addition to all the political and advocacy work, a new think tank will focus on education, and the group will prioritize alliances with other groups at the local, state, and national levels.
A world renowned Indian American artist is picking up the pieces after massive flooding wrecked part of his Texas home, destroying several valuable paintings and his supplies. Kartik Trivedi's work has adorned the White House and Buckingham Palace. A GoFundMe page is now up and running to help the 83 year old recoup some of his losses.
And S. Dave Vatti was sworn in to become Magistrate Judge for the District of Connecticut. The Indian American will serve at the Bridgeport federal courthouse.  Vatti is a former United State Attorney and a lifelong Connecticut resident.
Ravi Kapur contributed to this report.
Nikki Haley wont run, if Trump runs in 2024
SOUTH CAROLINA (Diya TV) — Former US Ambassador to the United Nations and South Carolina Governor Nikki Haley says she will not make a run for the White House in 2024. But that's only if Donald Trump decides to enter the Presidential race. Haley continues to be mentioned as a potential candidate for the Oval Office, but the Indian American's public comments are being interpreted as an early endorsement for former President if Trump chooses to run again.
And more positive news for India's economy. The International Monetary Fund says it's projecting a 12 and half percent growth rate for the South Asian nation in 2021. That's even stronger than what's expected for China and America's economy this year.
India is going through a historic tech boom for unicorn start ups. These are the companies valued at more than a billion dollars. In a span of four days, the country saw 6 tech unicorns emerge onto the scene. Startups like Groww, Gutshup, API Holdings, Mohalla Tech, Meesho, and Cred all reached valuations of a billion dollars or more. And that's attracting some of the world's largest investors like Softbank and Tiger Global.
Ravi Kapur contributed to this report.
Indian American couple dead in apparent murder-suicide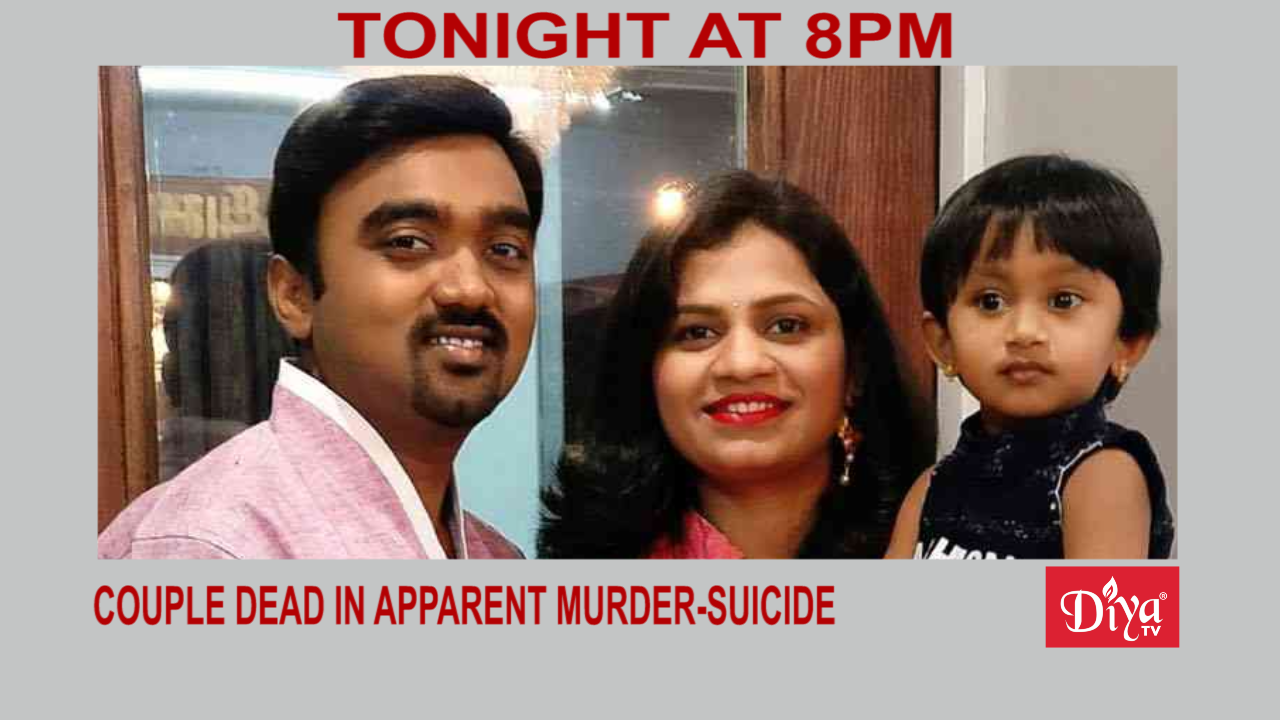 North Arlington, NEW JERSEY (Diya TV) — Authorities in New Jersey are investigating a possible murder-suicide, saying Balaji Rudrawar stabbed his wife Aarti to death. Both were found dead in their home with multiple stab wounds. Their young daughter was found unharmed inside. The motive remains unclear. The man's father told an India-based media outlet his daughter in law was 7 months pregnant.
In Indian waters, a US war ship sailed through India's Exclusive Economic Zone without asking for permission, a violation of that country's law. Both countries remain partners in the region. Sources with the Indian Navy say the move was more about sending a message to China.
As Special Presidential Envoy for Climate John Kerry wraps up his India trip,  he's taking to social media and personally thanking some of the leaders of that region including Prime Minister Narendra Modi of India and now Prime Minister Sheikh Hasina and Foreign Minister Dr. AK Abdul Momen of Bangladesh, saying all the countries involved are committed to address global warming and climate change. Kerry is raising awareness about this issue heading into a climate conference with world leaders later this month. 
Ravi Kapur contributed to this report.