Takeaways from the first presidential debate
HEMPSTEAD, New York (Diya TV) — Hillary Clinton stepped out onto Monday night's debate stage determined to show the American people she is the only candidate capable of sitting in the Oval Office.
Clinton poked, prodded and quoted Trump's own words, goading the famously thin-skinned Republican nominee. Trump took the bait, repeatedly interrupting angrily or dismissively throughout the night.
True to his previous form, Trump couldn't resist the attack, even when it was obvious they would backfire — such as his criticism of Clinton for dropping off the campaign trail ahead of the debate to prepare. "Yes, I did. And you know what else I prepared for?" Clinton shot back. "I prepared to be president."
Here are a few other takeaways from the first of three scheduled presidential debates between the two:
Trump takes bait
Trump is the self-proclaimed counterpuncher, but it was Clinton whose restraint was on display: She waited for Trump to create an opening before she pounced.
Clinton watched as moderator Lester Holt grilled the billionaire real estate mogul about his refusal to release tax returns before delivering her own withering assessment of his insistence that a "routine audit" be completed first.
"Maybe he is not as rich as he says he is," Clinton said. "Maybe he is not as charitable as he claims to be… Maybe he doesn't want the American people to know that he has paid nothing in federal taxes."
"There is something he is hiding," she said.
Trump couldn't hold his tongue any longer — and at a cost. He came close to admitting that he didn't pay federal taxes, saying that "makes me smart" and that the money "would be squandered" anyway.
At another point, he insisted his refusal to pay contractors who'd done work for his businesses was smart. "I'm certainly relieved that my late father never did business with you," Clinton said.
Trump, meanwhile, paid the price for his decision to wing it.
Despite opportunities to do so, he never hit Clinton on the 2012 Benghazi attacks or Clinton Foundation donors' access to the State Department, and he only briefly mentioned her use of a private email server. All three attacks — elevated by Trump himself at his rallies — are at the core of the GOP case that Clinton is untrustworthy.
Trump's pitch to blue-collar workers
Trump's best and brightest were showcased early in the debate, when he invoked Clinton's 2012 praise of the Trans-Pacific Partnership as the "gold standard" of trade deals. (Clinton now opposes the deal.)
"You were totally in favor of it," Trump said. "Then you heard what I was saying, how bad it is, and you said, 'I can't win that debate.'"
It was part of a theme Trump attempted to make a heavy element of the debate early on: Clinton, he said, has been in Washington for nearly 30 years, and has done little to improve economic conditions for Americans — a message that could resonate in manufacturing-heavy states like Ohio and Pennsylvania that are crucial to Trump's electoral math.
After a barrage of Trump attacks, Clinton sarcastically said, "I have a feeling that by, the end of this evening, I'm going to be blamed for everything that's ever happened."
Trump shot back: "Why not?"
Trump's dance with the truth continued
Trump lied repeatedly Monday night — including a few real extreme occasions.
When Clinton claimed Trump "thinks that climate change is a hoax perpetrated by the Chinese," Trump shot back: "I do not say that. I do not say that."
Trump did say that. On November 6, 2012, Trump tweeted, "The concept of global warming was created by and for the Chinese in order to make U.S. manufacturing non-competitive." It became the most-retweeted item on Twitter during the debate.
He called Holt's factual citation of a 2002 interview in which Trump endorsed the war in Iraq "wrong, wrong, wrong," as fact-checkers disagreed.
He falsely blamed Clinton for birtherism. He said murder rates in New York City are climbing, when they are on the decline. And he said Clinton had been fighting ISIS "her entire adult life." Clinton was born in 1947; ISIS only formed in the mid-2000s.
They really don't like each other
With two more debates in front of us, there's only one thing that can be predicted: things are about to get a lot more ugly.
A preview of what's in store came at the end, when Clinton — attacking Trump's treatment of women — called him "a man who has called women pigs, slobs and dogs." She said he'd referred to a Latina beauty contestant as "Miss Piggy. Then he called her Miss Housekeeping."
An agitated Trump twice asked, "Where did you find this?"
The woman, 1996 Miss Universe Alicia Machado of Venezuela, told The New York Times and "Inside Edition" this year that Trump repeatedly mocked her weight.
Trump went into the spin room after the debate — a move unheard of at general election debates — and credited himself with not taking a shot at Bill Clinton's extramarital affairs. He told Fox News conservative host and Trump supporter Sean Hannity afterward that it seemed inappropriate with Bill and Chelsea Clinton in the front row — but implied he might in the future.
The next debate between the two will be held on Oct. 9.
Rev. Jesse Jackson pushes for India COVID relief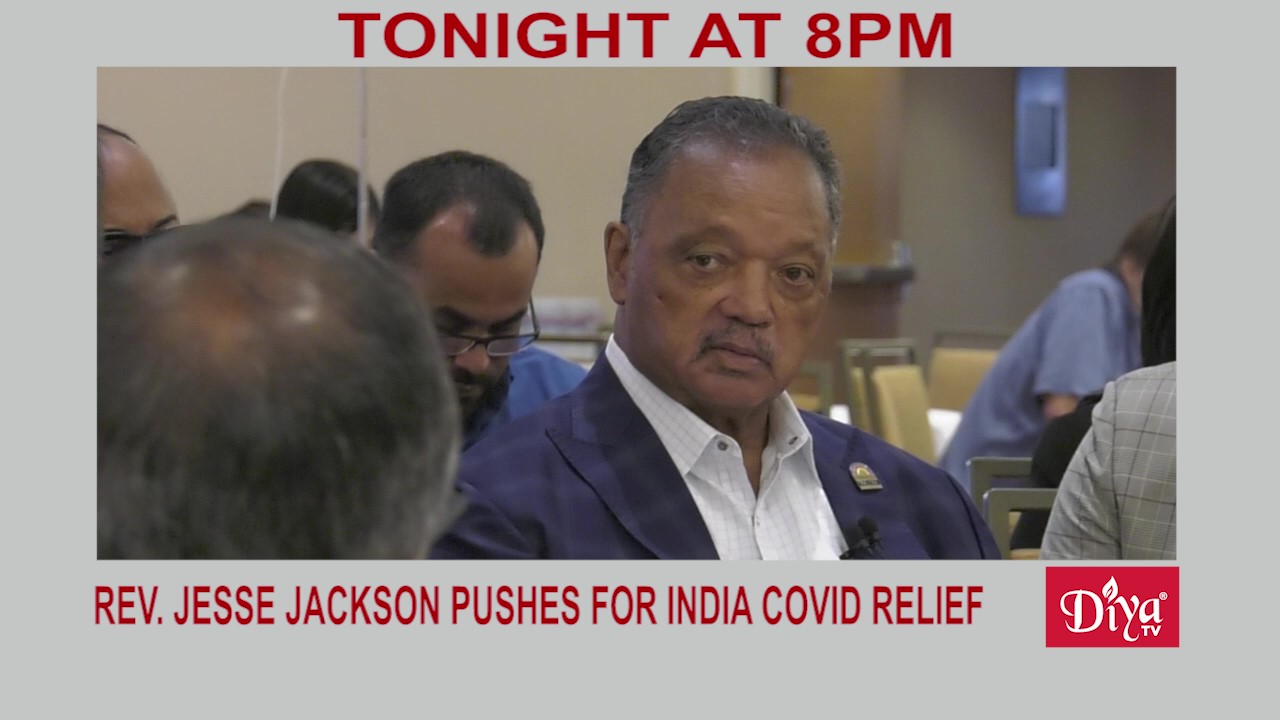 SAN FRANCISCO (Diya TV) — The Reverend Jesse Jackson is standing in solidarity with Indian Americans in California who are rallying the community to send more Covid-19 relief to India. Reverend Jackson is also voicing solidarity for other communities of color as African Americans celebrate Juneteenth, the new Federal holiday marking the end of slavery in the U.S.
And Satya Nadella is now even more powerful at Microsoft. The tech giant's CEO was named chairman of the board elevating his current role atop one of the world's most valuable companies. The Indian American has served as chief executive since 2014, has helped transform the PC maker into a leader in cloud computing in recent years, resulting in a market cap of close to $2 trillion.
Billionaire philanthropist MacKenzie Scott has given away another massive chunk of her fortune. This time nearly 3 billion dollars to a variety of charities. Several Indian organizations like Goonj, Antara Foundation, and GiveIndia have also benefited from this generosity.
Ravi Kapur contributed to this report.
US – India trade hits record $9 billion
SANTA CLARA, Calif. (Diya TV) — For the second month in a row, the U.S.-India bilateral goods trade crossed $9 billion dollars.  It had never happened once before that. This is a comprehensive document covering trade in goods and services, and shows India and the U.S. remain strong strategic partners.
the U.S. Senate confirmed Radhika Fox as the first Indian American and woman of color to lead the office of water at the Environmental Protection Agency. Her supporters say she will focus on making sure everyone's point of view is heard and taken into account.
And British Pakistani rapper Frenzo Harami is being criticized for his anti Hindu post on Instagram. Harami uses vulgar language to describe Hindu minorities living in Kashmir. He apparently went on this tirade after claiming youtube banned one of his videos.
Ravi Kapur contributed to this report.
India's COVID rate drops dramatically
NEW DELHI (Diya TV) — India' s Covid-19 infection rates are starting to consistently drop each day. The ministry of health reported a little more than 60,000 cases in the past 24 hours. That's a dramatic decrease from the peak of more than 400,000 cases in one day just a few months ago.
India has also decided to partially open the Taj Mahal to visitors. And as restrictions ease, several shops, malls, and restaurants have started to reopen in multiple cities this week. but Authorities continue to advise mask wearing and social distancing.
Vice President Kamala Harris hosted a dinner party for a bipartisan group of female senators at her official Washington, DC residence. 16 Democrats and eight Republicans. Vice President Harris is doing this against the backdrop of intense negotiations over President Biden's agenda in Congress and a border crisis raging on her watch.
And one of the fiercest critics of Big Tech companies like Apple and Amazon is now leading the Federal Trade Commission. Lina Khan will be tasked with voting on enforcement matters in areas of both competition and consumer protection. the 32 year old South Asian will be the youngest person to ever lead the agency.
Ravi Kapur contributed to this report.