Takeaways from the first presidential debate
HEMPSTEAD, New York (Diya TV) — Hillary Clinton stepped out onto Monday night's debate stage determined to show the American people she is the only candidate capable of sitting in the Oval Office.
Clinton poked, prodded and quoted Trump's own words, goading the famously thin-skinned Republican nominee. Trump took the bait, repeatedly interrupting angrily or dismissively throughout the night.
True to his previous form, Trump couldn't resist the attack, even when it was obvious they would backfire — such as his criticism of Clinton for dropping off the campaign trail ahead of the debate to prepare. "Yes, I did. And you know what else I prepared for?" Clinton shot back. "I prepared to be president."
Here are a few other takeaways from the first of three scheduled presidential debates between the two:
Trump takes bait
Trump is the self-proclaimed counterpuncher, but it was Clinton whose restraint was on display: She waited for Trump to create an opening before she pounced.
Clinton watched as moderator Lester Holt grilled the billionaire real estate mogul about his refusal to release tax returns before delivering her own withering assessment of his insistence that a "routine audit" be completed first.
"Maybe he is not as rich as he says he is," Clinton said. "Maybe he is not as charitable as he claims to be… Maybe he doesn't want the American people to know that he has paid nothing in federal taxes."
"There is something he is hiding," she said.
Trump couldn't hold his tongue any longer — and at a cost. He came close to admitting that he didn't pay federal taxes, saying that "makes me smart" and that the money "would be squandered" anyway.
At another point, he insisted his refusal to pay contractors who'd done work for his businesses was smart. "I'm certainly relieved that my late father never did business with you," Clinton said.
Trump, meanwhile, paid the price for his decision to wing it.
Despite opportunities to do so, he never hit Clinton on the 2012 Benghazi attacks or Clinton Foundation donors' access to the State Department, and he only briefly mentioned her use of a private email server. All three attacks — elevated by Trump himself at his rallies — are at the core of the GOP case that Clinton is untrustworthy.
Trump's pitch to blue-collar workers
Trump's best and brightest were showcased early in the debate, when he invoked Clinton's 2012 praise of the Trans-Pacific Partnership as the "gold standard" of trade deals. (Clinton now opposes the deal.)
"You were totally in favor of it," Trump said. "Then you heard what I was saying, how bad it is, and you said, 'I can't win that debate.'"
It was part of a theme Trump attempted to make a heavy element of the debate early on: Clinton, he said, has been in Washington for nearly 30 years, and has done little to improve economic conditions for Americans — a message that could resonate in manufacturing-heavy states like Ohio and Pennsylvania that are crucial to Trump's electoral math.
After a barrage of Trump attacks, Clinton sarcastically said, "I have a feeling that by, the end of this evening, I'm going to be blamed for everything that's ever happened."
Trump shot back: "Why not?"
Trump's dance with the truth continued
Trump lied repeatedly Monday night — including a few real extreme occasions.
When Clinton claimed Trump "thinks that climate change is a hoax perpetrated by the Chinese," Trump shot back: "I do not say that. I do not say that."
Trump did say that. On November 6, 2012, Trump tweeted, "The concept of global warming was created by and for the Chinese in order to make U.S. manufacturing non-competitive." It became the most-retweeted item on Twitter during the debate.
He called Holt's factual citation of a 2002 interview in which Trump endorsed the war in Iraq "wrong, wrong, wrong," as fact-checkers disagreed.
He falsely blamed Clinton for birtherism. He said murder rates in New York City are climbing, when they are on the decline. And he said Clinton had been fighting ISIS "her entire adult life." Clinton was born in 1947; ISIS only formed in the mid-2000s.
They really don't like each other
With two more debates in front of us, there's only one thing that can be predicted: things are about to get a lot more ugly.
A preview of what's in store came at the end, when Clinton — attacking Trump's treatment of women — called him "a man who has called women pigs, slobs and dogs." She said he'd referred to a Latina beauty contestant as "Miss Piggy. Then he called her Miss Housekeeping."
An agitated Trump twice asked, "Where did you find this?"
The woman, 1996 Miss Universe Alicia Machado of Venezuela, told The New York Times and "Inside Edition" this year that Trump repeatedly mocked her weight.
Trump went into the spin room after the debate — a move unheard of at general election debates — and credited himself with not taking a shot at Bill Clinton's extramarital affairs. He told Fox News conservative host and Trump supporter Sean Hannity afterward that it seemed inappropriate with Bill and Chelsea Clinton in the front row — but implied he might in the future.
The next debate between the two will be held on Oct. 9.
BREAKING: Supreme Court Justice Ruth Bader Ginsburg dies at 87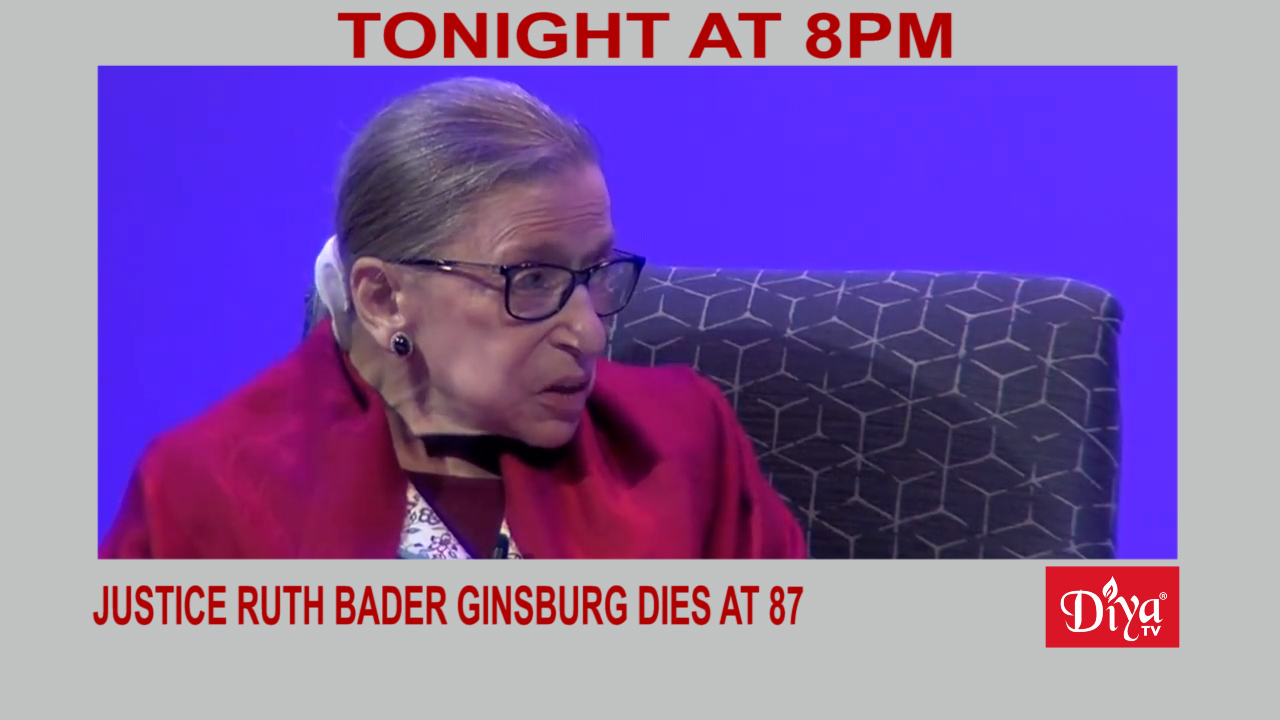 WASHINGTON (Diya TV) — Supreme Court Justice Ruth Bader Ginsburg has died at 87. She was the oldest sitting member of the court. Justice Ginsburg was only the second woman named to the Supreme Court. A cultural and feminist icon, Ginsburg was appointed to the Court by President Bill Clinton, and her passing will set off a showdown in the coming weeks before the November election. In a message left this week as her health waned, Ginsburg said "my most fervent wish is that I will not be replaced until a new president is installed." But Senate Majority Leader Mitch McConnell shortly after Ginsburg's death was announced said the Senate will conduct a vote to replace her and President Trump is expected to put forth a nominee to fill the seat in the coming days.
An Indian American doctor filed a federal lawsuit against the Aurora, Colorado police department after one of their police officers pointed a gun at him on his own property while he was trying to park his car. The incident was captured on video. The officer, Justin Henderson, has been suspended for 40 hours without pay and will be required to attend de-escalation training. 45 year old Dr. Paramjit Parmar, who is known in Aurora for his aid to refugees, believes race affected how he was treated and said Henderson's punishment is "terribly inadequate."
Ravi Kapur contributed to this report.
Recall efforts against Kshama Sawant moves forward
SEATTLE (Diya TV) — The recall effort against Seattle City Councilwoman Kshama Sawant can move forward after a ruling by a King County judge. Superior Court Judge Jim Rogers said four of the six accusations against Sawant are legitimate. They include misuse of city resources, misuse of her position by letting protesters into City Hall, relinquishing her duties of office to an outside political organization and leading a protest to Seattle Mayor Jenny Durkan's house despite her address being protected due to threats from her time as a U.S. Attorney. 
Now, the group of residents leading the recall must get about 11,000 valid signatures before the recall gets on the ballot. Sawant in response said this battle is just the latest attempt by corporate interests and Mayor Durkan to derail her efforts to reform the city and announced she will lead a grassroots campaign to fight the charges.
Meanwhile, Seattle Mayor Jenny Durkan is facing heat as well from U.S. Attorney General William Barr, who suggested prosecutors consider filing charges against her over the mass protests this summer that led some protesters to establish a police-free zone in downtown Seattle. In a tweet, former U.S. Attorney Preet Bharara offered his help to Durkan pro-bono.
Indian Prime Minister Modi turned 70 years old and received birthday wishes from around the globe, including from President Trump, who called Modi "a great leader and loyal friend."
Ravi Kapur contributed to this report.
Indiaspora & AAPI data survey Indian American voters
SAN FRANCISCO (Diya TV) — At a virtual event featuring the former CEO of the Democratic National Committee, Seema Nanda, Democratic Congressman Raja Krishnamoorthi and Republican Ohio State Representative Niraj Antani, non-profit Indiaspora teamed up with AAPI Data to reveal the growing political power of the Indian American diaspora. The joint report says 66% of Indian Americans currently favor Vice President Biden, and 28% favor President Trump. The study shows an enormous rise in political engagement from the community. There are 1.8 million Indian Americans in the U.S. who are eligible voters and both sides of the aisle recognize the need to further engage Indian Americans, who AAPI Data notes is now the largest part of the Asian American community, surpassing Chinese Americans.
Eric Trump, President Trump's son, took part in an Indian Voices for Trump event in suburban Atlanta. It was an indoor rally with appropriate social distancing measures in place. Trump was on hand to win support from the community in a vital state that will be tightly contested this fall. Georgia, like North Carolina, Pennsylvania, Florida, Michigan and Texas are considered in play and have growing Indian American populations.
Ravi Kapur contributed to this report.