Apple unveils iPhone 7 and iPhone 7 Plus
SAN FRANCISCO (Diya TV) – It's water resistant, has stereo speakers and a brand-spanking new camera. Apple officially unveiled the company's newest mobile devices – the iPhone 7 and iPhone 7 Plus – Wednesday.
The new phone looks quite similar to its predecessor, the iPhone 6S, however, it features a much shinier body which the company has named "jet black." The Apple logo remains seen on the rear of the phone, but it now constructed of stainless steel. Apple will also release a version that's completely black, including the logo.
The phone's home button will rely on Apple's taptic technology – similar to the new Mac trackpads, it won't actually click but instead will give you the sensation of pressing a button.
Apple has presented this phone as the most durable of any ever produced, at least in the forms of dust and water corruption. The next-gen models meet the IP67 protection standard, which is good enough to briefly drop it in a pool but not good enough to shower with regularly. The camera, likely the most-used feature of everybody's phone, has been completely revamped with optical image stabilization, allowing for up to 3x longer exposure. The iPhone 7 camera has a six-element, 1.8 aperture lens, a 12 megapixel sensor that is 60 percent faster, with a quad-LED flash with 50 percent light output. Plus, the iPhone 7 will have a 7-megapixel front camera, up from a 5-megapixel camera on the iPhone 6s.
Even more, the iPhone 7 will come equipped with two 12-megapixel cameras on the back. The dual-lens setup allows for both wide angle and telephoto – one lens handles 1x zoom and the other hands 2x zoom.
Users can now simply tap on the camera screen to zoom, and the phone will automatically focus the camera to the region in the tapped area. The iPhone 7 Plus will have 10x zoom capabilities.
The new phones will also feature a completely new and much anticipated stereo speaker sound system. The 3.5mm headphone jack is gone, instead, Earpods will connect via the Lightning port. Lightning Earpods will be included in the box, and so will an adapter for folks who are invested in 3.5mm compatible headphones. This move came in all likelihood because of the space needed for things like taptic engines and dual-lens cameras, and needed to get rid of the 3.5mm port for something more versatile, like the Lightning port.
Apple have always introduced a new processor with the production of each new phone, and the iPhone 7 isn't any different.
The new A10 fusion has a four-core CPU: two high-performance CPU cores (each 40 percent faster than the A9) and two high-efficiency cores that run at one-fifth the power to save battery life. A new performance controller determines which apps run on which core.
Apple additionally took time Wednesday to showcase the second generation of the company's watch. Apple Watch Series 2 sees the uber pricey Watch Edition line ushered away, and the company has shifted focus to the fashion world – now that the Galeries Lafayette, Colette, and Hermès sell the Apple Watch, Apple can focus on mass-market watches, and the accessories for those Apple Watches that are in such high demand can be found on websites like Mobile Mob as well.
The Apple Watch (aluminum model) and the Apple Watch Nike+ model will cost $369. It'll be available on September 16. The Apple Watch Nike+ will be available in late October. The Apple Watch "Series 1" will stick around and cost $269. It'll come with a new dual-core processor.
"Apple Watch has really changed what people expect from the watch," Apple CEO Tim Cook said on stage. He went on to compare the watch to other brands, and said the Apple Watch is second to only Rolex in terms of sales, ahead of Fossil and Omega. "But we are just getting started," he added.
The Apple Watch Series 2 is swim-proof. You can swim up to 50 meters. The Watch Series 2 is completely sealed, except the speaker. The speaker itself ejects the water at the end of a workout. There are two new workout features now. You can start a swimming workout for instance.
Harvard to host 17th annual India Conference this February
CAMBRIDGE, Mass. (Diya TV) — For the 17th year in a row, the graduate students at Harvard University will host an India Conference. It will take place during the weekend of February 15-16, 2020. Two days of exciting discussions through panels, mixers and networking will fill the halls of the Harvard Business School and Kennedy School of Government.
The theme for this year's conference is Foresight 20/20 – a look at what to expect from India in 2020 and beyond. As one of the largest student led conferences in the USA, the Harvard India conference attracts the biggest headliners from every field – from politics, business, entertainment & the arts. And this year is no different.
With more than 100 speakers and 1000 attendees, the conference promises to have something for everyone. This year's biggest draw from the entertainment genre is veteran Bollywood actor and self proclaimed ambassador to India, Anupam Kher. Kher has a long standing list of accolades within the film industry. In addition to his acting roles, he has been a producer, director and teacher at his own acting school. Most recently he played the role of Dr. Vijay Kapur on NBC's primetime drama 'New Amsterdam'.
Some other notable speakers this year include founder of the India Today Group, Aroon Purie, Indian Olympic athelete Dutee Chand, comedian and actor, Vir Das, partner at Softbanks' Vision Fund Lydia Jett & politician and India's ruling party (BJP)'s sherpa to the G20, Suresh Prabhu.
The harsh winter in Harvard doesn't seem slow down or dull these brilliant minds in any way. The India Conference at Harvard continues to retain its standing as the conference of choice for deliberating issues ranging from technology, media, politics and eduction to creating solutions for India's path towards global leadership. The event features brainstorming sessions and sincere discussions on the very real and large scale problems that are uniquely Indian.
Diya TV is a media sponsor to the event and will be on-site covering conference. To receive a 20% discount use code RDAY20 here and to know more about the conference or speakers, head to the IndiaConference.com
Indian Ambassador, Shringla speaks to U.S. Congress about Kashmir
WASHINGTON (Diya TV) — Indian Ambassador to the U.S. Harsh Shringla met with members of Congress at a private roundtable briefing, hosted by Southern California Congressman Brad Sherman. Sherman, who has been a supporter of India, took to Twitter recently to share his concerns about Kashmir and said serious questions about Kashmir were asked at the briefing.
President Trump is being urged to fix the H1-B visa process and do away with country-specific limits, with the latest effort for reform being spearheaded by 60 U.S. business school deans and CEO's.
In an earthquake, seconds matter. So on the anniversary of the deadly 1989 Loma Prieta earthquake that rocked Northern California, state officials announced the launch of America's first statewide earthquake early warning system.
Tabla Maestro Zakir Hussain will be coming to Boston next month to perform at the Berklee India Exchange, where he will also be conferred with an honorary doctorate by the esteemed music school. A Zakir Hussain Scholarship at Berklee is also being established.

And we have incredible video of three kids from India rescuing their dog from a snake that's equal parts courageous and nuts.
Ravi Kapur contributed to this report.
Federal Court rules Trump must turn over tax returns | Diya TV News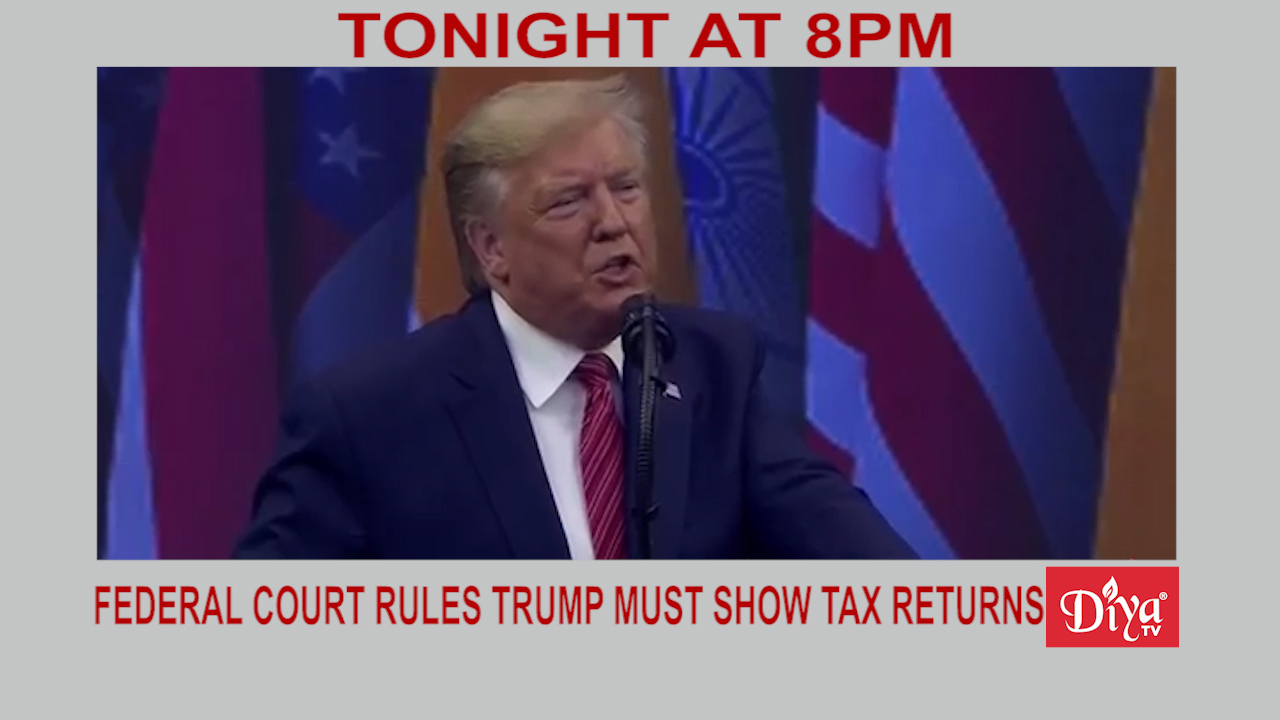 NEW YORK (Diya TV) — A federal judge ruled President Trump must turn over eight years of his personal and corporate tax returns to Manhattan prosecutors, striking down the President's argument that a sitting president cannot be criminally investigated. The ruling was quickly appealed and this case could end up in the Supreme Court to answer the constitutional question of whether presidents can be charged with a crime.
Meanwhile, the President celebrated a victory by FCC Chairman Ajit Pai, as a federal appellate court upheld most of the FCC's repeal of net neutrality. It also ruled the FCC cannot preempt state net neutrality laws, meaning the rules of the road in states like California remain in place.
The U.S. House Foreign Affairs Committee announced their Asia-Pacific and Non-Proliferation Subcommittee will be holding a hearing asking State Department officials and human rights activists to chime in on Human Rights in Kashmir, the Tamils of Sri Lanka, Muslims in Assam and the human rights situation in Pakistan, which includes the Sindh Province.
Lockheed Martin announced they will build F-16 wings exclusively in India, helping in integrating Indian industry into the $165 billion fighter aircraft market.
Ravi Kapur contributed to this report.