Miss Japan won by half Indian Priyanka Yoshikawa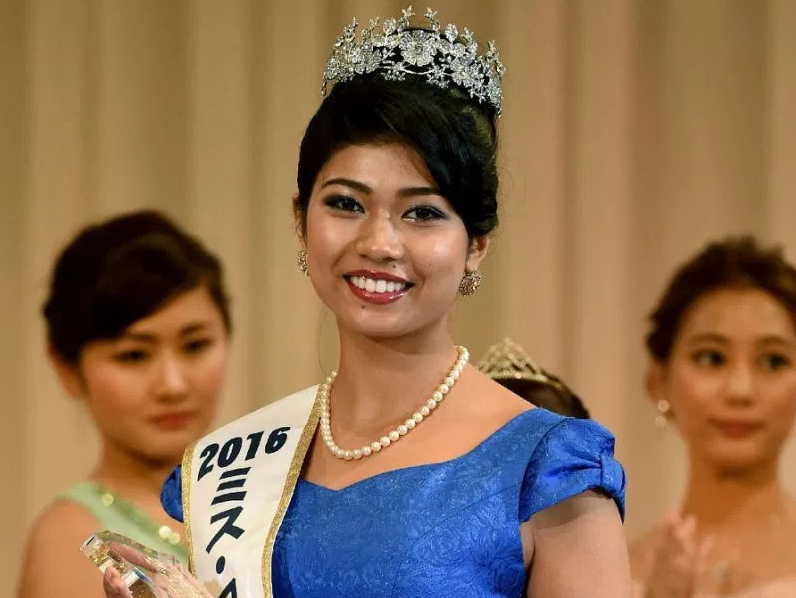 TOKYO (Diya TV) — A half-Indian woman has been crowned Miss Japan, the second consecutive year a biracial person has won the annual beauty pageant.
The 22-year-old Priyanka Yoshikawa, who also has an elephant training license, said she would use her win to "change perceptions."
Last year's Miss Japan, Ariana Miyamoto was the first mixed-race person to win the pageant. Her crowning was met by critics who complained then that a "pure" Japanese woman should have won. Only about 2% of babies born every year in Japan are biracial, or "haafu," the Japanese word for half.
"We are Japanese," Yoshikawa said after her victory. "Yes, my dad is Indian and I'm proud of it, I'm proud that I have Indian in me. But that doesn't mean I'm not Japanese."
She credited her win to Miyamoto, saying she had helped show "mixed girls the way."
"Before Ariana, haafu girls couldn't represent Japan," said Yoshikawa. "That's what I thought too. Ariana encouraged me a lot by showing me and all mixed girls the way.
"I know a lot of people who are haafu and suffer," she said. "When I came back to Japan, everyone thought I was a germ."
"Like if they touched me they would be touching something bad. But I'm thankful because that made me really strong," she added.
Similarly, just a few years ago, a woman of Indian descent, Nina Davuluri, faced Twitter abuse after being crowned Miss America. Some called her an "Arab," some a "terrorist," and some an "Arab terroris." Indians, in large numbers, came to her defense.
Yoshikawa however, was not letting the doubters get to her. She's since faced the same scrutiny Miyanmoto once did.
"There was a time as a kid when I was confused about my identity," she said. "But I've lived in Japan so long now I feel Japanese."
Stock surge continues as Dow hits 20,000 for the first time
NEW YORK (Diya TV) – After weeks of close calls, the Dow Jones made history on Wednesday blowing past a key level for the first time in its history. The Dow climbed 156 points to 20,069, and was joined in the record territory by the S&P 500 and Nasdaq.
The stock market milestone leaves the Dow up more than 1,700 points since the election of President Donald Trump last November, and speaks towards the enthusiasm investors have about the prospects for the U.S. economy.
Wall Street is clearly betting that Trump's plans to slash taxes, ramp up infrastructure spending and cut regulation will make the American economy grow faster. If that happens, without any disruptions to global trade, it could propel corporate profits, the lifeblood of stock prices. However, now that more people are making the decision to buy Fresenius shares (Fresenius Aktien kaufen) amongst others, the jump that has been seen in terms of stocks is also a reflection of the solid economy Trump inherited from former President Obama. No wonder there has been an increase in the number of people who have invested in the stock market. Although, some of them may have been persuaded to do so after reading these Stash reviews and learning all they need to know about the market. Of course, the economy has had something to do with this too. The U.S. has added jobs for a record 75 straight months and the country's unemployment rate is sitting near a 10-year low.
The milestone shows how much has changed in the U.S. economy over the past eight years. The index crashed to a low of 6,440 in March 2009 as Wall Street was gripping from the feared complete collapse of the American financial system.
While the economic rebound from the Great Recession has been slower than many hoped, the unemployment rate is now at the lowest level since 2007 and corporate profits have climbed to record highs.
Few expected the Dow to rise so much, especially after a Trump victory. In fact, many feared a market crash if Trump upset Hillary Clinton.
Instead, Wall Street embarked on a post-election rally that carried the Dow above both the 19,000 and 20,000 levels. The Trump rally cooled off in recent months and Wall Street hit a bit of a psychological roadblock leading up to the 20,000 level. On January 6, the Dow got incredibly close, rising to 19,999.63 before backing off. Traders on Wall Street had fun with it, with some creating hats that said: "Dow Almost 20,000."
One reason for the pause: investors want more details on the timing and effectiveness of the stimulus plans rolled out by the new administration.
Bank stocks have been among the biggest winners since the election on Wall Street. JPMorgan Chase and Morgan Stanley have soared more than 20 percent, while Goldman Sachs is up nearly 30%, as investors bet on higher interest rates and less regulation under Trump.
Berklee Indian Ensemble presents "Arz-E-Niyaz" to honor Mughal Era poetry

BOSTON (Diya TV) — The Berklee Indian Ensemble, paying homage to Ghalib Sahab, who would have turned 219 years old Tuesday, presented its project, a poem titled "Arz-E-Niyaz" in collaboration with award winning vocal virtuoso, Vijay Prakash. The production also included Kathak dance elements from Meera Seshadri.
Arz-E-Niyaz was composed by Sashank Navaladi, a recent graduate of the Berklee College of Music, where the Ensemble are located. The production is set to couplets by Mirza Ghalib, the last great poet of the Mughal Era, and one of the most influential Urdu poets of all time.
Prakash, the collaborator on this project, hails from Karnataka and is one of the world's most sought-after Indian playback singers. He has multiple hits that have been recorded in Hindi, Kannada, Telugu, Tamil and Malayalam. The poem is written by the preeminent Urdu and Persian Sufi poet of the 19th century, Mirza Ghalib. Written in the form of eight couplets, 'arz-e-niyāz-e-ishq' literally translates to the 'supplication for the blessings of love.'
The Ensemble have a history of rich and celebrated collaborations with other artists, including A. R. Rahman, Armeen Musa and Shankar Mahadevan.
Launched in 2013, the Berklee India Exchange is an on-campus initiative establishing a platform for cultural conversation about Indian music through artist residencies, musical collaborations and performances, according to the school's website. Have a look at the new video below:
Indian-American vote hardly a sure thing for Ro Khanna
SAN FRANCISCO (Diya TV) — Fremont attorney and congressional candidate Ro Khanna is relying heavily on strong support from his fellow Indo-Americans to catapult him to victory, but the community is notoriously splintered. 
Indian-Americans have a saying about themselves that should make Ro Khanna a little nervous as he tries for a second time to unseat San Jose Congressman Mike Honda:
"Two Indians, three opinions."
The U.S.-born son of Indian immigrants, Khanna is counting on the Indian-American community to come out in force on Nov. 8 to help catapult him into Congress to represent a swath of Silicon Valley stretching from Fremont to Cupertino. But when it comes to politics, Indian-Americans have been far more successful at bankrolling candidates of Indian heritage than galvanizing behind them.
As Khanna learned from his loss two years ago, it's hard to weave together a cohesive voting bloc out of a constituency whose members trace their roots back to a country with 22 official languages and nine major religions. That task is even more difficult as a challenger running against Honda, a Japanese-American who attended high school in San Jose, has been elected to four different offices, and has had decades to build relationships with Indian-Americans of all stripes.
"It would be presumptuous for anyone to think they can get such a diverse community to rally completely around them," said Khanna.
Many members of Silicon Valley's Indian-American community have had enormous success launching startups and now run gold standard companies like Google and Adobe, but Indian-Americans are largely absent from the corridors of political power — even in the 17th congressional district, where they account for 1 in 10 voters.
The numbers are even more sparse in Khanna's hometown of Fremont. Indian- and Chinese-American residents each make up about 20 percent of the city's 224,000 residents.
"In Silicon Valley, there is a sense among Chinese-Americans that Indo-Americans are doing better when it comes to business leadership and rising up quickly to positions of corporate power," said Karthick Ramakrishnan, a UC Riverside political science professor who directs the National Asian American Survey. When it comes to politics, though, Indians marvel at the success of their Chinese-American neighbors.
"It's sad that we haven't achieved the same success in politics as we have in other endeavors," said Raj Salwan, a veterinarian Democratic Party donor who is trying for the second time to win election to the Fremont City Council.
"It's democracy at its best and messiest," said former Fremont Councilwoman Anu Natarajan, who ran unsuccessfully for mayor four years ago. Or as Salwan, who campaigned for Natarajan's white opponent in that mayor's race, put it: "We don't fall into line, so to speak."
Khanna, who said his favorite book is "The Argumentative Indian" by Nobel Prize-winning Indian economist Amartya Sen, has been working for nearly a decade to paper over divisions and offer himself as a unifying force in his community.
He cites his grandfather's personal struggle in the battle for India's independence, while presenting himself as a second-generation secular Hindu who has moved beyond the divisions of the old country.
Khanna also has reached out to Sikhs, a minority religious group in India that still nurses wounds of violence against them — most notably in 1984, when thousands of Sikhs were killed in the majority Hindu nation after two Sikh bodyguards assigned to Prime Minister Indira Gandhi, assassinated her in retaliation for ordering Operation Blue Star.
Appearing with Honda at the Fremont Sikh temple two years ago, Khanna called the mass killings "a genocide," a position not held by the U.S. State Department. When pressed by his hosts, Honda wouldn't use the term "genocide."
"That is what made me support Ro," said Amrit Sra, a Silicon Valley executive who attended the event.
Indian-American leaders say they sense stronger support for Khanna this time around, and last June's primary election results seem to support their case. After losing to Honda by 20 percentage points in the 2014 primary, Khanna won this year's contest by two percentage points, running strongest in heavily Indian-American precincts in South Fremont and Cupertino.
"I think the community will converge around Ro," said Saratoga Councilman Rishi Kumar. "And he might become the big uniter who can work across political and religious lines and help us collaborate for the common good."