Trump: Maybe Colin Kaepernick should find a new country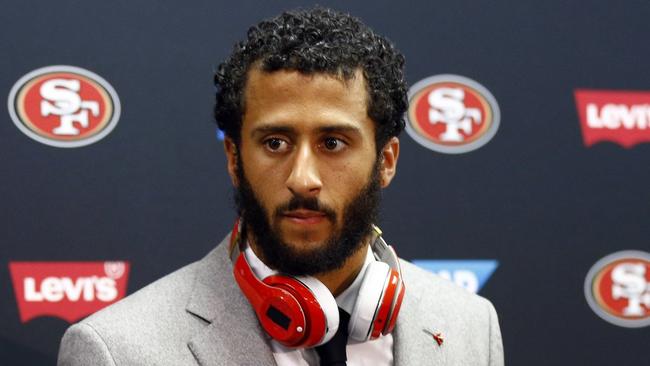 SAN FRANCISCO (Diya TV) — Republican presidential candidate Donald Trump didn't allow 49ers quarterback Colin Kaepernick's refusal to stand during the Star-Spangled Banner pass without a retaliatory comment Monday.
"Well I have followed it, and I think it's personally not a good thing. I think it's a terrible thing," Trump told Seattle radio station KIRO 93.7-FM.
"Maybe he should find a country that works better for him. Let him try. It won't happen."
The embattled 28-year-old former Super Bowl starting quarterback has opted to sit during the playing of the National Anthem at his NFL football games, and he plans to continue doing so to bring attention to racial injustice and other social concerns. While explaining why he's been sitting for the entirety of preseason to media members Sunday, Kaepernick turned his attention to the U.S. presidential race.
"The two presidential candidates that we currently have also represent the issue that we have in this country right now," Kaepernick said.
He explained further.
"I mean, you have Hillary (Clinton) who has called black teens, or black kids `super predators.' You have Donald Trump, who is openly racist," Kaepernick said.
"I mean, we have a presidential candidate who has deleted e-mails and done things illegally and is a presidential candidate. That doesn't make sense to me. If that was any other person, you'd be in prison. So, what is this country really standing for?"
On his political rant, Kaepernick also found time to share his thoughts and comments about police brutality and rallied against a "six-month" training period before police can carry guns.
The deputies of the Alameda County Sheriff's Office responded to that with a Facebook post Monday:
"We would like to cordially invite you to the Alameda County Regional Training Center (RTC) in Dublin, CA. The RTC is currently in session hosting our 156th and 157th basic police academies. In addition to the academy, we train thousands of law enforcement officers from throughout the state and country in all aspects of our profession, including use of force. We have a specially designed Use of Force simulator that puts officers in situations where they must make split second decisions on what actions to take. In addition, we invite you to meet with our current academies and veteran officers to talk to them about their experiences and yours."
We hope that you will take this opportunity to meet with a new generation of law enforcement officers and have an open dialogue.
Sincerely,
The Deputies of the Alameda County Sheriff's Office
Kaepernick's refusal has been the hot topic of discussion in the football world since Friday, over the weekend, some of his old colleagues chimed in with their opinions of his protest.
Alex Boone, now a member of the Minnesota Vikings, played alongside Kaepernick for five seasons with the Red and Gold. Boone, whose brother served in the military, was not amused with what he saw. However, he said it didn't surprise him, during a postgame interview after the Vikings' preseason contest against the San Diego Chargers.
"It's hard for me, because my brother was a Marine, and he lost a lot of friends over there," Boone said while wearing a shirt bearing the name of Chris Kyle, the late Navy Seal who was portrayed in the film American Sniper. "That flag obviously gives (Kaepernick) the right to do whatever he wants. I understand it. At the same time, you should have some (expletive) respect for people who served, especially people that lost their life to protect our freedom.
"We're out here playing a game, making millions of dollars. People are losing their life, and you don't have the common courtesy to do that. That just drove me nuts."
Former 49ers head coach Jim Harbaugh, who is widely regarded for the drafting and development of Kaepernick, himself said the protest disappointed him. However, in true Harbaugh fashion, his take wasn't shared in the most plain of English.
"Voltaire so eloquently stated, 'I may not agree with what you say, but I'll defend it until death your right to say it,'" Harbaugh said. "That's a principle that our country is founded on. I don't think you cannot deny someone the right to speak out or mock or make fun or belittle anybody else's opinion."
I apologize for misspeaking my true sentiments. To clarify, I support Colin's motivation. It's his method of action that I take exception to

— Coach Harbaugh (@CoachJim4UM) August 29, 2016
FTX's Nishad Singh got $543 million loan
More fallout from the FTX cryptocurrency platform collapse. Court documents show its affiliate Alameda Research loaned executives like Sam Bankman Fried $1 billion and more than $500 million to Indian American Nishad Singh, FTX's top engineer. FTX's interim CEO says never in his career has he seen such complete failure of corporate controls and a complete absence of trustworthy financial information. The company filed for Chapter 11 bankruptcy after it was unable to come up with customer funds.
Elizabeth Holmes was sentenced to more than 11 years in prison after her conviction in January for defrauding investors while running the failed blood testing start up Theranos.In her trial, Holmes alleged she was in the midst of a decade-long abusive relationship with her then-boyfriend and Theranos COO Ramesh "Sunny" Balwani. The Indian American was also found guilty for his role in this fraud and will be sentenced later.
Starting next month, India will assume the G20 presidency for a year and chair more than 200 meetings, leading the way for global economic growth. Prime Minister Narendra Modi said his country's leadership here will be inclusive, ambitious, and decisive.
Ravi Kapur contributed to this report.
Arvind Venkat & Tarik Khan win Pennsylvania State seats
WASHINGTON D.C. (Diya TV) – Looking back at the midterm elections, Arvind Venkat and Tarik Khan made history as the first South Asian Americans elected to the Pennsylvania State Legislature. Advocacy group Indian American Impact played a major role on the ground, saying it trained and mobilized 200 volunteers to go door-to-door, to engage voters and provide info they needed to elect new leadership.
After 35 years, the Nancy Pelosi era is officially coming to an end. The speaker from San Francisco announced she's bowing out of leadership, but will retain her House seat. The midterms cost Pelosi's Democratic party the House and effectively ended her speakership.
Two former Indian American executives at Meta Platforms will launch a new non fungible token start up for creators. Kirthiga Reddy and Saurabh Doshi have raised more than $8 million for their new company called Virtualness. But they are facing headwinds as the FTX cryptocurrency exchange collapse is putting pressure on the entire industry.
Ravi Kapur contributed to this report.
Meet FTX insider Nishad Singh
SAN FRANCISCO (Diya TV) – The controversy around failed cryptocurrency exchange FTX continues to captivate the world. Part of the scrutiny is now on the people involved, including Indian American Nishad Singh. According to new reports, this techie was part of FTX's inner circle, which lived together and ran the cryptocurrency empire from the Bahamas. The software engineer was also reportedly aware that FTX secretly transferred customer funds worth billions of dollars to its sister firm Alameda Research. Currently, no one is facing any criminal charges. Diya TV featured Singh more than a decade ago for running ultra marathons as a 17 year old getting ready for college.
Former President Donald Trump has officially announced he is running for president in 2024, marking his third bid for the White House. Trump had been hinting at this announcement for months, as the embattled former president faces multiple criminal and civil litigations and as his party is grappling with a worse than expected showing in the midterm elections.
At the G20 Summit in Bali, world leaders including Indian Prime Minister Narendra Modi and U.S. President Joe Biden are coming together to condemn the rising threat of nuclear weapons as Russia's war against Ukraine continues to raise tension and anxiety around the world.
Ravi Kapur contributed to this report.