Trump: Maybe Colin Kaepernick should find a new country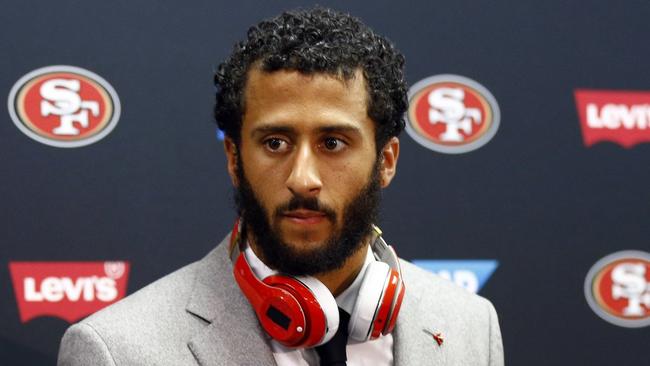 SAN FRANCISCO (Diya TV) — Republican presidential candidate Donald Trump didn't allow 49ers quarterback Colin Kaepernick's refusal to stand during the Star-Spangled Banner pass without a retaliatory comment Monday.
"Well I have followed it, and I think it's personally not a good thing. I think it's a terrible thing," Trump told Seattle radio station KIRO 93.7-FM.
"Maybe he should find a country that works better for him. Let him try. It won't happen."
The embattled 28-year-old former Super Bowl starting quarterback has opted to sit during the playing of the National Anthem at his NFL football games, and he plans to continue doing so to bring attention to racial injustice and other social concerns. While explaining why he's been sitting for the entirety of preseason to media members Sunday, Kaepernick turned his attention to the U.S. presidential race.
"The two presidential candidates that we currently have also represent the issue that we have in this country right now," Kaepernick said.
He explained further.
"I mean, you have Hillary (Clinton) who has called black teens, or black kids `super predators.' You have Donald Trump, who is openly racist," Kaepernick said.
"I mean, we have a presidential candidate who has deleted e-mails and done things illegally and is a presidential candidate. That doesn't make sense to me. If that was any other person, you'd be in prison. So, what is this country really standing for?"
On his political rant, Kaepernick also found time to share his thoughts and comments about police brutality and rallied against a "six-month" training period before police can carry guns.
The deputies of the Alameda County Sheriff's Office responded to that with a Facebook post Monday:
"We would like to cordially invite you to the Alameda County Regional Training Center (RTC) in Dublin, CA. The RTC is currently in session hosting our 156th and 157th basic police academies. In addition to the academy, we train thousands of law enforcement officers from throughout the state and country in all aspects of our profession, including use of force. We have a specially designed Use of Force simulator that puts officers in situations where they must make split second decisions on what actions to take. In addition, we invite you to meet with our current academies and veteran officers to talk to them about their experiences and yours."
We hope that you will take this opportunity to meet with a new generation of law enforcement officers and have an open dialogue.
Sincerely,
The Deputies of the Alameda County Sheriff's Office
Kaepernick's refusal has been the hot topic of discussion in the football world since Friday, over the weekend, some of his old colleagues chimed in with their opinions of his protest.
Alex Boone, now a member of the Minnesota Vikings, played alongside Kaepernick for five seasons with the Red and Gold. Boone, whose brother served in the military, was not amused with what he saw. However, he said it didn't surprise him, during a postgame interview after the Vikings' preseason contest against the San Diego Chargers.
"It's hard for me, because my brother was a Marine, and he lost a lot of friends over there," Boone said while wearing a shirt bearing the name of Chris Kyle, the late Navy Seal who was portrayed in the film American Sniper. "That flag obviously gives (Kaepernick) the right to do whatever he wants. I understand it. At the same time, you should have some (expletive) respect for people who served, especially people that lost their life to protect our freedom.
"We're out here playing a game, making millions of dollars. People are losing their life, and you don't have the common courtesy to do that. That just drove me nuts."
Former 49ers head coach Jim Harbaugh, who is widely regarded for the drafting and development of Kaepernick, himself said the protest disappointed him. However, in true Harbaugh fashion, his take wasn't shared in the most plain of English.
"Voltaire so eloquently stated, 'I may not agree with what you say, but I'll defend it until death your right to say it,'" Harbaugh said. "That's a principle that our country is founded on. I don't think you cannot deny someone the right to speak out or mock or make fun or belittle anybody else's opinion."
I apologize for misspeaking my true sentiments. To clarify, I support Colin's motivation. It's his method of action that I take exception to

— Coach Harbaugh (@CoachJim4UM) August 29, 2016
Biden & Trump hold separate town halls on debate night
WASHINGTON (Diya TV)  — It was supposed to be debate night, a second battle between former Vice President Biden and President Trump. But after the President's COViD-19 diagnosis, an in person battle wasn't in the cards. The President did not want to do a virtual debate, so both men held separate town halls at the exact same time to try and win over voters with less than three weeks before the election and millions of people already casting their ballots early.
Many of the biggest Desi names in entertainment got together for a virtual 'South Asian Block Party' to support the Biden-Harris campaign. In just a couple hours, $250,000 was raised, with a number of the prominent figures sharing their personal stories on why they are supporting the Biden ticket.
Pakistan's government has banned TikTok, citing complaints alleging the popular video app carried immoral and indecent content.
Simran Sethi, ABC TV's Executive Vice President of Development and Content Strategy, is putting in place a new set of inclusion standards to ensure the television network accurately reflects society.
Ravi Kapur contributed to this report.
Indian American professor missing near Mt. Rainier
WASHINGTON (Diya TV) — Sam Dubal, an Indian American anthropology professor at the University of Washington, has been missing for days, according to his sister, UC Hastings law professor Veena Dubal. Sam is said to have gone on an overnight hike and backpacking trip near Mount Rainier in Washington state. Park rangers have found his car, but there is still no sign of him. If you hear about his whereabouts, you are asked to call 360-569-6684.
Members of the Senate Judiciary Committee began a week of confirmation hearings for US Supreme Court nominee Amy Coney Barrett. Judge Barrett praised the legacies of Justices Ruth Bader Ginsburg and Antonin Scalia. Judiciary Chair Lindsey Graham set the agenda and defended his decision to move Barrett's nomination forward. Barrett could become the first justice placed on the court right before a Presidential election.
Actress Mindy Kaling took the occasion of being on the "Late Show with Stephen Colbert" to announce she just gave birth to a baby boy named Spencer in September. It's the second child for Kaling, who told Colbert her daughter Katherine reconnected her to Hinduism after her birth.
Ravi Kapur contributed to this report.
President Trump & First Lady contract COVID-19
WASHINGTON (Diya TV)  — The world's attention is focused on the health of President Trump and the first lady after they disclosed they both have the coronavirus. The President is 74 years old and is considered in a high risk category. White House spokespeople say the President was flown to Walter Reed Medical Center for observation and will be there for a few days out of "an abundance of caution." Sources close to the situation say the President is experiencing a low-grade fever and that he took an experimental drug cocktail to boost his immune system. The First Lady, Melania Trump, remains at the White House. Trump confidants Hope Hicks, Kellyanne Conway and Bill Stepien also contracted the virus.
Well wishes for the President are coming in from around the globe, with one of the first messages of support coming from Indian Prime Minister Modi.
There are tributes around the U.S. to mark Mahatma Gandhi's 151st birth anniversary. Political leaders sent their well wishes and there was a ceremony at the Indian Embassy in Washington to commemorate the occasion.
Ravi Kapur contributed to this report.