Trump: Maybe Colin Kaepernick should find a new country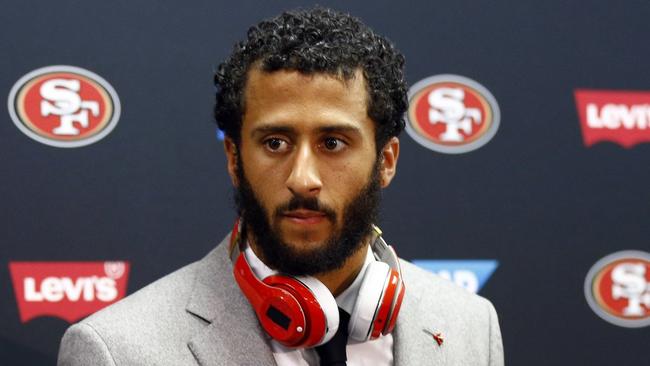 SAN FRANCISCO (Diya TV) — Republican presidential candidate Donald Trump didn't allow 49ers quarterback Colin Kaepernick's refusal to stand during the Star-Spangled Banner pass without a retaliatory comment Monday.
"Well I have followed it, and I think it's personally not a good thing. I think it's a terrible thing," Trump told Seattle radio station KIRO 93.7-FM.
"Maybe he should find a country that works better for him. Let him try. It won't happen."
The embattled 28-year-old former Super Bowl starting quarterback has opted to sit during the playing of the National Anthem at his NFL football games, and he plans to continue doing so to bring attention to racial injustice and other social concerns. While explaining why he's been sitting for the entirety of preseason to media members Sunday, Kaepernick turned his attention to the U.S. presidential race.
"The two presidential candidates that we currently have also represent the issue that we have in this country right now," Kaepernick said.
He explained further.
"I mean, you have Hillary (Clinton) who has called black teens, or black kids `super predators.' You have Donald Trump, who is openly racist," Kaepernick said.
"I mean, we have a presidential candidate who has deleted e-mails and done things illegally and is a presidential candidate. That doesn't make sense to me. If that was any other person, you'd be in prison. So, what is this country really standing for?"
On his political rant, Kaepernick also found time to share his thoughts and comments about police brutality and rallied against a "six-month" training period before police can carry guns.
The deputies of the Alameda County Sheriff's Office responded to that with a Facebook post Monday:
"We would like to cordially invite you to the Alameda County Regional Training Center (RTC) in Dublin, CA. The RTC is currently in session hosting our 156th and 157th basic police academies. In addition to the academy, we train thousands of law enforcement officers from throughout the state and country in all aspects of our profession, including use of force. We have a specially designed Use of Force simulator that puts officers in situations where they must make split second decisions on what actions to take. In addition, we invite you to meet with our current academies and veteran officers to talk to them about their experiences and yours."
We hope that you will take this opportunity to meet with a new generation of law enforcement officers and have an open dialogue.
Sincerely,
The Deputies of the Alameda County Sheriff's Office
Kaepernick's refusal has been the hot topic of discussion in the football world since Friday, over the weekend, some of his old colleagues chimed in with their opinions of his protest.
Alex Boone, now a member of the Minnesota Vikings, played alongside Kaepernick for five seasons with the Red and Gold. Boone, whose brother served in the military, was not amused with what he saw. However, he said it didn't surprise him, during a postgame interview after the Vikings' preseason contest against the San Diego Chargers.
"It's hard for me, because my brother was a Marine, and he lost a lot of friends over there," Boone said while wearing a shirt bearing the name of Chris Kyle, the late Navy Seal who was portrayed in the film American Sniper. "That flag obviously gives (Kaepernick) the right to do whatever he wants. I understand it. At the same time, you should have some (expletive) respect for people who served, especially people that lost their life to protect our freedom.
"We're out here playing a game, making millions of dollars. People are losing their life, and you don't have the common courtesy to do that. That just drove me nuts."
Former 49ers head coach Jim Harbaugh, who is widely regarded for the drafting and development of Kaepernick, himself said the protest disappointed him. However, in true Harbaugh fashion, his take wasn't shared in the most plain of English.
"Voltaire so eloquently stated, 'I may not agree with what you say, but I'll defend it until death your right to say it,'" Harbaugh said. "That's a principle that our country is founded on. I don't think you cannot deny someone the right to speak out or mock or make fun or belittle anybody else's opinion."
I apologize for misspeaking my true sentiments. To clarify, I support Colin's motivation. It's his method of action that I take exception to

— Coach Harbaugh (@CoachJim4UM) August 29, 2016
Shrina Kurani announces CA congressional campaign
SACRAMENTO (Diya TV) — Indian American Democrat Shrina Kurani is running for Congress in California's 42nd district and is preparing to take on 15-year Republican incumbent Ken Calvert. Kurani is a mechanical engineer and entrepreneur and says she's running to create more sustainable jobs in her community and to take on the status quo in Washington DC.
More than 30 interfaith organizations in the U.S. are urging the State Department to sanction India and designate it as a country of "particular concern". 
Their resolution claims that the Indian government
is promoting policies that lead to the persecution of religious minorities, especially Muslims.
Despite growing concern over rising
Covid-19 cases in Japan, the 2021 Tokyo Olympic
opening ceremony got underway. India is sending its largest ever contingent to the Olympics with120 athletes competing across 85 events.  The country hopes to win medals for shooting, wrestling, boxing, archery and badminton.
Ravi Kapur contributed to this report.
Nearly 200,000 'Documented Dreamers' appeal to Congress for help
WASHINGTON DC (Diya TV) — With no clear path to citizenship and facing deportation, younger Indian Americans who have aged out of their parents' visas are now appealing to lawmakers for help. The Migration Policy Institute says about 190,000 kids and young adults will be in this situation once they turn 21 years old. Some of them have now formed a coalition saying it's time to address this ongoing issue.
Electronic signature platform DocuSign appointed Indian American Shanthi Iyer as its new Chief Information Officer. Iyer spent more than 20 years at Cisco and will lead Docusign's efforts to improve employee productivity and the customer experience.
And Indian start-up SimSim has been acquired by Youtube. The company helps small businesses connect with social media influencers and customers. The exact terms of the deal were not disclosed but insiders say the company was valued at more than $70 million.
Ravi Kapur contributed to this report.
Indian photojournalist Danish Siddiqui killed in Afghanistan
KANDAHAR (Diya TV) — Pulitzer Prize-Winning photographer Danish Siddiqui was killed while covering a clash between Afghan security forces and Taliban fighters in Afghanistan. The 38 year old Indian national was Reuters news agency's chief photographer in India. Siddiqui was credited for capturing some of the most powerful images during the Covid-19 pandemic.
17-year-old Indian-American Samir Banerjee clinched the junior Wimbledon singles tennis title. Celebrating Samir's achievement, many Indians took to social media to congratulate the youngster.
Jeff Bezos blasted off into space Tuesday on his Blue Origin rocket ship. It was the company's first flight with people on board. Bezos is now the second billionaire in just over a week to ride his own spacecraft. The Amazon founder was accompanied by his brother, an 18-year-old from the Netherlands and an 82-year-old aviation pioneer from Texas — the youngest and oldest to ever fly in space.
Ravi Kapur contributed to this report.