Bera's father sentenced to prison for funneling money to his son's campaigns
SAN FRANCISCO (Diya TV) — Babulal Bera, a retired chemical engineer who emigrated from India and watched his oldest son win election to the U.S. House of Representatives, was sentenced Thursday to a federal prison term of one year and one day for organizing a money-laundering scheme that helped fund two of his son's campaigns.
Defense attorneys for the 83-year-old man argued the sentence was too severe, but U.S. District Judge Troy L. Nunley disagreed, calling it an appropriate punishment.
"The defendant's efforts were calculated," the judge said during the sentencing hearing in Sacramento. "This is more than just a naive person who doesn't know how elections work."
Rep. Ami Bera was not in the courtroom to witness his father convicted of two counts of of federal campaign finance violations. The two-term democrat from Elk Grove denied knowing anything about the scheme and has expressed disappointment in his father's actions.
"This is one of the most difficult moments my family has ever experienced," Bera, who is currently seeking re-election, said in a written statement. "Of course I'm absolutely devastated and heartbroken for how today's decision will impact our entire family. But my father's accepted what he did was wrong, he's taken responsibility and I love him more than words can express."
Earlier at the DNC Bera provided an exclusive interview to Diya TV and discussed his father's impending sentencing.
The elder Bera provided no comment to reporters as he exited the courthouse in downtown Sacramento. Although he had previously used the services of an interpreter in the courtroom, Thursday Bera addressed the judge himself in English. "No one else knows my wife like I do. She means everything to me," he said shaking his head as he pleaded with the court to allow him to remain by her side. "I cannot live without her, and she cannot live without me."
The sentence rendered was much lighter than what federal regulations normally call for — three years — but did include a fine of $100,200. He can become eligible for release after 10 months, and must surrender himself to federal authorities within 90 days to begin serving his time.
Defense attorneys asked the judge to take into consideration the ages of him and his wife, describing the marriage between the two as "a deeply intertwined dependency between a married couple in their twilight years."
While Judge Nunley acknowledged Bera's age would make a prison term more difficult to serve, she also said the sentence addressed the severity of his actions and was sufficiently serious to deter others from committing similar crimes.
Prosecutors opined that Bera engaged in an elaborate operation of soliciting donations from friends and family for his son's first two congressional campaigns in 2010 and 2012. In all, prosecutors said they were able to track at least $260,000 in illegal contributions funneled through donors but secretly paid by the elder Bera through multiple bank accounts used to further cover his tracks.
Bera has remained a primary target of Republicans in one of California's swing districts, having narrowly won re-election in 2014. His challenger in November's general election, Sacramento County Sheriff Scott Jones, is seeking to link the congressman to his father's money laundering conviction. On Tuesday, Jones proposed tightening federal campaign finance laws to make it harder for money to be funneled from one donor to another.
"More has to be done to root corruption out of politics and expose conflicts," Jones said in a statement.
Prosecutors immediately dismissed the idea that the elder Bera got caught up in the excitement of helping his son achieve a longtime dream.
"He carried on these acts month after month, year after year, and over the course of two campaigns," they wrote in court documents. "He cannot explain away his actions as the result of runaway emotions."
Indiaspora & AAPI data survey Indian American voters
SAN FRANCISCO (Diya TV) — At a virtual event featuring the former CEO of the Democratic National Committee, Seema Nanda, Democratic Congressman Raja Krishnamoorthi and Republican Ohio State Representative Niraj Antani, non-profit Indiaspora teamed up with AAPI Data to reveal the growing political power of the Indian American diaspora. The joint report says 66% of Indian Americans currently favor Vice President Biden, and 28% favor President Trump. The study shows an enormous rise in political engagement from the community. There are 1.8 million Indian Americans in the U.S. who are eligible voters and both sides of the aisle recognize the need to further engage Indian Americans, who AAPI Data notes is now the largest part of the Asian American community, surpassing Chinese Americans.
Eric Trump, President Trump's son, took part in an Indian Voices for Trump event in suburban Atlanta. It was an indoor rally with appropriate social distancing measures in place. Trump was on hand to win support from the community in a vital state that will be tightly contested this fall. Georgia, like North Carolina, Pennsylvania, Florida, Michigan and Texas are considered in play and have growing Indian American populations.
Ravi Kapur contributed to this report.
Eight South Asian candidates run for San Ramon office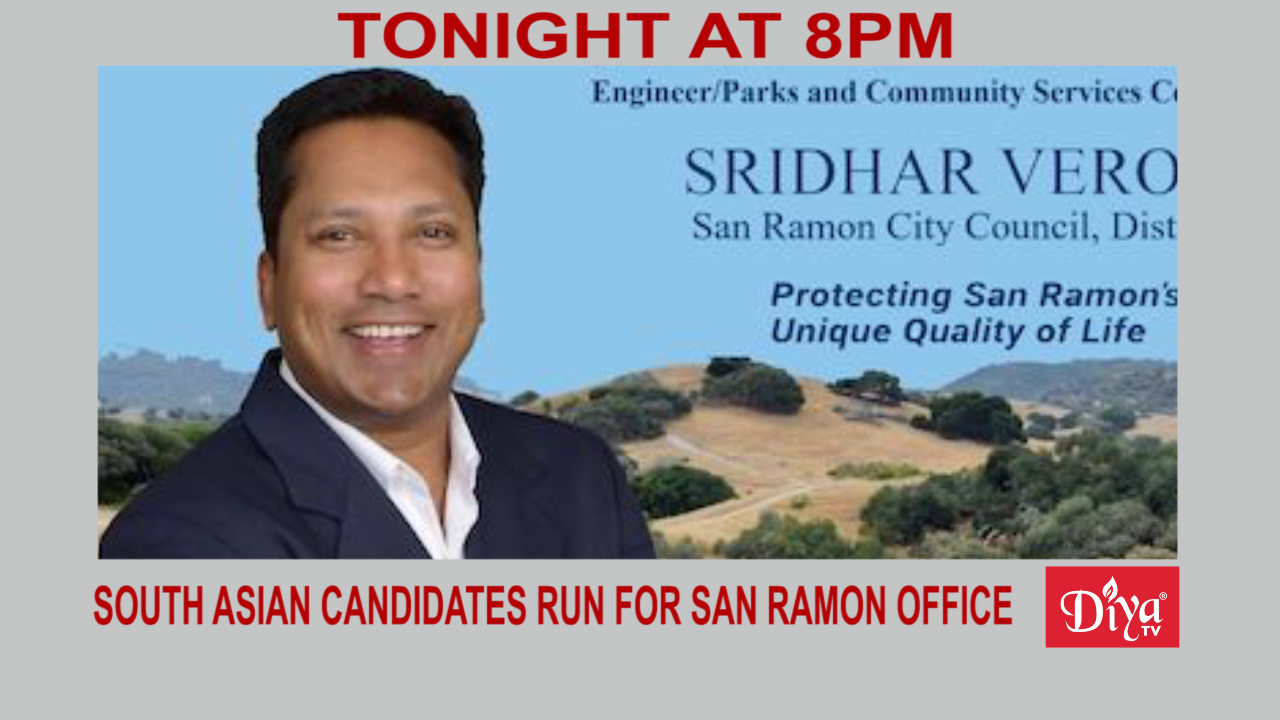 SAN RAMON, California (Diya TV) — We'll introduce you to the eight candidates of South Asian descent running for San Ramon's mayor and city council this year. Located in California's East Bay and renowned for great public schools, San Ramon has seen an explosion in its Indian American population over the last decade. Now community members want to give back and help the city map out its future.
President Trump flew to California to meet with Governor Gavin Newsom and other state officials to discuss the wildfires that have engulfed the state for weeks. Newsom and his team of scientists made it a point to tell Trump climate change is "exacerbating" the wildfires. Toxic air lingers on from California to Washington and new projections indicate the smoke will spread from the Northwest and head to the Midwest.
President Trump announced Indian American Judge Amul Thapar is on shortlist to be named to the Supreme Court if a vacancy happens during his term, joining the likes of Senators Ted Cruz, Josh Hawley and Tom Cotton.
Silicon Valley venture capital fund Sequoia Capital has invested in the most Indian startups that have become unicorns. Sequoia's Indian arm has invested in eight unicorns, including Byju's and Unacademy. SoftBank and Steadview Capital are second with seven unicorns each.
Ravi Kapur contributed to this report.
India and China agree on 5-point plan to deescalate
NEW DELHI (Diya TV) — During a lengthy meeting in Moscow between Indian External Affairs Minister S. Jaishankar and his Chinese counterpart Wang Yi, India and China agreed on a five-point plan to disengage along the Line of Actual Control (LAC), where Indian and Chinese troops have been locked in a nearly five month standoff. The five-point plan is at the direction of Prime Minister Modi and President Jinping to "not allow differences to become disputes."
As America commemorates the 19th anniversary of 9/11, there was some bipartisanship on display in New York when Democratic Presidential nominee Joe Biden and Vice President Mike Pence bumped elbows and spoke briefly ahead of a 9/11 memorial ceremony at the site of the World Trade Center attacks.
As wildfires rage on, toxic air stretched from Washington State to California. Local officials encouraged millions to stay at home to avoid breathing in ash falling from the sky and the poor air quality is likely to continue through the weekend.
Bela Bajaria has been named Netflix's Head of Global TV, a newly created position for the former network TV executive.
The Memphis Grizzlies announced Sonia Raman will join their team as an assistant coach. She spent the last 12 years as the women's head coach at MIT and will be the first ever Indian-American to coach in the NBA.
Ravi Kapur contributed to this report.