Bera's father sentenced to prison for funneling money to his son's campaigns
SAN FRANCISCO (Diya TV) — Babulal Bera, a retired chemical engineer who emigrated from India and watched his oldest son win election to the U.S. House of Representatives, was sentenced Thursday to a federal prison term of one year and one day for organizing a money-laundering scheme that helped fund two of his son's campaigns.
Defense attorneys for the 83-year-old man argued the sentence was too severe, but U.S. District Judge Troy L. Nunley disagreed, calling it an appropriate punishment.
"The defendant's efforts were calculated," the judge said during the sentencing hearing in Sacramento. "This is more than just a naive person who doesn't know how elections work."
Rep. Ami Bera was not in the courtroom to witness his father convicted of two counts of of federal campaign finance violations. The two-term democrat from Elk Grove denied knowing anything about the scheme and has expressed disappointment in his father's actions.
"This is one of the most difficult moments my family has ever experienced," Bera, who is currently seeking re-election, said in a written statement. "Of course I'm absolutely devastated and heartbroken for how today's decision will impact our entire family. But my father's accepted what he did was wrong, he's taken responsibility and I love him more than words can express."
Earlier at the DNC Bera provided an exclusive interview to Diya TV and discussed his father's impending sentencing.
The elder Bera provided no comment to reporters as he exited the courthouse in downtown Sacramento. Although he had previously used the services of an interpreter in the courtroom, Thursday Bera addressed the judge himself in English. "No one else knows my wife like I do. She means everything to me," he said shaking his head as he pleaded with the court to allow him to remain by her side. "I cannot live without her, and she cannot live without me."
The sentence rendered was much lighter than what federal regulations normally call for — three years — but did include a fine of $100,200. He can become eligible for release after 10 months, and must surrender himself to federal authorities within 90 days to begin serving his time.
Defense attorneys asked the judge to take into consideration the ages of him and his wife, describing the marriage between the two as "a deeply intertwined dependency between a married couple in their twilight years."
While Judge Nunley acknowledged Bera's age would make a prison term more difficult to serve, she also said the sentence addressed the severity of his actions and was sufficiently serious to deter others from committing similar crimes.
Prosecutors opined that Bera engaged in an elaborate operation of soliciting donations from friends and family for his son's first two congressional campaigns in 2010 and 2012. In all, prosecutors said they were able to track at least $260,000 in illegal contributions funneled through donors but secretly paid by the elder Bera through multiple bank accounts used to further cover his tracks.
Bera has remained a primary target of Republicans in one of California's swing districts, having narrowly won re-election in 2014. His challenger in November's general election, Sacramento County Sheriff Scott Jones, is seeking to link the congressman to his father's money laundering conviction. On Tuesday, Jones proposed tightening federal campaign finance laws to make it harder for money to be funneled from one donor to another.
"More has to be done to root corruption out of politics and expose conflicts," Jones said in a statement.
Prosecutors immediately dismissed the idea that the elder Bera got caught up in the excitement of helping his son achieve a longtime dream.
"He carried on these acts month after month, year after year, and over the course of two campaigns," they wrote in court documents. "He cannot explain away his actions as the result of runaway emotions."
Democrats meet for the third time to debate
HOUSTON (Diya TV) — Democrats met for the third time to debate, this time in Houston. With the field on stage featuring just 10 candidates, it was more rancorous than the first two clashes.
California Senator Kamala Harris launched 'South Asians for the People' in a video tweet to build support for her presidential bid from Indian Americans and other South Asians. Harris is the daughter of the late Indian American cancer researcher Shymala Gopalan.
Another Democratic contender, former Vice President Joe Biden, announced Indian American Amit Jani will serve as Asian American Pacific Islander national vote director. He's currently serving in New Jersey Governor Phil Murphy's administration.
Former Indian Prime Minister Manmohan Singh is levying criticism at the current officeholder, Narendra Modi and his government for focusing on "headline management" rather than acting to improve a slowing Indian economy.
And actress Felicity Huffman received 14 days in prison, a $30,000 fine and community service for paying to rig her daughter's SAT scores.
Ravi Kapur contributed to this report.
India may offer to cut import duties, for U.S. goods
NEW DELHI (Diya TV) — India has a road map in place to spend $130 billion over the next 5-7 years to modernize their armed forces and bolster their combat capabilities over their neighbors. The plan includes procurement of a slew of weapons, missiles, air defense systems, fighter jets, submarines and developing infrastructure for use of AI.
Meanwhile, India and Russia are increasing industrial cooperation and will create new technological and investment partnerships, especially in high-tech, with the goal to increase bilateral trade to $30 billion by 2025.
And to help Indian's space agency ISRO establish a communication link with Vikram, the moon lander lying motionless on the lunar surface, NASA is sending hello messages. NASA's Jet Propulsion lab beamed a radio frequency to Vikram to establish contact, but no luck so far.
Ravi Kapur contributed to this report.
India and Pakistan clash over Kashmir at UN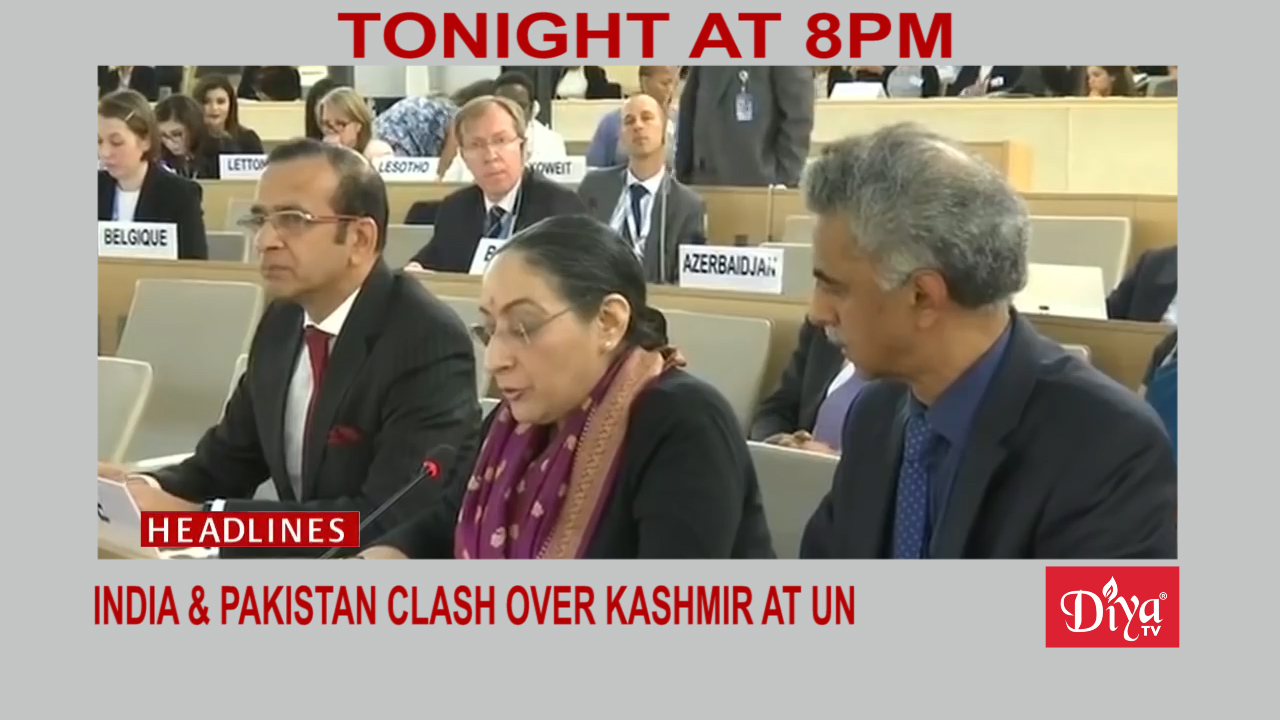 NEW YORK (Diya TV) — India and Pakistan shared their respective narratives over Kashmir before the United Nations. India said its Constitution "guaranteed fundamental rights to all our citizens without any distinction," while dismissing Pakistan as the "the epicentre of global terrorism." Pakistan urged the UN to set up a commission of inquiry into human rights violations, claiming India arrested more than 6,000 people without due process in Jammu and Kashmir.
Meanwhile, Seattle Congresswoman Pramila Jayapal issued her second letter to Secretary of State Mike Pompeo over Kashmir, expressing deep concern about reports of a humanitarian crisis in Jammu & Kashmir.
A NPR producer based in India, Furkan Khan, resigned after major social media backlash from an anti-Hindu tweet that stated "if Indians give up on Hinduism, they will also be solving most of their problems. What with all the piss drinking and dung worshipping." Khan has since apologized and deleted the tweet.
Ravi Kapur contributed to this report.