Bera's father sentenced to prison for funneling money to his son's campaigns
SAN FRANCISCO (Diya TV) — Babulal Bera, a retired chemical engineer who emigrated from India and watched his oldest son win election to the U.S. House of Representatives, was sentenced Thursday to a federal prison term of one year and one day for organizing a money-laundering scheme that helped fund two of his son's campaigns.
Defense attorneys for the 83-year-old man argued the sentence was too severe, but U.S. District Judge Troy L. Nunley disagreed, calling it an appropriate punishment.
"The defendant's efforts were calculated," the judge said during the sentencing hearing in Sacramento. "This is more than just a naive person who doesn't know how elections work."
Rep. Ami Bera was not in the courtroom to witness his father convicted of two counts of of federal campaign finance violations. The two-term democrat from Elk Grove denied knowing anything about the scheme and has expressed disappointment in his father's actions.
"This is one of the most difficult moments my family has ever experienced," Bera, who is currently seeking re-election, said in a written statement. "Of course I'm absolutely devastated and heartbroken for how today's decision will impact our entire family. But my father's accepted what he did was wrong, he's taken responsibility and I love him more than words can express."
Earlier at the DNC Bera provided an exclusive interview to Diya TV and discussed his father's impending sentencing.
The elder Bera provided no comment to reporters as he exited the courthouse in downtown Sacramento. Although he had previously used the services of an interpreter in the courtroom, Thursday Bera addressed the judge himself in English. "No one else knows my wife like I do. She means everything to me," he said shaking his head as he pleaded with the court to allow him to remain by her side. "I cannot live without her, and she cannot live without me."
The sentence rendered was much lighter than what federal regulations normally call for — three years — but did include a fine of $100,200. He can become eligible for release after 10 months, and must surrender himself to federal authorities within 90 days to begin serving his time.
Defense attorneys asked the judge to take into consideration the ages of him and his wife, describing the marriage between the two as "a deeply intertwined dependency between a married couple in their twilight years."
While Judge Nunley acknowledged Bera's age would make a prison term more difficult to serve, she also said the sentence addressed the severity of his actions and was sufficiently serious to deter others from committing similar crimes.
Prosecutors opined that Bera engaged in an elaborate operation of soliciting donations from friends and family for his son's first two congressional campaigns in 2010 and 2012. In all, prosecutors said they were able to track at least $260,000 in illegal contributions funneled through donors but secretly paid by the elder Bera through multiple bank accounts used to further cover his tracks.
Bera has remained a primary target of Republicans in one of California's swing districts, having narrowly won re-election in 2014. His challenger in November's general election, Sacramento County Sheriff Scott Jones, is seeking to link the congressman to his father's money laundering conviction. On Tuesday, Jones proposed tightening federal campaign finance laws to make it harder for money to be funneled from one donor to another.
"More has to be done to root corruption out of politics and expose conflicts," Jones said in a statement.
Prosecutors immediately dismissed the idea that the elder Bera got caught up in the excitement of helping his son achieve a longtime dream.
"He carried on these acts month after month, year after year, and over the course of two campaigns," they wrote in court documents. "He cannot explain away his actions as the result of runaway emotions."
Indian Americans now 2nd largest immigrant group in the US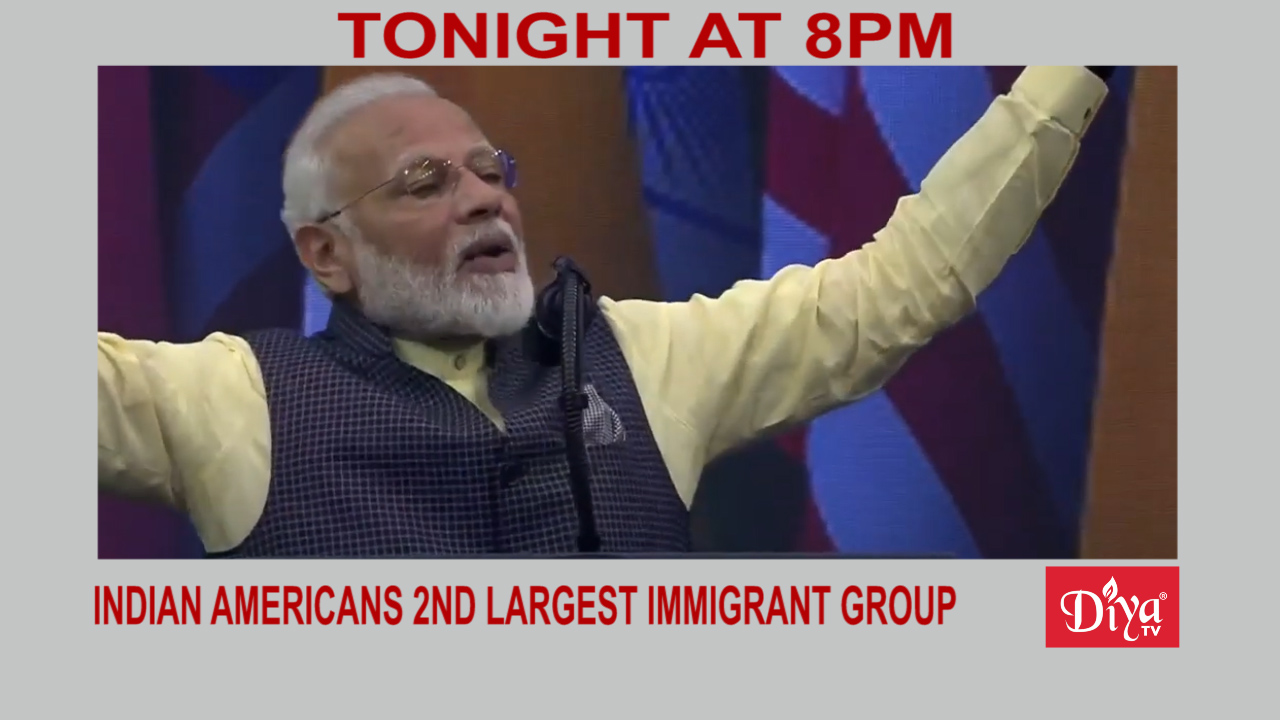 WASHINGTON (Diya TV)  — New data released indicates Indian Americans are now the second largest immigrant group conferred with American citizenship, behind only the Mexican community. Individuals born in India made up 6.9% of the total number of new American citizens, reflecting a rise of 2.7% over the previous year.
Democrats made their final opening argument on the fourth day of President Trump's impeachment trial. A new recording played before the Senate demonstrated the President wanted former U.S. Ambassador to Ukraine Marie Yovanovitch fired, saying on tape: "Get rid of her! Get her out tomorrow. I don't care. Get her out tomorrow. Take her out. Okay? Do it."
The Pentagon says 34 American troops have brain injuries from the missile strike launched by Iran in retaliation for the killing of Qasem Soleimani.
More than 800 people have been diagnosed with the Coronavirus, the ailment that began in China and is spreading around the globe. At least 26 people are dead. Hospitals in China are overwhelmed with patients. The disease has reached Vietnam, Singapore, Japan, South Korea, Taiwan, Thailand and the U.S.
Pharma exec John Kapoor gets 66 month prison sentence
BOSTON (Diya TV)  — Former billionaire CEO John Kapoor was sentenced to 66 months in prison, the culmination of a criminal trial in Boston resulting in the first successful prosecution of a pharmaceutical executive tied to the opioid epidemic. The 76-year-old founder of Insys Therapeutics made the potent opioid painkiller Subsys.
Senators reconvened in the Capitol for the third day of President Trump's impeachment trial. House Democrats argued the president abused his power by pressuring Ukraine for his own personal gain, often playing video of Trump speaking publicly to make their point.
Pakistani Prime Minister Imran Khan at the World Economic Forum in Davos said Osama bin Laden was able to find refuge in Pakistan because groups like Al Qaeda were viewed as "heroes" rather than terrorists. In May 2011, bin Laden was killed by US Special Forces in Pakistan, near one of their military bases.
India is considering incentives to woo Apple and Samsung's suppliers to open factories in the country.
Ravi Kapur contributed to this report.
Tulsi Gabbard sues Hillary Clinton for defamation
WASHINGTON (Diya TV)  — Congresswoman Tulsi Gabbard announced she is suing former First Lady Hillary Clinton for defamation. Gabbard was once Vice Chair of the Democratic Party, but stepped down when she decided to publicly endorse Senator Bernie Sanders for President in 2016. Gabbard says she's been smeared since making that decision by Clinton and her network of supporters.
The Republican-led Senate rejected all 11 Democratic-proposed amendments en route to approving the rules for the impeachment trial of President Trump. The war of words between the two sides got so nasty at one point, Supreme Court Chief Justice John Roberts asked them all to bite their tongues.
Bollywood actress Deepika Padukone was honored with a Crystal Award at the opening session of the World Economic Forum's 2020 annual meeting in Davos, Switzerland. 
The founder of The Live Love Laugh Foundation, Padukone was celebrated for leadership that inspires inclusive and sustainable change.
And for the first time, the Sikh community in the U.S. will be counted as a separate ethnic group in the 2020 US census.
Ravi Kapur contributed to this report.