India's Congress Party's Rahul Gandhi ordered to apologize or face trial for RSS Remarks
SAN FRANCISCO (Diya TV) — India's Supreme Court has asked Rahul Gandhi to apologize or face trial and questioned the Congress vice-president's "collective denunciation" of the RSS after he accused the organization of killing Mahatma Gandhi during a speech two years ago.
In reaction to the Court's remarks, Congress said that Rahul had already "challenged the constitutionality" of the section under which he had been chargedand that "there is no question" of him apologizing or expressing regret.
Manmohan Vaidya, senior functionary of the RSS, said Congress had been "consistently trying to spread lies and baseless allegations" about the Sangh and that the Supreme Court ruling has "exposed" the party.
Tuesday, during a hearing of criminal defamation filed by an RSS member against the Congress leader for the aforementioned remarks, Justices Dipak Misra and Rohinton F. Nariman told Rahul's counsel Harin P. Raval: "Why did you make a sweeping statement against the RSS, painting everyone associated with the organization in the same brush?"
It said: "Why he (Rahul) made a speech quoting wrong historical fact…What we have to see is whether the petitioner's allegations come under Section 499 (defamation) of IPC or not. Our judgment upholding its validity is already there. You will have to face trial if you don't express regret."
In March 2014, during an address to an election rally in Thane's Bhiwandi, Rahul had said: "RSS people killed Gandhiji and today their people talk of him…They opposed Sardar Patel and Gandhiji."
Gandhi's attorney defended the speech by saying whatever had been said was done so on the basis of government records. His lawyer added that Rahul's statement had further relied on the decision of Punjab and Haryana High Court regarding Nathuram Godse's association with the RSS.
However, the Supreme Court, after perusing the High Court judgment, retorted that it only said that Godse was an RSS worker. "To say Godse killed Gandhi is one thing but to say RSS killed Gandhi is different…you have gone way ahead in making the statement…you cannot make collective denunciation," said the bench.
In response to Raval's defense, the Court said freedom of speech is not crippled by upholding the validity of the criminal defamation law, but it had to be ensured that there is not anarchy.
"We have upheld the defamation law. The purpose of the law is to obey law so that there is harmony rather than anarchy…your freedom is not crippled or cut. Everyday, a writer, a politician will say something and you must have great magnitude to swallow. The purpose of the law is not to turn people into litigants. Purpose of law is that people obey law. Peace and harmony should prevail rather than chaos," the bench said.
The Court also asked Raval to show how Rahul's statement served the public any good, adding that it was not a matter of trial since his act was immune under the law on criminal defamation.
"History is the greatest enemy of privacy. Over the years, attempts have been made to enter the lives of historically eminent personalities to give a new dimension…criticism of government is one thing and criticism of a historical figure is another thing. Your statement has to meet the test of public good," the Court said.
Meanwhile, Congress spokesperson Randeep Surjewala said his party will not comment on "any remark made or any exchange between the counsel and the Judge… as we hold the Supreme Court in high regard."
But he ruled out any apology or expression of regret, saying that such a suggestion "has been made in the past and Gandhi had rejected it."
"Gandhi is a seasoned and mature politician with intricate understanding of history. And Congress party and Gandhi stand by the remark," he said.
"Rahul Gandhi had challenged the constitutionality of section 499/500 of IPC as also the order of the High Court in Maharashtra. A Special Leave Petition challenging the order of the High Court is pending before Supreme Court and has been merely adjourned for July 23 without passing any order," said Surjewala.
RSS's Vaidya, meanwhile, accused the Congress of trying to "avoid the trial and repeat the same, false allegations against RSS."
"It seems he does not have faith in India's legal system nor any respect for it," he said.
RSS ideologue Rakesh Sinha tweeted that the "court's observation on Rahul Gandhi on his allegation on RSS is a slap on his face, exposes dynasty's politics of lies".
"For generations, the Nehru-Gandhi family has been spreading lies about RSS by linking it with the killing of Gandhi," he said, adding that "Rahul Gandhi must now apologise to the nation and the RSS."
AAPI Victory Fund gets a brand new name
WASHINGTON DC (Diya TV) — The largest network of Asian Americans is flexing it's political and financial capital. The group once known as the AAPI Victory Fund is rebranding itself as the AAPI Victory Alliance to fight back against the rising hate crimes and harassment against Asians and misinformation about the community. In addition to all the political and advocacy work, a new think tank will focus on education, and the group will prioritize alliances with other groups at the local, state, and national levels.
A world renowned Indian American artist is picking up the pieces after massive flooding wrecked part of his Texas home, destroying several valuable paintings and his supplies. Kartik Trivedi's work has adorned the White House and Buckingham Palace. A GoFundMe page is now up and running to help the 83 year old recoup some of his losses.
And S. Dave Vatti was sworn in to become Magistrate Judge for the District of Connecticut. The Indian American will serve at the Bridgeport federal courthouse.  Vatti is a former United State Attorney and a lifelong Connecticut resident.
Ravi Kapur contributed to this report.
Nikki Haley wont run, if Trump runs in 2024
SOUTH CAROLINA (Diya TV) — Former US Ambassador to the United Nations and South Carolina Governor Nikki Haley says she will not make a run for the White House in 2024. But that's only if Donald Trump decides to enter the Presidential race. Haley continues to be mentioned as a potential candidate for the Oval Office, but the Indian American's public comments are being interpreted as an early endorsement for former President if Trump chooses to run again.
And more positive news for India's economy. The International Monetary Fund says it's projecting a 12 and half percent growth rate for the South Asian nation in 2021. That's even stronger than what's expected for China and America's economy this year.
India is going through a historic tech boom for unicorn start ups. These are the companies valued at more than a billion dollars. In a span of four days, the country saw 6 tech unicorns emerge onto the scene. Startups like Groww, Gutshup, API Holdings, Mohalla Tech, Meesho, and Cred all reached valuations of a billion dollars or more. And that's attracting some of the world's largest investors like Softbank and Tiger Global.
Ravi Kapur contributed to this report.
Indian American couple dead in apparent murder-suicide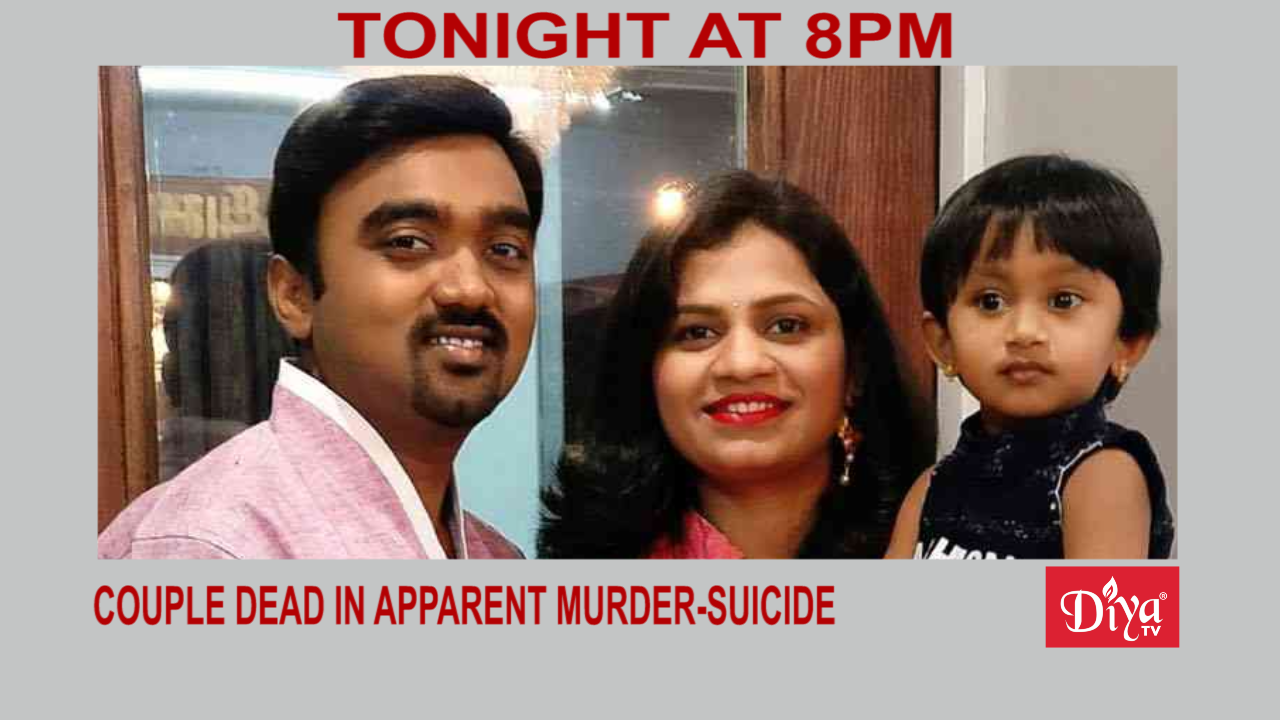 North Arlington, NEW JERSEY (Diya TV) — Authorities in New Jersey are investigating a possible murder-suicide, saying Balaji Rudrawar stabbed his wife Aarti to death. Both were found dead in their home with multiple stab wounds. Their young daughter was found unharmed inside. The motive remains unclear. The man's father told an India-based media outlet his daughter in law was 7 months pregnant.
In Indian waters, a US war ship sailed through India's Exclusive Economic Zone without asking for permission, a violation of that country's law. Both countries remain partners in the region. Sources with the Indian Navy say the move was more about sending a message to China.
As Special Presidential Envoy for Climate John Kerry wraps up his India trip,  he's taking to social media and personally thanking some of the leaders of that region including Prime Minister Narendra Modi of India and now Prime Minister Sheikh Hasina and Foreign Minister Dr. AK Abdul Momen of Bangladesh, saying all the countries involved are committed to address global warming and climate change. Kerry is raising awareness about this issue heading into a climate conference with world leaders later this month. 
Ravi Kapur contributed to this report.