Turkey airport attack: 28 dead, 60 injured, officials say
(Diya TV) — At least 28 people have been killed and 60 wounded in a terror attack Istanbul Ataturk Airport in Turkey, Istanbul Gov. Vasip Sahin said early Wednesday. Three bombers were also killed, the governor said. The series of deadly explosions tore through the airport Tuesday evening, in an attack which officials blamed on the Islamic State terror group.
Shortly before the blasts, assailants armed with AK-47 assault rifles exchanged gunfire with security guards outside the airport's international terminal, officials said. Soon after, the gunmen detonated what are believed to be suicide bombs, they added.
A witness told Reuters that just before the explosions began, one of the gunmen opened fire at random as he walked through the terminal.
"He was just firing at anyone coming in front of him. He was wearing all black. His face was not masked. I was 50 metres away from him," said Paul Roos, 77, a South African tourist on his way back to Cape Town with his wife.
"We ducked behind a counter but I stood up and watched him. Two explosions went off shortly after one another. By that time he had stopped shooting," Roos said.
"He turned around and started coming towards us. He was holding his gun inside his jacket. He looked around anxiously to see if anyone was going to stop him and then went down the escalator … We heard some more gunfire and then another explosion, and then it was over."
Footage captured on one of the airport's security cameras has been circulating on social media, showing one of the attackers just before he was shot by a security guard. The footage, which has yet to be verified, shows the attacker dropping what appears to be an assault rifle before collapsing to the floor. Seconds later, he appears to activate a suicide bomb.
"There were the sounds of gunfire, it was like thunder, then there was a fireball everywhere," a taxi driver, named as Fatih, told CNNTurk. "My front window blew out, the car in front of me was turned into scrap."
Fatih added that at the most, two minutes passed between the exchange of gunfire and the sound of bombs exploding.
President Recep Tayyip Erdoğan pleaded for all governments, especially those in Western countries, to take a "firm stand against terror."
"The bombs that exploded in Istanbul today could have gone off at any airport in any city around the world. Make no mistake: For terrorist organizations, there is no difference between Istanbul and London, Ankara and Berlin, Izmir and Chicago or Antalya and Rome," he said in a statement.
"Unless all government and the entire mankind join forces in the fight against terrorism, much worse things than what we fear to imagine today will come true."
Turkey has been on a high state of terror alert after a series of attacks this year, two deadly bombings earlier this year in Istanbul were also blamed on the Islamic State jihadis. In early June a car suicide bomb killed 12 people in the central Vezneciler district of Istanbul in an attack claimed by radical Kurdish militants.
"Look at India. It's filthy!" Trump exclaims during debate
NASHVILLE (Diya TV) — Former Vice President Biden and President Trump held their second and final debate in Nashville. The tone of the event was markedly improved from the first debate, thanks largely because of a rule implemented that muted the microphone during dedicated speaking times. We'll analyze the key moments, including when President Trump called China, India and Russia "filthy" when discussing climate change.
WATCH what the President said about India here:
The State of California's Department of Fair Employment and Housing voluntarily dismissed their federal lawsuit accusing Cisco Systems Inc. and two of their former employees of discriminating against an Indian American Dalit engineer. No explanation was given, but state officials said they will refile the matter in state court.
Dr. Mukul Chandra, a prominent cardiologist in the Toledo, Ohio area, has died from complications related to COVID-19. He was 57. 
Dr. Chandra was the medical director of Cardiac Preventive Care and Research at Miami Valley Hospital and received a plasma donation as a possible remedy for the virus. And hundreds of people around the globe offered their help.
WATCH the full debate here:
Ravi Kapur contributed to this report.
Biden & Harris issue happy Navratri greetings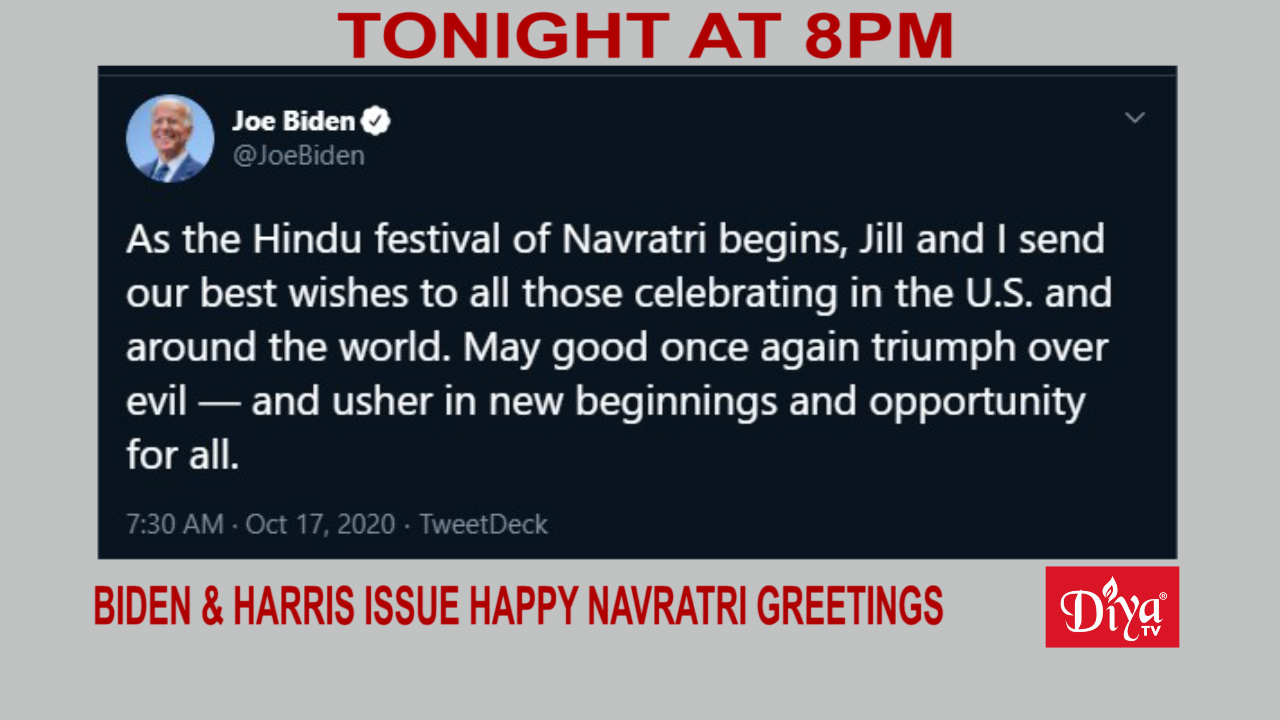 WILMINGTON, Delaware (Diya TV) — Vice President Joe Biden and Senator Kamala Harris continue their efforts to court the Indian diaspora, as each issued Navratri greetings. Biden & his wife Jill sent their best wishes, tweeting "may good once again triumph over evil." And Harris and her husband Doug added "may this holiday serve as an inspiration to…build a more inclusive and just America."
But at the same time, Harris' niece Meena deleted an image she posted of her auntie being depicted as Goddess Durga, which led to a petition asking her to apologize. Meena Harris is a lawyer, entrepreneur and daughter of Kamala Harris' sister, Maya. The image she posted photoshopped Kamala Harris' face onto Hindu Goddess Durga, showing Joe Biden as her lion and President Trump as a demon she slays.
The chances of finding Indian American professor Sam Dubal, who has been missing for nearly two weeks, appear to be waning. Dubal went on a backpacking trip near Mt. Rainier in Washington state and hasn't been seen since. Authorities say cold and snowy weather is hampering their chances of finding the University of Washington professor.
Ravi Kapur contributed to this report.
Man stabbed during brawl at Sikh temple near Seattle
RENTON, Wa. (Diya TV) — At least six people were injured and one of them was briefly hospitalized with stab wounds during a brawl at the Gurudwara Singh Sabha in Renton, Washington. Renton Police say at least 20 people at the temple were fighting when police arrived. Police added a similar incident happened last week at a Sikh temple in Kent, Washington. Sources tell Diya TV the skirmish was between people that were pro-India and folks that did not view India in a favorable light. No arrests were made.
The Quad military alliance is complete after Australia agreed to be part of the Malabar Exercise to be held in Bay of Bengal next month, joining the United States, India and Japan as part of the naval exercise.
As seen on Diya TV, the South Asian Bar Association held a Presidential Town Hall featuring Asheesh Agarwal, a member of Indian Voices for Trump advisory board and Neera Tanden, the CEO of the Center for American Progress, moderated by journalist and professor Sree Sreenivasan.
Ravi Kapur contributed to this report.