Indian-American accused of insider trading found dead in apparent suicide
NEW YORK (Diya TV) — Sanjay Valvani, a partner at Visium Asset Management who last week was charged with insider trading, was found dead at the age of 44 inside of his Brooklyn home in an apparent suicide.
New York City police were called to his home on Monday evening, where they found a knife near his body and a suicide note. Valvani died after an apparent, self-inflicted slash to the neck, a spokeswoman said.
"We mourn the tragic loss of Sanjay, a devoted father, husband and friend," Jacob Gottlieb, Visium's founder, said in a statement Tuesday.
After Valvani's arrest last week, Visium liquidated four of its hedge funds. Vilvani, considered to be Gottlieb's right-hand, brought in more than $32 million from trades in drug companies using secret tips, according to federal prosecutors. His lawyer, Barry Berke, maintained his client's innocence against the charges.
At Visium, Valvani was responsible for overseeing a portfolio of specialty-pharmaceutical stocks. His consistent outperformance of other hedge funds led competitors to question Visium employees about the confidence Valvani had in specific trades he made, according to a former colleague. Valvani managed as much as $2 billion, including borrowed money, before he was placed on leave in April.
A child of Indian immigrants, Valvani had been a presence at Visium since its inception in 2005. He began his career as a sell-side associate at Solomon Smith Barney and partnered with Gottlieb as an analyst at Balyasny Asset Management in 2003. Just two years later, Gottlieb spun out his health-care strategy, bringing along a team of 20 investment professionals including Valvani, to start Visium.
"I really had to convince Jacob Gottlieb that I was hungry to join his hedge fund," Valvani said in a profile by Duke University's Fuqua School of Business, where he got an MBA. "I work hard and try to be the best at what I do, which is why a hedge fund is so suitable for me — here I have a lot of control over my own destiny."
At its peak earlier this year, Visium managed a portfolio of $8 billion. Last week, the company told clients that it had come to terms of an agreement to sell a multi-sector hedge fund to AllianceBernstein LP, and plans to close its other funds.
Valvani is survived by his wife, Harjot Sandhu, a former first-grade teacher and his children.
Visium becomes the largest hedge fund in the industry to have employees linked to criminal activities since the government began investigating billionaire Steve Cohen's SAC Capital Advisors. That firm pleaded guilty to federal insider-trading charges in 2013, agreeing to pay $1.8 billion and was forced to shut its doors.
Stefan Lumiere, a former money manager at Visium, was also charged in the case. He's been accused of mismanaging securities at Visium, and a third former Visium employee, Chris Plaford, pleaded guilty to securities fraud charges.
Since he passed away before his case was resolved, the court was forced to drop the charges against Valvani, meaning he died an innocent man.
"This is a horrible tragedy that is difficult to comprehend," Berke, Valvani's lawyer, said. "Sanjay Valvani was a loving father, husband, son and brother and committed friend, colleague and mentor. We hope for the sake of his family and his memory that it will not be forgotten that the charges against him were only unproven accusations and he had always maintained his innocence."
Indian Ambassador, Shringla speaks to U.S. Congress about Kashmir
WASHINGTON (Diya TV) — Indian Ambassador to the U.S. Harsh Shringla met with members of Congress at a private roundtable briefing, hosted by Southern California Congressman Brad Sherman. Sherman, who has been a supporter of India, took to Twitter recently to share his concerns about Kashmir and said serious questions about Kashmir were asked at the briefing.
President Trump is being urged to fix the H1-B visa process and do away with country-specific limits, with the latest effort for reform being spearheaded by 60 U.S. business school deans and CEO's.
In an earthquake, seconds matter. So on the anniversary of the deadly 1989 Loma Prieta earthquake that rocked Northern California, state officials announced the launch of America's first statewide earthquake early warning system.
Tabla Maestro Zakir Hussain will be coming to Boston next month to perform at the Berklee India Exchange, where he will also be conferred with an honorary doctorate by the esteemed music school. A Zakir Hussain Scholarship at Berklee is also being established.

And we have incredible video of three kids from India rescuing their dog from a snake that's equal parts courageous and nuts.
Ravi Kapur contributed to this report.
Federal Court rules Trump must turn over tax returns | Diya TV News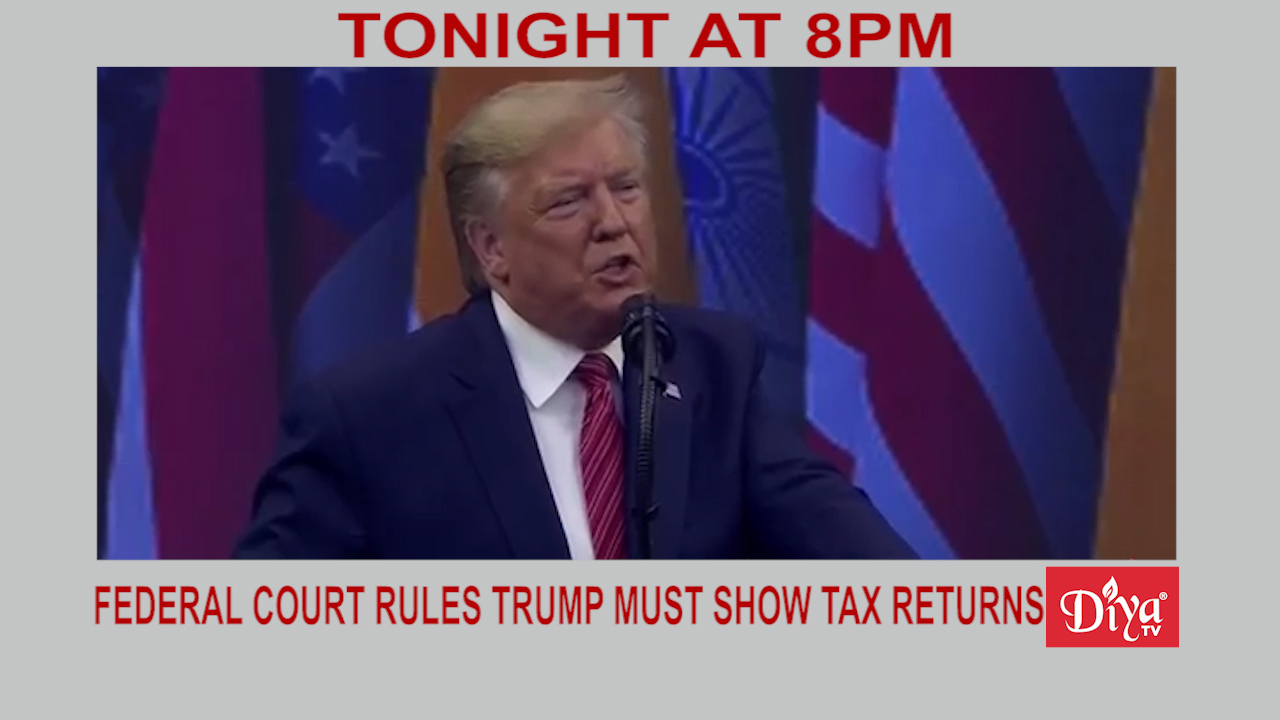 NEW YORK (Diya TV) — A federal judge ruled President Trump must turn over eight years of his personal and corporate tax returns to Manhattan prosecutors, striking down the President's argument that a sitting president cannot be criminally investigated. The ruling was quickly appealed and this case could end up in the Supreme Court to answer the constitutional question of whether presidents can be charged with a crime.
Meanwhile, the President celebrated a victory by FCC Chairman Ajit Pai, as a federal appellate court upheld most of the FCC's repeal of net neutrality. It also ruled the FCC cannot preempt state net neutrality laws, meaning the rules of the road in states like California remain in place.
The U.S. House Foreign Affairs Committee announced their Asia-Pacific and Non-Proliferation Subcommittee will be holding a hearing asking State Department officials and human rights activists to chime in on Human Rights in Kashmir, the Tamils of Sri Lanka, Muslims in Assam and the human rights situation in Pakistan, which includes the Sindh Province.
Lockheed Martin announced they will build F-16 wings exclusively in India, helping in integrating Indian industry into the $165 billion fighter aircraft market.
Ravi Kapur contributed to this report.
Tech CEO Pradyumna Samal convicted of large scale H1B fraud
SEATTLE (Diya TV) — Tech CEO Pradyumna Samal was convicted of large scale H1B fraud. The CEO of two companies that supplied workers to companies like Microsoft and Amazon plead guilty to using fake documents to get H1-B visas. The Indian national Samal was sentenced to seven years in prison for what federal authorities say "was the largest and most sophisticated H-1B visa fraud scheme we have prosecuted in Western Washington." 
Inder Singh, a Los Angeles-based Indian American community leader, has died. He was 86 years old. Singh was involved in the inception of a number of Indian American non-profit organizations in the effort to build a stronger relationship between the U.S. and India. Indian Ambassador to the U.S. Harsh Shringla said on Twitter that Singh's contributions have been "significant and his leadership will be greatly missed."
Indiaspora launched ChaloGive.org, their first online giving campaign that runs October 2nd to the 8th. The goal is to increase levels of giving by the Indian diaspora, inspired in part by the success of Giving Tuesday in the U.S. and Daan Utsav in India.
Ravi Kapur contributed to this report.