Modi, Obama meet to discuss strengthening energy and defense between India and U.S.
WASHINGTON (Diya TV) — Indian Prime Minister Narendra Modi and U.S. President Barack Obama met Tuesday at the White House for their third major bilateral summit to discuss strengthening the partnership between the two nations. Their conversation covered a variety of topics, though the underlying theme was furthering economic growth, sustainable development and promoting peace and prosperity.
Steps taken by the governments of both nations in the last two years through the U.S.-India Contact Group have addressed the issues of nuclear liability, and through India's ratification of the Convention on Supplementary Compensation for Nuclear Damage, a strong foundation has been laid for a long-term partnership between the two nations.
President Obama thanked Modi for his administrations substantial contributions and active participation in the 2016 Nuclear Security Summit in Washington, and welcomed the prime minister's offer to host a summit on Countering Weapons of Mass Destruction Terrorism in 2018. The U.S. and India have further plans to continue their relationship, working together to combat the threats of terrorist access to weapons that use chemical, biological, nuclear and radiological materials.
Obama and Modi were quick to recognize the ever present threat of terrorism around the globe, and condemned the recent attacks from Paris to Pathankot and from Brussels to Kabul.
Both leaders applauded the completion of the roadmap for cooperation under the 2015 U.S.-India Joint Strategic Vision for the Asia-Pacific and Indian Ocean Region, a framework which will serve as the guide for years to come. President Obama and Modi both said that the U.S. and India should see each other as priority partners in the Asia Pacific and Indian Ocean regions.
The economic ties between the U.S. and India are expanding and growing rapidly, Obama said. In an effort to increase trade between the countries, both leaders pledged to begin exploring new ways to further break down economic barriers to move goods and services more efficiently. Both nations will seek to more deeply integrate more sophisticated supply chains, which they help will in turn result in the creation of more jobs.
India, Pakistan spar over women's rights in Kashmir
NEW YORK (Diya TV) — At the United Nations, both India and Pakistan's representatives took shots at their counterpart over women's rights. Islamabad's outgoing envoy to the UN, Maleeha Lodhi, said the women in Jammu and Kashmir were suffering due to the communication blackout in the state. India's First Secretary to the UN Paulomi Tripathi said, without naming Pakistan, these "baseless statements" were ironic given the amount of honor killings that take place there annually.
Rajeev Majumdar is the new president of the Washington State Bar Association, becoming the first state bar president of South Asian descent in the United States.
For the first time, India entered the ranks of the top ten countries sending visitors to the United States, with tourists from India spending nearly $16 billion in the U.S. in 2018 alone.
And while the Kings and Pacers played two entertaining games in Mumbai, their legacy will include supporting five under-resourced schools in and around the region, outfitting them with Smart Classrooms, STEM training and new basketball courts.
Ravi Kapur contributed to this report.
Federal Court rules Trump must turn over tax returns | Diya TV News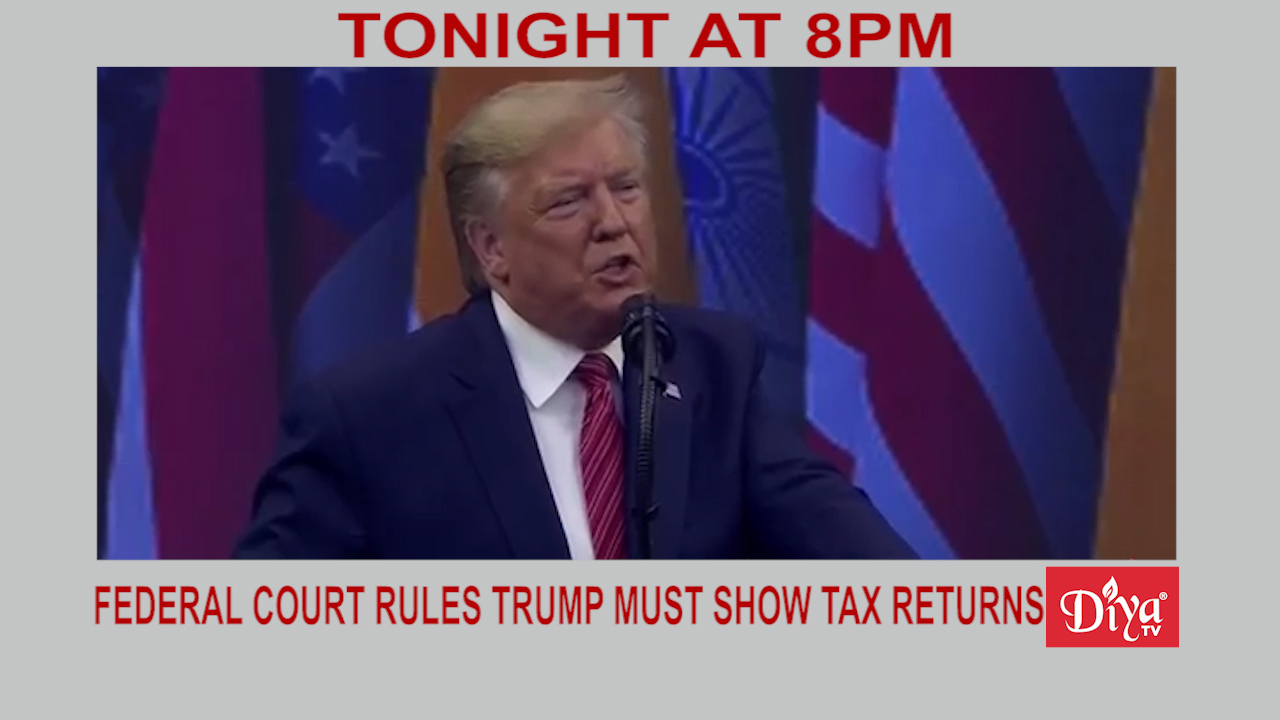 NEW YORK (Diya TV) — A federal judge ruled President Trump must turn over eight years of his personal and corporate tax returns to Manhattan prosecutors, striking down the President's argument that a sitting president cannot be criminally investigated. The ruling was quickly appealed and this case could end up in the Supreme Court to answer the constitutional question of whether presidents can be charged with a crime.
Meanwhile, the President celebrated a victory by FCC Chairman Ajit Pai, as a federal appellate court upheld most of the FCC's repeal of net neutrality. It also ruled the FCC cannot preempt state net neutrality laws, meaning the rules of the road in states like California remain in place.
The U.S. House Foreign Affairs Committee announced their Asia-Pacific and Non-Proliferation Subcommittee will be holding a hearing asking State Department officials and human rights activists to chime in on Human Rights in Kashmir, the Tamils of Sri Lanka, Muslims in Assam and the human rights situation in Pakistan, which includes the Sindh Province.
Lockheed Martin announced they will build F-16 wings exclusively in India, helping in integrating Indian industry into the $165 billion fighter aircraft market.
Ravi Kapur contributed to this report.
Gandhi 150th birth anniversary noted around the world
NEW DELHI (Diya TV) —  Celebrations for Mahatma Gandhi's 150th birth anniversary have been ongoing for the past year, but culminated with a ceremony in New Delhi featuring Prime Minister Modi and another in Washington at the Library of Congress. And France's government worked with the Indian Embassy there to issue a stamp in honor of his birth anniversary.
US Commerce Secretary Wilbur Ross and India's Commerce and Industry Minister Piyush Goyal are meeting this week to continue the US-India discussion on trade and investment.
Indiana Governor Eric Holcomb came to New Delhi to strengthen ties between the Hoosier State and India. Infosys has already made a large commitment there. Holcomb is part of a large delegation of Americans now heading Mumbai to take in the first-ever NBA preseason games in India featuring the Indiana Pacers and the Sacramento Kings.
Bollywood turned Hollywood actor Anupam Kher came to the Bay Area to keynote the Akshay Patra annual fundraising gala that helps feed children in India a hot meal during the school year.
Ravi Kapur contributed to this report.