Modi, Obama meet to discuss strengthening energy and defense between India and U.S.
WASHINGTON (Diya TV) — Indian Prime Minister Narendra Modi and U.S. President Barack Obama met Tuesday at the White House for their third major bilateral summit to discuss strengthening the partnership between the two nations. Their conversation covered a variety of topics, though the underlying theme was furthering economic growth, sustainable development and promoting peace and prosperity.
Steps taken by the governments of both nations in the last two years through the U.S.-India Contact Group have addressed the issues of nuclear liability, and through India's ratification of the Convention on Supplementary Compensation for Nuclear Damage, a strong foundation has been laid for a long-term partnership between the two nations.
President Obama thanked Modi for his administrations substantial contributions and active participation in the 2016 Nuclear Security Summit in Washington, and welcomed the prime minister's offer to host a summit on Countering Weapons of Mass Destruction Terrorism in 2018. The U.S. and India have further plans to continue their relationship, working together to combat the threats of terrorist access to weapons that use chemical, biological, nuclear and radiological materials.
Obama and Modi were quick to recognize the ever present threat of terrorism around the globe, and condemned the recent attacks from Paris to Pathankot and from Brussels to Kabul.
Both leaders applauded the completion of the roadmap for cooperation under the 2015 U.S.-India Joint Strategic Vision for the Asia-Pacific and Indian Ocean Region, a framework which will serve as the guide for years to come. President Obama and Modi both said that the U.S. and India should see each other as priority partners in the Asia Pacific and Indian Ocean regions.
The economic ties between the U.S. and India are expanding and growing rapidly, Obama said. In an effort to increase trade between the countries, both leaders pledged to begin exploring new ways to further break down economic barriers to move goods and services more efficiently. Both nations will seek to more deeply integrate more sophisticated supply chains, which they help will in turn result in the creation of more jobs.
India to play central role in revitalizing the global economy
SANTA CLARA, Ca. (Diya TV) — Nearly 250 guests around the globe joined together to listen to the latest entry in the Confederation of Indian Industry's (CII) "India and the World" discussion series, aptly titled, "India and the Re-emerging Global Order: Thought Leadership on COVID-19 Geopolitical Implications. The panel featured notable speakers from business and political fields alike including TATA's Chair for Strategic Affairs Dr. Ashley J. Tellis, Ambassador R. Nicholas Burns, and McLarty Associates President and Co Founder Nelson Cunningham; additional remarks were made by CII's Director General Chandrajit Banerjee, and the discussion was moderated by CII's past President Dr. Naushad Forbes. 
The event kicked off with Dr. Forbes casting a light on the lack of international collaboration in response to the global threat that the COVID-19 virus poses to the world. Forbes pushed further by highlighting that countries have a tendency to value domestic solutions and supply chains in order to secure national security despite the benefits that global trade relations, efforts, and organizations can provide. 
While Dr. Tellis found herself in agreement with Forbes' statement in regards to a short term solution, she also put forth the belief that while countries may initially shirk away from the efficiency and comparative benefits of international interdependent supply chains, that the disadvantages of resiliency are vastly unsustainable in the post COVID world and would consequentially result in moving away from such practices. 
Cunningham posits that the pandemic has merely exacerbated changes in pre existing conditions, such as the strengthening of borders, rise of nationalism, and governments becoming increasingly insular. 
Ambassador Burns put forth his voice to insist upon that that the need for international collaboration is has reached an all time high, as its' propogation is necessary for the development and distribution for a vaccine as well as the recovery of the global economy at large. 
The panelists ultimately came to the conclusion that trade within the upcoming years will continue to become increasingly difficult, albeit nations like India will hold advantages over their neighbors and global competitors that benefit from its long term recovery. 
India has become an enthusiastic focal point for companies seeking a reliable partner for global businesses, particularly those seeking to distance themselves from China's response to the pandemic. Dr. Tellis echoed her earlier sentiment by stating that while globalism will face a short term decline, India will play a vital role in grappling with the rise of regional trade networks that will begin to develop. The panelists concurred that India's position in the resurgence of a global trade economy has earned the country numerous allies in the United States, but that the investments will take time to nurture, thus necessitating that India must perpetuate engagements with the US in the government, corporate, and civil sectors in order to cement trade and strategic ties. 
H1B Visa holders in limbo, stranded by lockdowns
NEW DELHI (Diya TV) — While the U.S. and India continue to loosen up movement restrictions put in place because of COVID-19, there are still thousands of H1B and other visa holders stranded in India because American consulates there are closed. Now job losses, money issues and family separations are taking their toll alongside these H1B woes.
There's more than 112,000 cases of COVID-19 in India after a recent spike, with the death toll now over 3,400. India is now the epicenter in Asia for the virus, but the government is easing lockdown measures in some of the most heavily populated parts of the country. There are now more than 5 million people infected with COVID-19 globally.
Another 2.4 million people filed for unemployment last week, bringing the total to more than 38 million people around the U.S. The unprecedented rate of job losses comes at a time many states are trying to reopen in an environment where the previous economic demand is just not there.
And we'll show you the latest innovation in social distancing, courtesy of Parks & Recs folks in San Francisco.
Ravi Kapur contributed to this report. 
Controversial St. Paul, Minnesota India resolution approved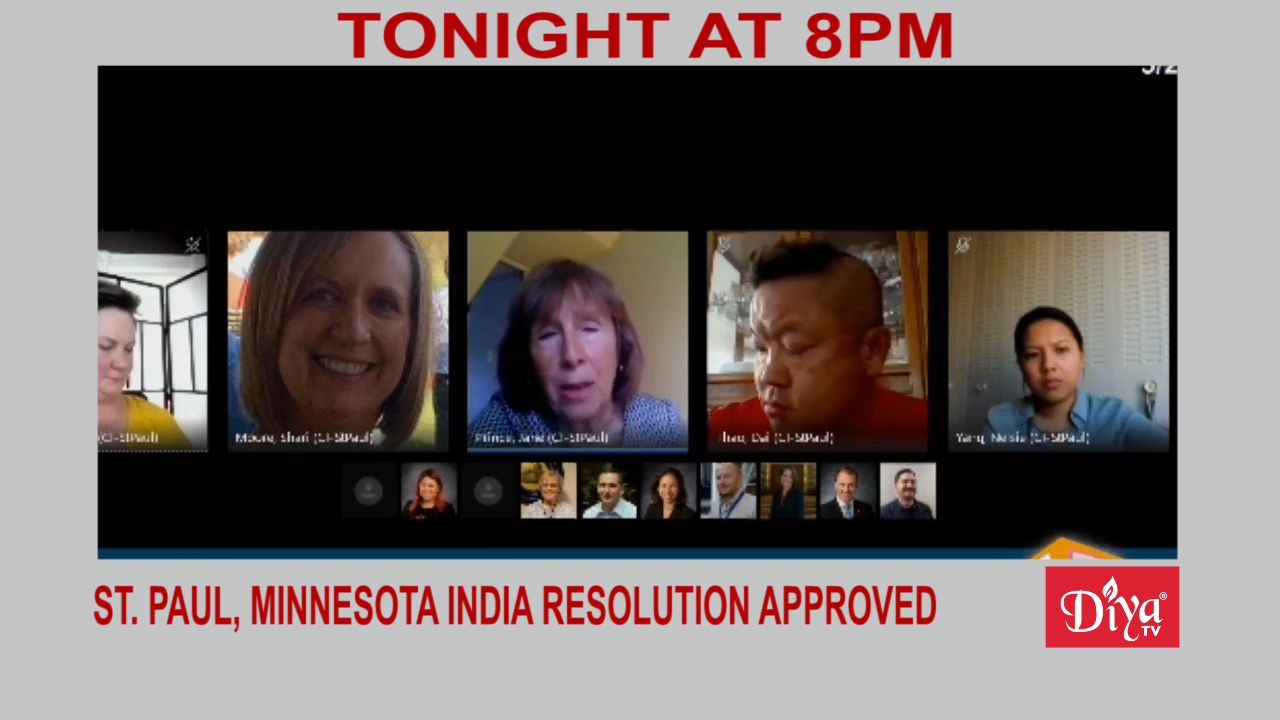 ST. PAUL, Minn. (Diya TV) — It's just a symbolic resolution, but it caused so much controversy, the St. Paul, Minnesota city council postponed their vote for two weeks. But in a 5-0 decision, with two abstentions, the council declared they oppose India's Citizenship Amendment Act, a potential National Registry of Citizens, while stating India's ruling party, the BJP, is "Islamophobic." The resolution was advocated for by the Council on Islamic Relations Minnesota, whose leadership celebrated the condemnation of "Islamophobic ideology and standing in solidarity with all the minorities of India!" Meanwhile, Hindu American Foundation leaders, who coordinated 12,000 letters opposing the resolution, said "St. Paul's resources are better spent on building community, not dividing it," adding the "hypocrisy is breathtaking."
And to celebrate the legacy of the late Vincent Chin, a Chinese American man slain in a hate crime, the non-profit Act To Change, co-founded by actor Maulik Pancholy, held the second annual AAPI Day Against Bullying + Hate, featuring a score of stars committed to ending bullying.
Ravi Kapur contributed to this report.