Modi in Iran to bolster economic, social ties

(Diya TV) — India on Monday will sign a commercial contract with Iran to build and run a port on Iran's southern coast, the Indian government announced last week, in an effort to help both nations gain an upper hand in winning access to Asia and Afghanistan.
The talks to build the Chabahar port have existed for years but since the scaling back of Western sanctions against Iran, India has amped up efforts to ensure they don't lose to China, who are looking to invest themselves.
The nations will develop a port which features two terminals and cargo berths at Chabahar, on the Gulf of Oman. The deal was signed by Prime Minister Narendra Modi during his visit to Iran on Sunday. Gopal Baglay, a foreign ministry official, said India would make an initial investment more than $200 million in the port, with India's Exim Bank providing a $150 million line of credit.
"The focus of the trip is connectivity and infrastructure," he told reporters.
Currently, India is blocked from land access to Afghanistan and central Asia countries because of opposition from Pakistan, whom view India's efforts of diplomacy in the region as a threat. Baglay added that India, Afghanistan and Iran would separately sign an agreement to establish a trade and transportation corridor during Modi's trip, with Chabahar serving as the hub.
Additionally, road and rail links will be built so that the landlocked Afghanistan may have access to the port as an alternate to the Pakistani port of Karachi.
"The trilateral agreement will be a game changer for regional connectivity especially for Afghanistan which can find an assured and reliable alternate access to India via sea," Baglay said.
Chabahar sits roughly 60 miles away from Pakistan's Gwadar seaport which China is developing as part of a $46 billion China-Pakistan Economic Corridor. The Chinese project saw top investments come from Sri Lanka, Bangladesh and the Maldives.
"A major flaw in India's current policy toward Iran has been the lack of implementation of signed agreements," said Meena Singh Roy, an expert on India's ties with Iran at the Institute for Defence Studies and Analyses.
Nikki Haley wont run, if Trump runs in 2024
SOUTH CAROLINA (Diya TV) — Former US Ambassador to the United Nations and South Carolina Governor Nikki Haley says she will not make a run for the White House in 2024. But that's only if Donald Trump decides to enter the Presidential race. Haley continues to be mentioned as a potential candidate for the Oval Office, but the Indian American's public comments are being interpreted as an early endorsement for former President if Trump chooses to run again.
And more positive news for India's economy. The International Monetary Fund says it's projecting a 12 and half percent growth rate for the South Asian nation in 2021. That's even stronger than what's expected for China and America's economy this year.
India is going through a historic tech boom for unicorn start ups. These are the companies valued at more than a billion dollars. In a span of four days, the country saw 6 tech unicorns emerge onto the scene. Startups like Groww, Gutshup, API Holdings, Mohalla Tech, Meesho, and Cred all reached valuations of a billion dollars or more. And that's attracting some of the world's largest investors like Softbank and Tiger Global.
Ravi Kapur contributed to this report.
Indian American couple dead in apparent murder-suicide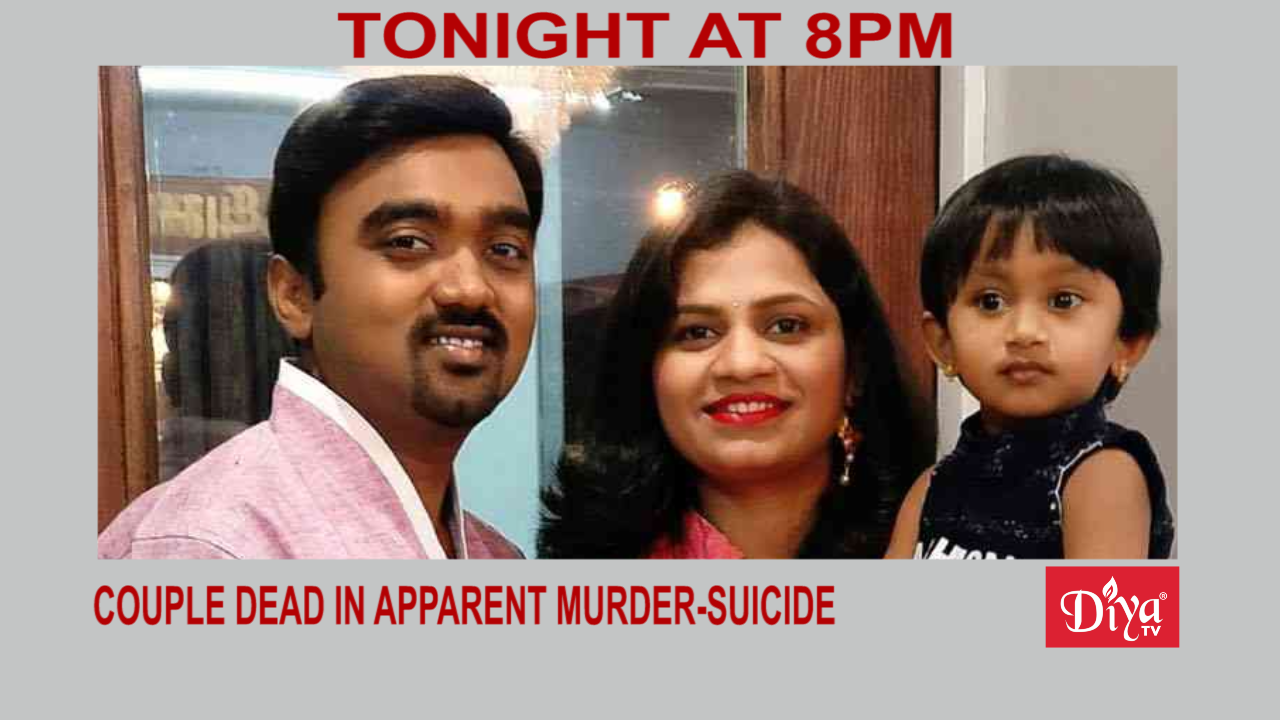 North Arlington, NEW JERSEY (Diya TV) — Authorities in New Jersey are investigating a possible murder-suicide, saying Balaji Rudrawar stabbed his wife Aarti to death. Both were found dead in their home with multiple stab wounds. Their young daughter was found unharmed inside. The motive remains unclear. The man's father told an India-based media outlet his daughter in law was 7 months pregnant.
In Indian waters, a US war ship sailed through India's Exclusive Economic Zone without asking for permission, a violation of that country's law. Both countries remain partners in the region. Sources with the Indian Navy say the move was more about sending a message to China.
As Special Presidential Envoy for Climate John Kerry wraps up his India trip,  he's taking to social media and personally thanking some of the leaders of that region including Prime Minister Narendra Modi of India and now Prime Minister Sheikh Hasina and Foreign Minister Dr. AK Abdul Momen of Bangladesh, saying all the countries involved are committed to address global warming and climate change. Kerry is raising awareness about this issue heading into a climate conference with world leaders later this month. 
Ravi Kapur contributed to this report.
Muslim advocates sue Facebook over not removing anti-Muslim hate speech
MENLO PARK, Calif. (Diya TV) — Frustrated with what it sees as a lack of progress, a group called Muslim advocates, along with law firm Gupta Wessler, is suing Facebook, claiming the social media giant does not consistently remove all hate speech, especially language that targets followers of Islam.  The group is calling out top executives like Mark Zuckerberg and Sheryl Sandberg, demanding the social network start taking anti-Muslim activity more seriously. A Facebook spokesperson says it regularly uses artificial intelligence to remove posts that violate its policies.
"Hugs are back." That's what US Surgeon General Vivek Murthy is saying after seeing an increase in Covid-19 vaccinations all across the nation. Murthy says more and more Americans are becoming comfortable getting vaccinated. And by April 19th, all adults will be eligible for the vaccine. The Indian American doctor says this trend is encouraging, but also says there is still lots of work that needs to be done about battling disinformation.
And a big blow to Indian filmmakers.  The Federal government is cutting the Film Certification Appellate Tribunal, which allowed filmmakers to appeal decisions made by the censors, which has the power and authority to ban certain movies for inappropriate content.  Instead, they will now have to go to lawyer up and go straight to court and fight if they disagree.
Ravi Kapur contributed to this report.