Indian American voters forum host a welcome reception for Counsel General in New York, Ambassador Riva Ganguly Das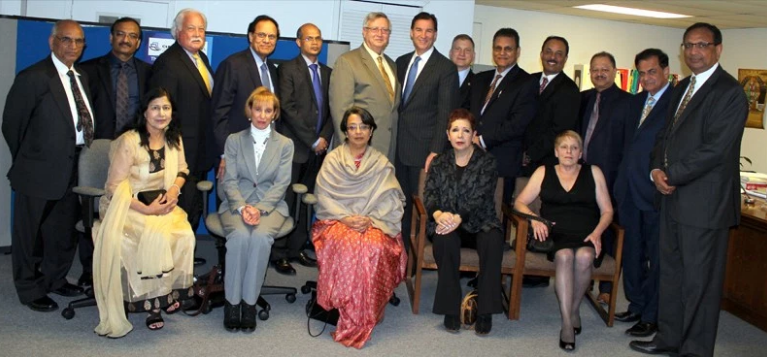 NEW YORK (Diya TV) — Judges from the New York State Supreme Court and Long Island public officials, in coordination with the Indian American Voters Forum convened to host a welcoming reception this week for Consul General of India, Ambassador Riva Ganguly Das.
Supreme Court Justices Steven Bucaria, Bruce Cozzens, Ruth Balkins, Denise Sher and district court judge Anthony Paradiso attended the event. They were joined by New York assemblyman Thomas McKevitt and former Nassau County Executive Tom Suozzi. In total, nearly 85 prominent members of the community were in attendance, including Dr. Sudhir Parikh and Dr. Dattatreyudu Nori.
Das met in private with the assembled judges and organizing members of the Indian forum to discuss the possibilities of inviting a delegation of American judges to visit India.
"I am very welcoming of the idea of an exchange program of the judiciary and I hope that soon one day it will come true," said Justice Bucaria.
Indian Forum chairman Varinder Bhalla informed the Consul General of the group's recent initiative of recruiting members of Congress into the Congressional Caucus on India. Recently, Congresswoman Kathleen Rice joined the caucus. The aforementioned Parikh was a key player in the formation of the caucus in 1993, and spoke about its role in "furthering the relationship between our two democracies, our nations' shared interests from global security to trade and international prosperity."
Suozzi is currently in the heat of a congressional race, and stressed his longstanding relationship with the Indian-American community in New York, pledging his support of the caucus and saying he would certainly become a member.
"I will certainly join the India Caucus if I am elected in November," he said, adding, "and work to strengthen the bond between the world's largest democracy and the world's oldest democracy."
The event also found time to pay tribute to the late Dr. Banad Viswanath, who was a relentless community advocate in the area. The Consul General and assemblyman McKevitt presented his son, Dev Viswanath, with a citation on behalf of the New York State Assembly. Viswanath founded Vision of Asia, the first Indian-American TV show, in 1976. It expanded in 1986 to ITV Gold, the first 24/7 cable TV station in the U.S., delivering countless hours of news and culture from India to American television screens.
Promising to be the film fest for "woke desis", NYC SAFF to debut this November
NEW YORK (Diya TV) — Promising to be the fest for "contemporary, aware, woke desis", NYC SAFF is set to make its debut this fall at the Altman building in New York City. After the roaring success of the 5th annual Dallas-Fort Worth South Asian Film Festival (DFW SAFF), JINGO Media presents its second film festival in the United States, the New York City South Asian Film Festival (NYC SAFF), gearing up to make its debut in mid-November at various venues around Chelsea in Manhattan. The first ever New York South Asian Film Festival (NYC SAFF) opens with a collection of gut-punches, knee slappers, and laughing gags. Running over 3 days, be sure to bring out your inner cinephile.
Opening the fest is Rohit Karn Batra's directorial debut 'Line of Descent a white-knuckled cop thriller starring Brendan Fraser, and Abhay Deol. The story follows a mafia family dispute caught in the crosshairs of a police officer who guides their tragic downfall, and an arms dealer with a spy on the inside. The centerpiece film is the painstakingly painted 'Bollywood Rose' based on true events, it tells the story of a forbidden love in a ruthless city. 'Kaamyaab' which as recently screened at the the Chicago South Asian Film Festival(CSAFF) makes its way into NYC SAFF followed by other festival favorites like Ephemera, Khejdi, and Agency bolstering an already stellar line up. Expect to meet indie stars Tannishtha Chatterjee & Nawazuddin Siddiqui at the closing night film, Roam Rome Mein, a story that follows Reena who has run away to Italy in order to escape her overly strict parents, however, her brother, Raj in the turmoils of his own awakening sets out on a journey to find her.
The short film selection features Eliezer Vergaras 'Fractured Souls'; a baffling self revelation that unfolds as one mans frustration leads him into cascading tragedies. Vick Krishnas 'Freak', a father must cope with unexpected news on his daughters surprise birthday. The feature lineup has a cup for everyone be it feature, documentary, fiction, or nonfiction. 'Namdev Bhau' a man so flustered by the noise of Delhi vows to not speak and undertakes a pilgrimage of silence until a young boy decides to tag along. The disturbing 'Mai Ghat' is based on the true story of two police officers who wrongly arrest a boy and tortured him to death. Its a powerhouse film exploring the violent act putting to question our personal and social conscience. It wouldn't be a proper a film festival without films that challenge us and make us question ourselves.
Discussing topics that are too often swept under the rug like LGBT, womens rights and the societal oppression. 'The Last Letter' follows Mohan, a 70-year old gay man who has remained in the closet, that is, until the comfort he built for himself comes tumbling down. 'The Unexpected' tells the story of a woman who despite achieving everything in life cannot conceive a child. Through its range of films, NYCSAFF aims to challenge, entertain, inspire and enrich.
Presented by Toyota and produced by JINGO Media, a NYC and Dallas-based events and public relations company, the inaugural, three-day festival boasts world, U.S. and New York City premieres of more than 25 shorts, documentaries and feature films focused on the unique stories of the South Asian Diaspora and those of our brothers and sisters back home. JINGO Media is also the parent company of DFW SAFF, which was conceptualized and created in 2015.
"We are so proud to create yet another platform for world-class independent cinema from India, Nepal, Pakistan, Bangladesh, Sri Lanka, Bhutan, Afghanistan and the Maldives," said Jitin Hingorani, CEO/Principal of JINGO Media, a public relations company that launched in New York City in 2010. "We're coming full circle with this festival because Manhattan is where it all began for us almost 10 years ago. We are certain that the community-at-large will embrace us and celebrate our joyous homecoming."
NYC SAFF has also partnered with The India Center Foundation (ICF), a New York City-based nonprofit organization dedicated to the study of the Indian subcontinent, the promotion of its cultural life and the unique relationship between India and the United States. "To partner with NYC SAFF means that ICF is reaching the audience we wish to serve: contemporary, aware, woke desis and lovers of Indian and Diasporic creativity and storytelling. As a filmmaker whose film was so lovingly received at DFW SAFF, I know we are working with a staff who is dedicated and eager to give New Yorkers the film experience they deserve when it comes to screening South Asian cinema. We are looking forward to partnering on great conversations and panels around the films we see together," said Priya Giri Desai, Founding Director of ICF.
Complete with an opening night red carpet , a curated set of film screenings and a closing night after party, this New York debut of an indie fest, is looking to leave you bruised with heartache, emotional bliss and a belly full of laughter, gasping for more. The first ever New York South Asian Film Festival promises one for the books!
It all goes down from November 15th though the 17th at The Altman Building. With the film screenings occurring throughout the weekend at AMC 34th street 14.
Diya TV is a proud media partner for the event, and will be onsite covering the fest. For tickets and information: https://www.nycsaff.com/tickets
Indian Ambassador, Shringla speaks to U.S. Congress about Kashmir
WASHINGTON (Diya TV) — Indian Ambassador to the U.S. Harsh Shringla met with members of Congress at a private roundtable briefing, hosted by Southern California Congressman Brad Sherman. Sherman, who has been a supporter of India, took to Twitter recently to share his concerns about Kashmir and said serious questions about Kashmir were asked at the briefing.
President Trump is being urged to fix the H1-B visa process and do away with country-specific limits, with the latest effort for reform being spearheaded by 60 U.S. business school deans and CEO's.
In an earthquake, seconds matter. So on the anniversary of the deadly 1989 Loma Prieta earthquake that rocked Northern California, state officials announced the launch of America's first statewide earthquake early warning system.
Tabla Maestro Zakir Hussain will be coming to Boston next month to perform at the Berklee India Exchange, where he will also be conferred with an honorary doctorate by the esteemed music school. A Zakir Hussain Scholarship at Berklee is also being established.

And we have incredible video of three kids from India rescuing their dog from a snake that's equal parts courageous and nuts.
Ravi Kapur contributed to this report.
Gandhi 150th birth anniversary noted around the world
NEW DELHI (Diya TV) —  Celebrations for Mahatma Gandhi's 150th birth anniversary have been ongoing for the past year, but culminated with a ceremony in New Delhi featuring Prime Minister Modi and another in Washington at the Library of Congress. And France's government worked with the Indian Embassy there to issue a stamp in honor of his birth anniversary.
US Commerce Secretary Wilbur Ross and India's Commerce and Industry Minister Piyush Goyal are meeting this week to continue the US-India discussion on trade and investment.
Indiana Governor Eric Holcomb came to New Delhi to strengthen ties between the Hoosier State and India. Infosys has already made a large commitment there. Holcomb is part of a large delegation of Americans now heading Mumbai to take in the first-ever NBA preseason games in India featuring the Indiana Pacers and the Sacramento Kings.
Bollywood turned Hollywood actor Anupam Kher came to the Bay Area to keynote the Akshay Patra annual fundraising gala that helps feed children in India a hot meal during the school year.
Ravi Kapur contributed to this report.