Indian American voters forum host a welcome reception for Counsel General in New York, Ambassador Riva Ganguly Das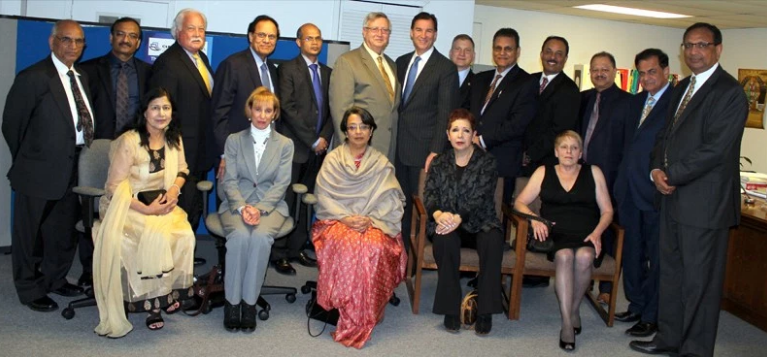 NEW YORK (Diya TV) — Judges from the New York State Supreme Court and Long Island public officials, in coordination with the Indian American Voters Forum convened to host a welcoming reception this week for Consul General of India, Ambassador Riva Ganguly Das.
Supreme Court Justices Steven Bucaria, Bruce Cozzens, Ruth Balkins, Denise Sher and district court judge Anthony Paradiso attended the event. They were joined by New York assemblyman Thomas McKevitt and former Nassau County Executive Tom Suozzi. In total, nearly 85 prominent members of the community were in attendance, including Dr. Sudhir Parikh and Dr. Dattatreyudu Nori.
Das met in private with the assembled judges and organizing members of the Indian forum to discuss the possibilities of inviting a delegation of American judges to visit India.
"I am very welcoming of the idea of an exchange program of the judiciary and I hope that soon one day it will come true," said Justice Bucaria.
Indian Forum chairman Varinder Bhalla informed the Consul General of the group's recent initiative of recruiting members of Congress into the Congressional Caucus on India. Recently, Congresswoman Kathleen Rice joined the caucus. The aforementioned Parikh was a key player in the formation of the caucus in 1993, and spoke about its role in "furthering the relationship between our two democracies, our nations' shared interests from global security to trade and international prosperity."
Suozzi is currently in the heat of a congressional race, and stressed his longstanding relationship with the Indian-American community in New York, pledging his support of the caucus and saying he would certainly become a member.
"I will certainly join the India Caucus if I am elected in November," he said, adding, "and work to strengthen the bond between the world's largest democracy and the world's oldest democracy."
The event also found time to pay tribute to the late Dr. Banad Viswanath, who was a relentless community advocate in the area. The Consul General and assemblyman McKevitt presented his son, Dev Viswanath, with a citation on behalf of the New York State Assembly. Viswanath founded Vision of Asia, the first Indian-American TV show, in 1976. It expanded in 1986 to ITV Gold, the first 24/7 cable TV station in the U.S., delivering countless hours of news and culture from India to American television screens.
FBI: Amity CEO Ridhima Singh, others accused of major healthcare fraud
SAN FRANCISCO (Diya TV) — The FBI says, CEO Ridhima Singh of Amity Home Health Care is among the 28 people, that include doctors and nurses, accused in the scheme. Federal prosecutors charged the Bay Area's largest home health care provider, Amity Home Health Care, with involvement in a kickback scheme that led to $115 million in tainted claims. The complaint said medical professionals received $8 million worth of bribes disguised as payroll, phony medical directorships, reimbursements, entertainment or gifts, in what the Department of Justice said was simply "a cash for patients scheme."
The man accused of stabbing and killing 62 year old Parmjit Singh in Tracy made his first court appearance. 21 year old Anthony Kreiter-Rhoads of Tracy pleaded not guilty of homicide during his arraignment. Police are still investigating the motive behind the crime.
And Priyanka Chopra & her husband Nick Jonas were named by People Magazine as their pick for 'Best Dressed of the Year.'
Ravi Kapur contributed to this report.
Tracy Sikh community mourns killing of 64 year old Parmjit Singh
TRACY, Calif. (Diya TV) — The Sikh community in Tracy, California is mourning the loss of 64-year-old Parmjit Singh, who was on his routine walk through a park when he was stabbed and left for dead. The FBI is investigating, but so far there is no concrete suspect information, just a person of interest. It has not been determined either whether Singh's death will be classified as a hate crime.
The mayor of Manhattan, Kansas, Usha Reddi announced she is running for the U.S. Senate in 2020 as a Democrat. There is no incumbent challenger for Reddi, but no Democrat has won a Senate seat in Kansas since 1932.
Pulitzer Prize-winning writer and professor Jhumpa Lahiri is taking the helm as director of Princeton University's Program in Creative Writing.
And actor Kumail Nanjiani announced he is joining the cast of the Marvel Studios' "The Eternals." Featuring a diverse cast, Nanjiani tweeted "I'm gonna be a super hero in a purple costume!!!!"
Ravi Kapur contributed to this report.
Imran Khan pens Op-ed in New York Times about Kashmir
NEW YORK (Diya TV) — Pakistani Prime Minister Imran Khan wrote an editorial for the New York Times to argue his case against India's recent move to change their constitution to oversee Jammu & Kashmir more closely. The opinion piece is part of Khan's strategy to internationalize the dispute. So far, the Trump administration is staying out of the matter.
But a few more Democrats in Congress took to Twitter to express their alarm over Kashmir, California Congressman Ted Lieu, Michigan Congressman Andy Levin and Virginia Congressman Don Beyer. Beyer is concerned over the "ongoing communications blackout." Lieu called for "de-escalation." And Levin, who spent a year in India while in college, said "the India of Narendra Modi is not the India I fell in love with."
Meanwhile, some Kashmiris are claiming the Indian army is electrocuting them & beating them with cables and sticks. But the allegations have not been verified and the Indian army called them "baseless and unsubstantiated."
Ravi Kapur contributed to this report.