Indian American voters forum host a welcome reception for Counsel General in New York, Ambassador Riva Ganguly Das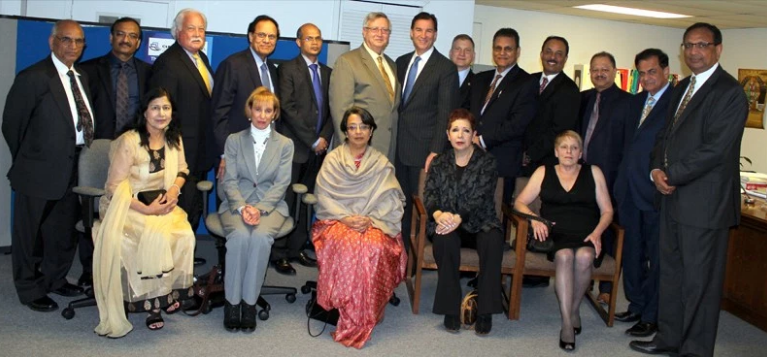 NEW YORK (Diya TV) — Judges from the New York State Supreme Court and Long Island public officials, in coordination with the Indian American Voters Forum convened to host a welcoming reception this week for Consul General of India, Ambassador Riva Ganguly Das.
Supreme Court Justices Steven Bucaria, Bruce Cozzens, Ruth Balkins, Denise Sher and district court judge Anthony Paradiso attended the event. They were joined by New York assemblyman Thomas McKevitt and former Nassau County Executive Tom Suozzi. In total, nearly 85 prominent members of the community were in attendance, including Dr. Sudhir Parikh and Dr. Dattatreyudu Nori.
Das met in private with the assembled judges and organizing members of the Indian forum to discuss the possibilities of inviting a delegation of American judges to visit India.
"I am very welcoming of the idea of an exchange program of the judiciary and I hope that soon one day it will come true," said Justice Bucaria.
Indian Forum chairman Varinder Bhalla informed the Consul General of the group's recent initiative of recruiting members of Congress into the Congressional Caucus on India. Recently, Congresswoman Kathleen Rice joined the caucus. The aforementioned Parikh was a key player in the formation of the caucus in 1993, and spoke about its role in "furthering the relationship between our two democracies, our nations' shared interests from global security to trade and international prosperity."
Suozzi is currently in the heat of a congressional race, and stressed his longstanding relationship with the Indian-American community in New York, pledging his support of the caucus and saying he would certainly become a member.
"I will certainly join the India Caucus if I am elected in November," he said, adding, "and work to strengthen the bond between the world's largest democracy and the world's oldest democracy."
The event also found time to pay tribute to the late Dr. Banad Viswanath, who was a relentless community advocate in the area. The Consul General and assemblyman McKevitt presented his son, Dev Viswanath, with a citation on behalf of the New York State Assembly. Viswanath founded Vision of Asia, the first Indian-American TV show, in 1976. It expanded in 1986 to ITV Gold, the first 24/7 cable TV station in the U.S., delivering countless hours of news and culture from India to American television screens.
Indian CEO's meet with President Trump in London
LONDON (Diya TV) — A number of prominent Indian CEOs from the US and the UK met with President Trump during a breakfast roundtable on his visit to London. Members of the American cabinet were also in attendance, including Secretary of State Mike Pompeo, Treasury Secretary Steve Mnuchin, as well as the president's daughter, Ivanka.
The Punjab government announced free education for girls in government schools and colleges from Nursery school to the PhD level. They also announced free Wi-FI for 13,000 schools and all 48 government colleges.
Rayna Gokli McIntyre will be a new District Court Judge in Colorado, becoming the second South Asian member to the bench in that state.
In New Jersey, Zahid Quraishi was named a U.S. Magistrate Judge, becoming the first Asian American federal judge in that state.
And Karamjit and Karawjit Singh took danger to new heights with this coconut and melon smashing display on America's Got Talent, all while wearing a blindfold.
Ravi Kapur contributed to this report.

Trump ends $5.6B GSP trade preference for India
WASHINGTON (Diya TV) — President Trump is ending $5.6 billion worth of trade concessions for India under the Generalized Scheme of Preferences program effective this week, saying India failed to assure the U.S. that it would provide 'equitable and reasonable access to the markets of India.
Bay Area Congressmembers Zoe Lofgren and Anna Eshoo reintroduced a bill to save work authorization visas for H-4 holders whose spouses are on track to get a green card. Many of those eligible are Indian American women.
Oklahoma's State Board of Education released new social studies standards, which for the first time include Sikhism. Nearly 700,000 students in Oklahoma public schools will now learn more about the Sikh community, in this effort spearheaded by the Sikh Coalition.
The Golden State Warriors played through two more injuries to rotation players to beat the Raptors in Toronto 109-104 to even the NBA Finals at a game a piece.
Diya TV's Ravi Kapur and Jonathan Choe are on-site and will have more courtside.
And we talk to the stars of Netflix's newest romantic comedy 'Always Be My Maybe,' a feature that offers a story & characters Asian Americans will find relatable from some of the most talented names in Hollywood.
Ravi Kapur & Alejandro Quintana contributed to this report.

Campaigning stopped in West Bengal due to violence
KOLKATA, India (Diya TV) — For the first time in India's electoral history, the Election Commission ordered campaigning to stop a day early in West Bengal because of violence between political factions in Kolkata.
SAALT released an overview of the growth in the South Asian demographic around America and it shows the community is increasing exponentially.
SAALT says the South Asian population in the U.S. grew a stunning 40% in seven years, from 3.5 million in 2010 to 5.4 million in 2017.
The first ever Sikh American mayor of a large city, Ravi Bhalla, was portrayed by a New Jersey-based website in a photoshopped image as an Arab dictator. Supporters of Bhalla, who is the mayor of Hoboken, are denouncing the image as racist and want the "Hudson Mile Square View" to take it down.
And the Indian government held an event at the Cannes Film Festival to promote the world's largest film industry.
Ravi Kapur contributed to this report.