He created Google Alerts, now he is an Almond Farmer
MODESTO, Calif. (Diya TV) — When Naga Kataru first pitched the idea of Google Alerts, it was immediately rejected. His managers were unimpressed with the idea, because it would turn traffic away from the Internet giant.
"My manager didn't like it," said Kataru. "He said Google makes money when people come to us. If we set alerts, then we're losing money because we're sending people away from Google."
The then-25-year-old Kataru, the 40th engineer hired in the 110-employee startup, trusted his instincts, and his idea, and decided to take it to the company's chiefs.
"I went to Sergey Brin and Larry Page. I said I had a cool prototype with a simple user interface to show them," he said. "They both loved it."
Ironically, the first ever words used to test Google Alerts were "Google," and "Larry Page." The tool was launched in 2003, with Kataru being awarded three patents, and has become one of the company's most successful tools in the process. Every day, hundreds of millions of people use Google Alerts to monitor specific web content.
He grew up in Gampalagudem, a farming village in the southern Indian state of Andhra Pradesh. He was a gifted student in a village of high schoolers than only showed up for class half of the time, and his father, the school's principal, was determined to see his son succeed. He graduated with a college degree in computer science and engineering and then enrolled at the Indian Institute of Technology.
After an eight-year tenure at Google, where he credits a lifestyle of "so much freedom to explore and invent," he grew restless. "I felt I was stagnating," he said. "I had worked one side of my brain for so long. I wanted to explore the other side."
He eventually left the company, taking up a new career in filming documentary short films and acting in improv theater. He applied and was accepted to directing program at Second City, the famed Chicago comedy club which has produced a laundry list of Saturday Night Live cast members, and most notably, actresses Tina Fey and Amy Poehler.
His latest career reincarnation, however, is as a farmer. In 2008, he purchased a 320-acre farm in Modesto, California. Originally, it was only meant to be a diversified investment.
"I thought I would sell it after five years," said Kataru.
But soon nostalgia kicked in, and the farm reminded him of his native India. "I missed the way the fruits and flowers smelled differently in India," he said. Instead of selling the farm, which was losing money, he converted it into an almond farm, which requires only one-third the labor.
"I didn't know anything about farming. But I love education and I taught myself," he said.
Today the farm, which also harvests apricots, carries a staff of eight employees, has a number of different farming vehicles like tractors, and is highly profitable. It generates $2.5 million in revenue annually. But Kataru isn't stopping there, he's currently working on two degrees from Stanford — an MBA and an MS in Environment & Resources — to make the farm more technologically advanced. He even has ambitious plans to invest in some new agricultural equipment and was busy checking out some Kubota tractors for sale just before our conversation.
"It's ironic that even though there are farms just 90 miles outside of Silicon Valley, technology hasn't been used much to improve processes and crop yields," he said. "As a technologist, I think I can do something about it."
Information from CNN contributed to this report.
Indian Ambassador, Shringla speaks to U.S. Congress about Kashmir
WASHINGTON (Diya TV) — Indian Ambassador to the U.S. Harsh Shringla met with members of Congress at a private roundtable briefing, hosted by Southern California Congressman Brad Sherman. Sherman, who has been a supporter of India, took to Twitter recently to share his concerns about Kashmir and said serious questions about Kashmir were asked at the briefing.
President Trump is being urged to fix the H1-B visa process and do away with country-specific limits, with the latest effort for reform being spearheaded by 60 U.S. business school deans and CEO's.
In an earthquake, seconds matter. So on the anniversary of the deadly 1989 Loma Prieta earthquake that rocked Northern California, state officials announced the launch of America's first statewide earthquake early warning system.
Tabla Maestro Zakir Hussain will be coming to Boston next month to perform at the Berklee India Exchange, where he will also be conferred with an honorary doctorate by the esteemed music school. A Zakir Hussain Scholarship at Berklee is also being established.

And we have incredible video of three kids from India rescuing their dog from a snake that's equal parts courageous and nuts.
Ravi Kapur contributed to this report.
Federal Court rules Trump must turn over tax returns | Diya TV News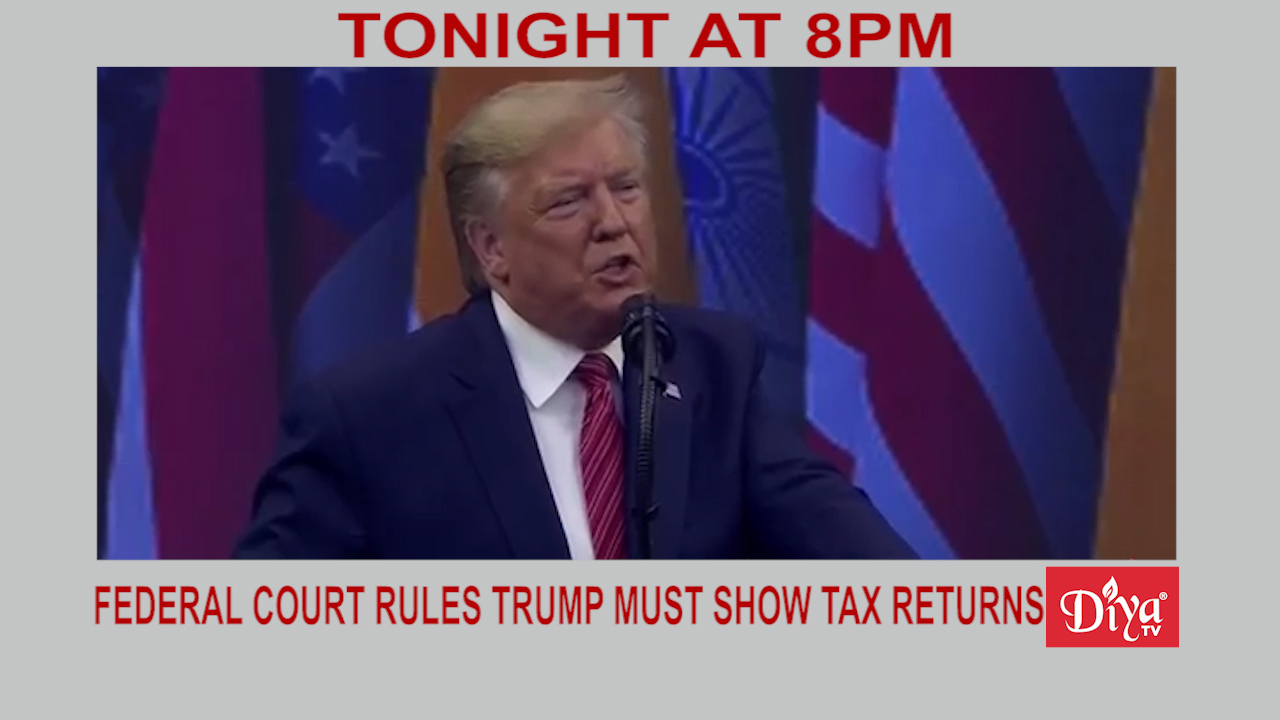 NEW YORK (Diya TV) — A federal judge ruled President Trump must turn over eight years of his personal and corporate tax returns to Manhattan prosecutors, striking down the President's argument that a sitting president cannot be criminally investigated. The ruling was quickly appealed and this case could end up in the Supreme Court to answer the constitutional question of whether presidents can be charged with a crime.
Meanwhile, the President celebrated a victory by FCC Chairman Ajit Pai, as a federal appellate court upheld most of the FCC's repeal of net neutrality. It also ruled the FCC cannot preempt state net neutrality laws, meaning the rules of the road in states like California remain in place.
The U.S. House Foreign Affairs Committee announced their Asia-Pacific and Non-Proliferation Subcommittee will be holding a hearing asking State Department officials and human rights activists to chime in on Human Rights in Kashmir, the Tamils of Sri Lanka, Muslims in Assam and the human rights situation in Pakistan, which includes the Sindh Province.
Lockheed Martin announced they will build F-16 wings exclusively in India, helping in integrating Indian industry into the $165 billion fighter aircraft market.
Ravi Kapur contributed to this report.
Tech CEO Pradyumna Samal convicted of large scale H1B fraud
SEATTLE (Diya TV) — Tech CEO Pradyumna Samal was convicted of large scale H1B fraud. The CEO of two companies that supplied workers to companies like Microsoft and Amazon plead guilty to using fake documents to get H1-B visas. The Indian national Samal was sentenced to seven years in prison for what federal authorities say "was the largest and most sophisticated H-1B visa fraud scheme we have prosecuted in Western Washington." 
Inder Singh, a Los Angeles-based Indian American community leader, has died. He was 86 years old. Singh was involved in the inception of a number of Indian American non-profit organizations in the effort to build a stronger relationship between the U.S. and India. Indian Ambassador to the U.S. Harsh Shringla said on Twitter that Singh's contributions have been "significant and his leadership will be greatly missed."
Indiaspora launched ChaloGive.org, their first online giving campaign that runs October 2nd to the 8th. The goal is to increase levels of giving by the Indian diaspora, inspired in part by the success of Giving Tuesday in the U.S. and Daan Utsav in India.
Ravi Kapur contributed to this report.