In Depth: Contentious debate over India's historic portrayal in California textbooks
SACRAMENTO, Calif. (Diya TV) — More than 100 Hindu-Americans descended upon the state's capital last Friday to voice outcry over the California Department of Education Instructional Quality Commission's plans to accept edits to school curriculum, edits that in effect would largely remove references to India and Hinduism, and instead replaced with the terms, 'South Asia' and 'ancient Indian religion.'
The proposed changes could appear in sixth-to-tenth grade textbooks, and begin as early as next year. Many believe implementing those changes would further alienate Indian youth from the history of their native country.
At its core, there seems to be at least three separate views on how to depict & accurately teach California sixth graders about Hinduism & India.
According to the Hindu American Foundation, a Hindu advocacy group, the current textbooks show Hinduism in a negative light, focussing just on the issues of 'Caste Oppression'. They further clarify that 'Caste' is not part of 'Hinduism' rather a social construct that, while still a valid issue, doesn't bear its roots in Hinduism. They also believe, the kids would benefit greatly from learning about other positive references to Hinduism such as Yoga & Meditation. The Hindu American Foundation has been working with the Department of Education and were making incremental progress over the years.
Enter, the South Asia Faculty Group – A group of esteemed scholars with Ph.Ds and decades of research and experience in History, South Asia studies, the Indus Valley civilization, Hinduism and Religious Studies. This group submitted a set of edits that would eliminate mention of "India" & replace with "South Asia", remove "Hinduism" & replace with "Ancient Indian Religion". They begin their submissions to the Department of Education with an acknowledgement to the objections by "Hindu nationalist groups". Diya TV reached out to several members of this group and did not receive any comments on the record, despite repeated request for comment. In their cover letter, they say,
We recommend that "the religion of Ancient India" be used throughout the framework for the 6th grade curriculum, rather than "Hinduism or "the religion of India." Gods," "goddesses," and "deities" should be in lower case throughout, and Brahmin, the name of a group of people, should be capitalized throughout. We wish to clarify that while "Ancient India" is the accepted usage among Indologists, in other fields, pre-modern South Asia is the common term of reference. Since there is no standardized usage across fields, it is difficult for us to recommend a single standard term for use in the curriculum framework. After careful review, we have settled on a context dependent approach for the use of the terms, "Ancient India,' 'India,' 'Indian subcontinent' and 'South Asia,' as we explain in the edits. The use of terms like "Ancient India" and "India" in the current version of the draft framework, particularly for grades 6 and 7 is at times misleading. Although "Ancient India" is common in the source material, when discussing the Indus Valley Civilization (IVC), we believe it will cause less confusion to students to refer to the "Early Civilization of South Asia or "Ancient South Asia" because muchof the Indus Valley is now in modern Pakistan. Conflating "Ancient India" with the modern nation-state of India deprives students from learning about the shared civilizational heritage of India and Pakistan.ii – South Asia Faculty Group
The Uberoi Foundation for Religious studies, gathered a whole set of esteemed scholars of their own from all over the world, with equally robust credentials & experience to rebut the edits suggested by the South Asia Faculty Group. While they agreed with a few of the edits suggested, they found it troubling that the Group wanted to eliminate mention of India, almost entirely.
Thirty-six of the edits serve to eliminate "India" from the narrative or the word "Hinduism" in reference to early Hindu history. Effectively, it is being recommended that the Commission take on the role of cleansing the ethnic identity of California's Hindu American children of Indian origin, by removing most instances of the word "India" from their textbooks. This is contrary to the State's Social Content Standards which require the curriculum to "instill in each child a sense of pride in his or her heritage." Removing "India" and "Hinduism" in key places does the opposite, leaving children of Indian Hindu origin with no recognizable religious, ethnic, or cultural tradition. Are they expected to re-identify themselves by the nebulous and historically and culturally unsupported term "South Asian"? Can we imagine removing the word "America" from these texts when referencing the nation's early history because it was not yet officially so named? Is ancient Greece going to become "East South Europe" in future texts? – Uberoi Foundation for Religious Studies
While so far it seemed just a battle of the academics, at the hearing, several members of the Dalit Community came and spoke out both in favor & in opposition of the mentions & representations of caste. Those in favor of keeping mention of the caste oppression and its association to Hinduism, said that removing mention of it would be akin to wiping away their history. Others who spoke in opposition of the mentions of 'untouchability' & caste oppression had a more nuanced argument to make.
The faculty group disagreed with the removal of caste mentions.
it is not acceptable to delete from the curriculum framework, mention of caste or the phenomenon of untouchability. The Rg Veda itself contains evidence of a hierarchically organized society, with an entire group of people outside its pale. – South Asia Faculty Group
Yet, they recommended the deletion of 'Valmiki' & 'Vyasa' two important figures that according to some, essentially make the argument of how 'caste' is a modern problem not rooted in Hinduism.
According to Samir Kalra, it is the opinion of the scholars working with the Hindu American Foundation, "It(caste) is an economic & social structure and even though it did exist in Hindu society, it also existed in Christian society, in Muslim society as well as Sikh Society in India. Caste in itself confuses two very different systems, the 'Varna' & 'Jati' system. What originally was known as 'Varna' & 'Jati' was not rigid & hierarchical as came to be known within the caste system"
'Valmiki' was a Dalit & a theif, who recognized the ill of his ways and later became a poet and is the author to one of most famous poems that we now know as the 'Ramayana'. Due to his changed conduct he no longer belonged to the Dalits and changed his varna to become a 'Brahmin'
Vamsee Juluri is a professor of Media Studies at the University of San Francisco and has spearheaded a campaign of opposition, penning a letter to the California Board of Education on March 18, which was published online as part of a petition. It called for the board to shoot down the proposed edits by South Asia faculty group, in curriculum and received almost 18,000 signatures in six days. "If this is indeed correct that 'India' is not an accurate term for 'India' before 1947," Juluri wrote, "how is it possible that the word 'India' has been in usage in some form or another from the time of the ancient Greeks and Romans? Did Columbus go searching for 'South Asia'?"
Juluri's efforts weren't singular — numerous public awareness campaigns, including letters from other professors of religion and history, disputed the faculty group's assertions that the framework should be edited. During the public comment period, the Hindu American Foundation, other Hindu organizations, community members and other non-Hindus relayed their sentiments of inaccuracies in the proposed edits and the last-minute process by which they believed the framework proposal was initially and uniformly accepted, even after prior recommendations from numerous academics were accepted. They opined, too, that the proposed edits would erase their cultural and religious histories from textbooks, and that it would be detrimental to the education of young Indian-Americans.
"Having studied the Vedas, I proudly wear my sacred thread as a symbol of my earnest study and scholarship, as did my mother and foremothers before her," said 12-year-old Vaidehi Dandekar, a 7th grade student from El Cerrito, Calif. "As a young woman, I am proud that my enthusiasm and achievement in studying the Vedas is simply reflective of the long tradition of scholarship and oral storytelling by women….and men…..in India's rich history. The accurate portrayal therefore in our classroom, of women in India's history as leaders, sages, scholars, and often spiritual authority figures for families and communities is incredibly important for all members of my learning environment."
The commission heard the outcry, and voted to reject some of the proposed changes, though its revised set of recommendations will not be published until two weeks before a May 11 State Board of Education hearing.
David Barclay contributed to this article.
U.S. and India conduct joint military drill on Diego Garcia in Indian Ocean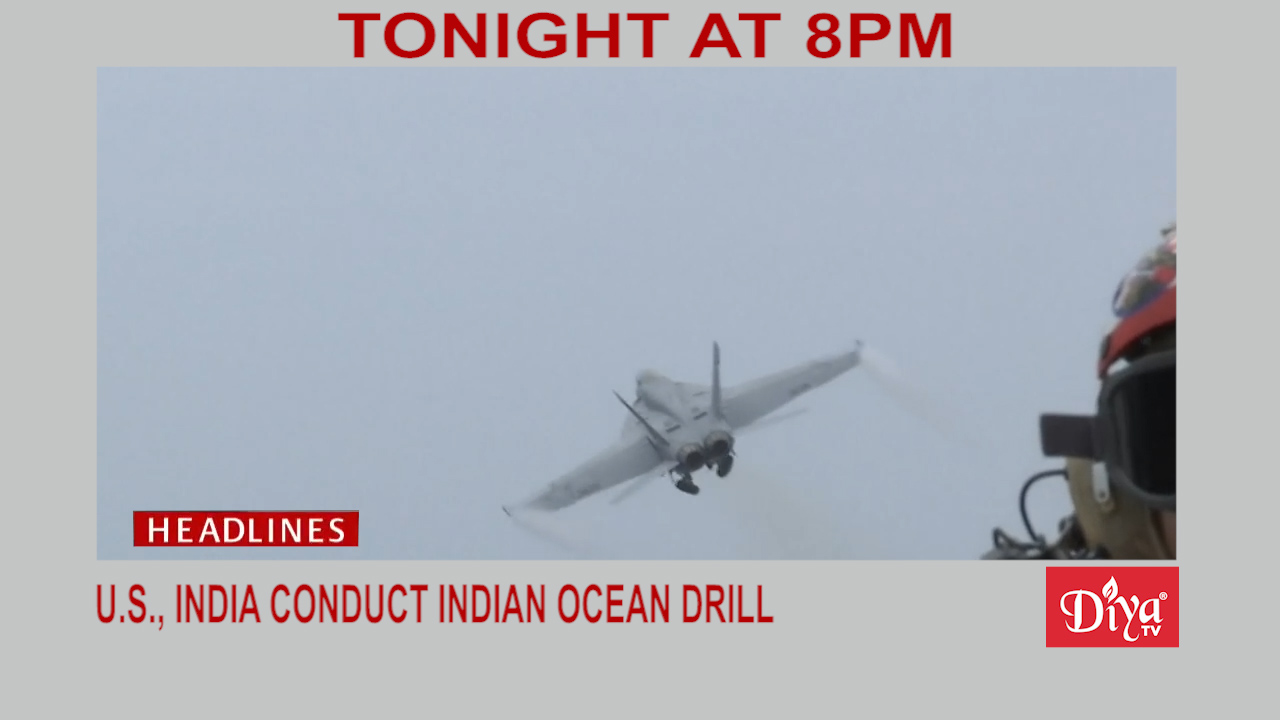 DIEGO GARCIA, India Ocean (Diya TV) — The U.S. and Indian Navies went submarine hunting in the Indian Ocean, their first bilateral anti-submarine warfare exercise since a signing pact to work more closely together last fall.

India's exports to China are up in 2019, while imports declined, leading to a $10 billion reduction in India's trade deficit with China. Analysts say the current Washington-Beijing trade war has also opened things up for India.

The Jallianwala Massacre 100 years ago that left hundreds dead and 1200 injured at the hands of British troops is considered a key turning point towards a free India. British prime minister Theresa May marked the occasion by expressing "deep regret", but there are still no apologies.

An effort by an American and British companies to help Jet Airways founder Naresh Goyal save the airline from collaspe dissolved after Etihad Airways and TPG Capital threatened to walk away themselves if Goyal was part of the deal.

And comedian Hasan Minhaj, who won a 2017 Peabody Award, received another Peabody nomination in the entertainment category for his Netflix show, "Patriot Act with Hasan Minhaj."

Ravi Kapur & Alejandro Quintana contributed to this report.

Women film makers shine at the 2019 Indian Film Festival of Los Angeles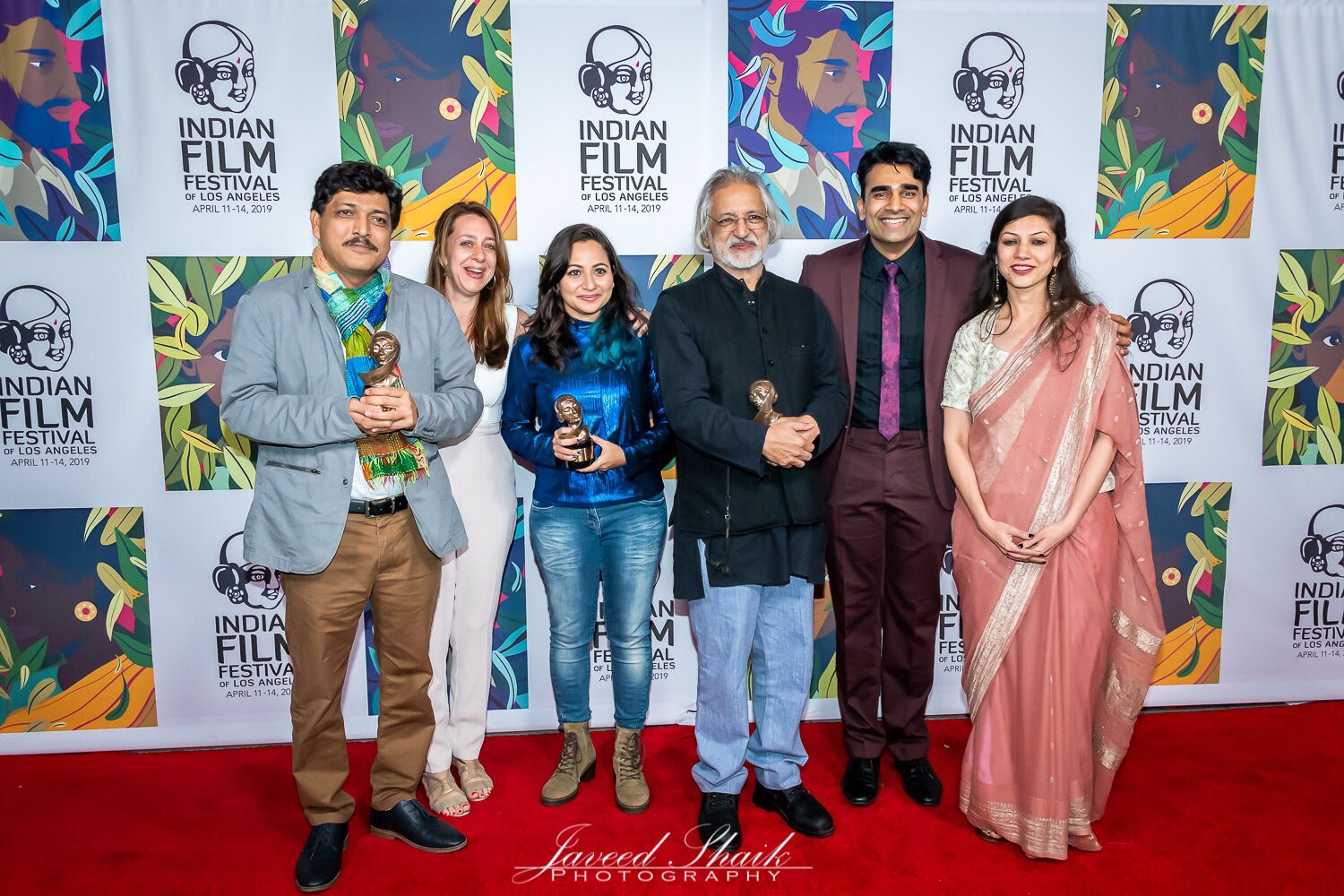 LOS ANGELES (Diya TV) — Way into its 2nd decade, the 17th annual Indian Film Festival of Los Angeles (IFFLA) concluded Sunday night with the zany slice-of-life film, The Odds, directed by Megha Ramaswamy. Complete with a glamorous closing night red carpet, and an awards ceremony the festival ended with an after party at the Spice Affair in Beverly Hills.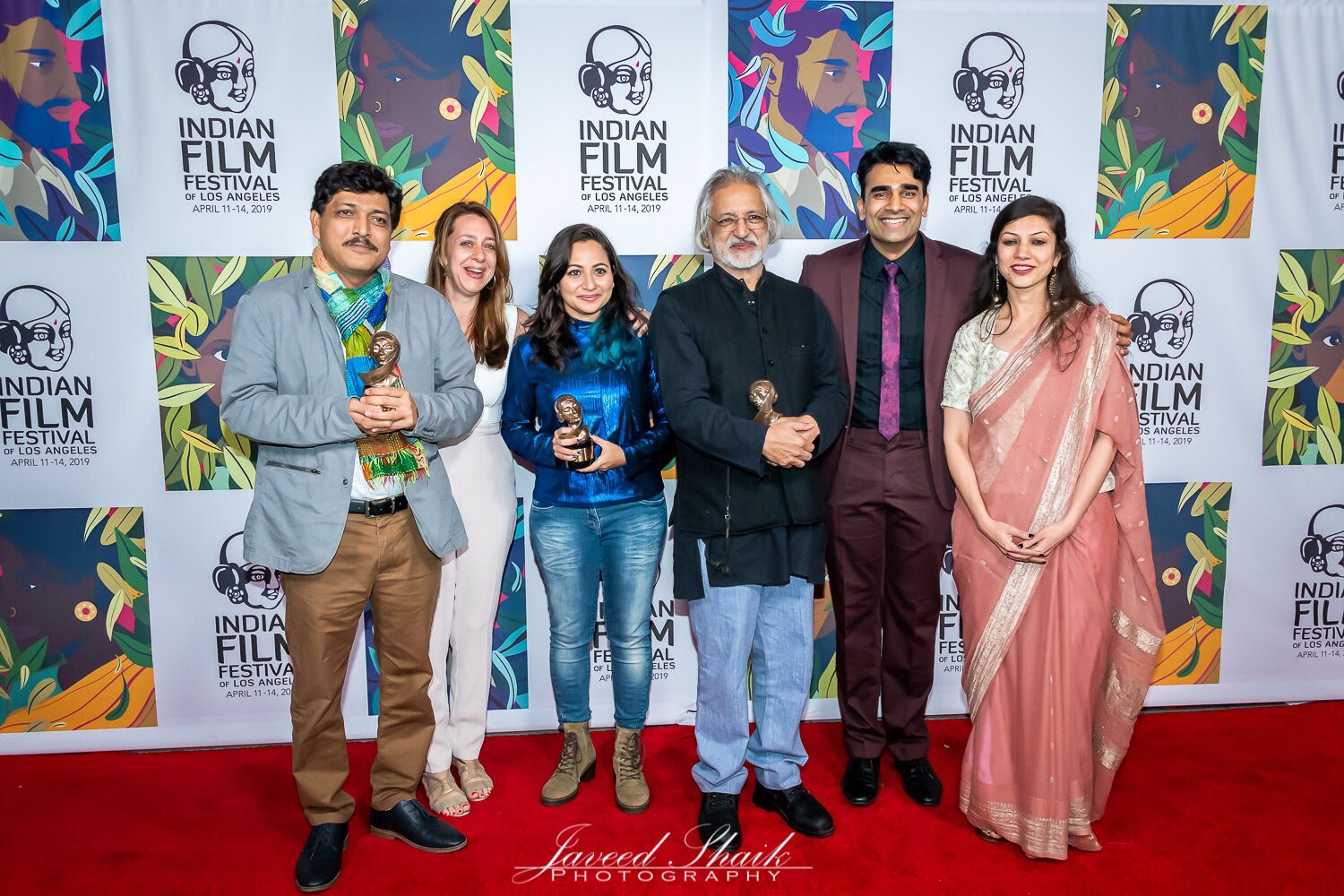 IFFLA was only four days this year (compared to five days in previous years) but there was still so much to see during that time. In addition to the curated set of films, there was an incredible panel discussion, Breaking in Brown: Making it to Series in TV's Golden Age, that featured panelists working in various fields in the television industry and their struggles to rise up through the ranks in the Hollywood while being brown.
This year's film lineup boasted five world premieres, two North American premieres, two U.S. premieres and eleven Los Angeles Premieres, with films presented in nine different languages. The overall atmosphere was very relaxed even with films that tackled difficult subject matters. About fifty percent of the films were directed by women so when asked about that theme, filmmakers and staff alike hoped for a future where it will be normal to have women and men equally making films.

Kicking off the awards ceremony, Director of Programming, Mike Dougherty, announced the winner of the Grand Jury Prize for Best Feature, Widow of Silence.
"We present the Grand Jury prize to a film that illuminates a condition that most of the world doesn't get to see and shines a light on the characters that live through it everyday…This filmmaker's civic disobedience illustrates their love and compassion for their country and their people, and the craft of their film-making was beautifully wise and refined."
Director Praveen Morchhale was visibly surprised as he walked up to receive his award. The film he said, was about those, "that nobody talks about and nobody treats them as a human". Even though it was Morchhale's first time at IFFLA, he said he felt as if he had been coming here for many years, and that it is not him winning the award but the "women in Kashmir" on whom the film is based.

The Audience Award for Best Feature went to Reason, Director Anand Patwardhan received a standing ovation when he went to collect his award. On accepting his award , Patwardhan said, "Most of the time our film is getting thrown out of festivals, I wasn't expecting this." He went on to say this was his first time here in Los Angeles and he enjoyed every film he watched and enjoyed all the interactions he had at the festival. He added that it meant a lot for the film to be well received here and how that will hopefully impact its reception in India.
When Shazia Iqbal's Bebaak was announced for the Audience Award For Best Short Film, the jury mentioned how she almost gave up on filming because she was getting thrown out of mosques. Iqbal spoke about how when people think of Muslims, they only think of Muslim men and not women, who experience so much misogyny. She hopes people will be able to "see beyond what misogyny and religion does to people." Iqbal added, "A director is nothing without their team."

Shorts Program jury member, Megha Kadakia, said how all of the short films have a strong cinematic vision, "they told stories about identity and life in the modern world, personal and subverted expectations…they were all very powerful."

"A layered portrait of a woman determined to pursue her needs and impulses," the Grand Jury awarded their prize for Best Short to The Field from director Sandhya Suri. "The film takes images that normally evoke a sense of fear and flips the narrative on its head redefining a new more empowered world for the female protagonist and exploring an often unseen story of a woman's drive and agency over her own body and life," the jury added.

After the awards, Dougherty introduced the closing night film, The Odds by saying the film was the "Perfect way to close IFFLA on a celebratory note." Before the film started, IFFLA alum director Megha Ramaswamy, called her cast and crew on stage to greet the audience and made a reference from her film saying, "To cut a story short, what are the odds that a crew like us gets to hang out with an audience like you?"

One-on-One with Prime Minister Modi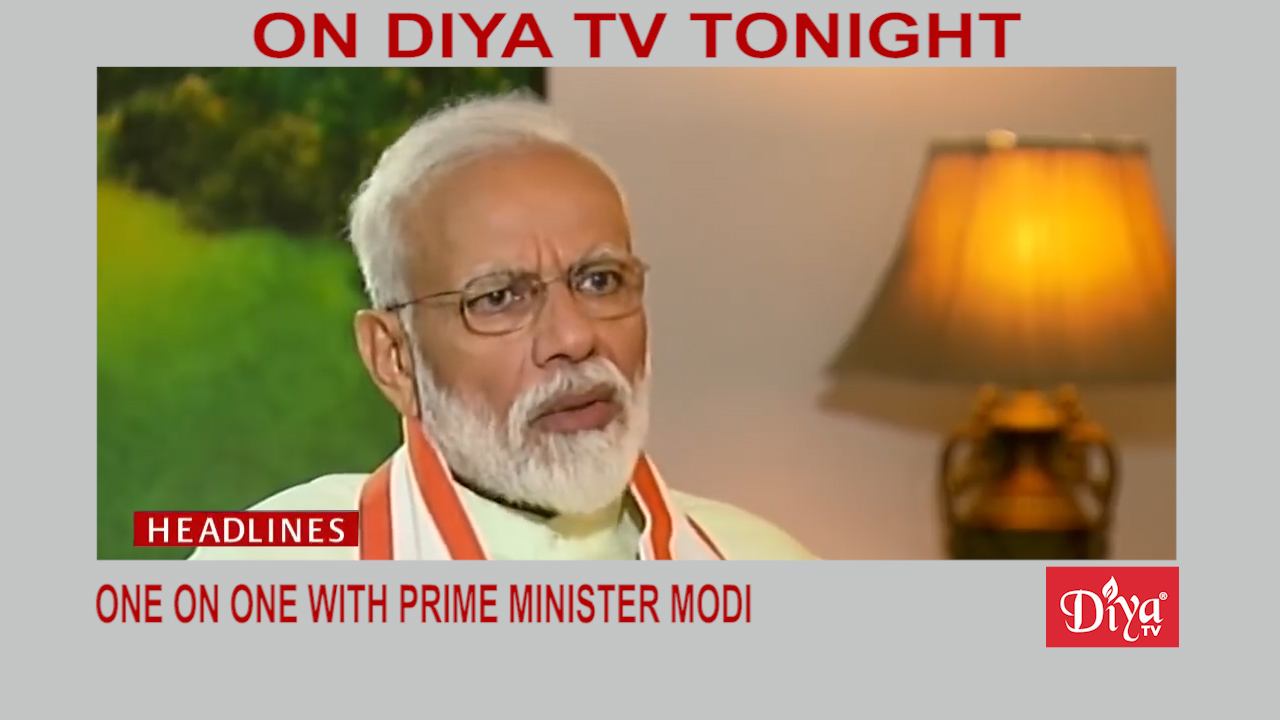 NEW DELHI (Diya TV) — In a rare sit-down interview in the middle of an election, Indian Prime Minister Narendra Modi discusses his first term and what he plans to accomplish if he is elected to a second term. Watch the full interview tonight on a special Diya TV Dialogue at 7 pm.

Two U.S. Senators are urging more negotiations with India over a Trump administration plan to end preferential imports because it could raise costs for American consumers.

Meanwhile, India purchased a missile system from Russia. Indian Defense Minister Nirmala Sitharaman is hopeful the deal will avoid sanctions and scrutiny from the U.S.

Thiru Vignarajah a former federal prosecutor, who also once served as deputy Attorney General in the state of Maryland, announced he is running for mayor of Baltimore as a Democrat.

And our entertainment reporter, Kari Lane will take you behind the scenes at the Indian Film Festival of Los Angeles, an event proudly sponsored by Diya TV, full of some of the brightest stars you will soon see on the silver screen.

Ravi Kapur & Alejandro Quintana contributed to this report.