World Leaders show solidarity, as death toll rises to 70 in Lahore Blast
ISLAMABAD, Pakistan (Diya TV) — A suicide bomber set off an explosion near a children's park on Easter Sunday in the eastern city of Lahore, killing at least 69 people and injuring another 300, rescue workers and officials said. The powerful blast was the third bombing in Pakistan in the last month alone, a reminder that even as the military has begun a fierce crackdown on extremists over the past two years, Islamist groups remain a serious threat.
Global heads of state, leaders and prominent personalities joined in the fight against terror on Sunday evening and Monday morning, extending their thoughts and prayers to the South Asian nation.
Indian Prime Minister Narendra Modi was among the first of world leaders to condemn the acts on Twitter, reportedly calling his Pakistani counterpart Nawaz Sharif. Several other leaders, including French President François Hollande and British Prime Minister David Cameron following suit.
Heard about the blast in Lahore. I strongly condemn it. My condolences to families of the deceased & prayers with the injured: PM

— PMO India (@PMOIndia) March 27, 2016
A la suite de l'attentat à Lahore au Pakistan, j'exprime au peuple du Pakistan toute la solidarité de la France dans ces moments douloureux.

— François Hollande (@fhollande) March 27, 2016
Translation: "Following the attack in Lahore, Pakistan, I express to the people of Pakistan the solidarity of France in these painful moments."
I'm shocked by the terrorist attack in Lahore. My thoughts are with the families and friends of the victims. We will do what we can to help.

— David Cameron (@David_Cameron) March 27, 2016
Indonesia mengutuk keras serangan bom di Lahore. Teror atas nama apapun tidak dibenarkan. Dukacita mendalam utk korban, rakyat Pakistan -Jkw

— Joko Widodo (@jokowi) March 28, 2016
Translation: "Indonesia strongly condemns the bomb attack in Lahore. Terror in any name cannot be justified. Deep condolences to the victims and people of Pakistan."
Canada condemns the deplorable bombing in Lahore, Pakistan. Our thoughts and prayers are with all those killed or injured. #LahoreBlast

— Justin Trudeau (@JustinTrudeau) March 27, 2016
Stateside, U.S. presidential candidates Hillary Clinton, Bernie Sanders, John Kasich, Donald Trump and Ted Cruz issued statements of their own denouncing the attack.
The evil that is radical Islamism struck in Pakistan today in a shocking display of savagery: https://t.co/IDjIGTVo8F

— Ted Cruz (@tedcruz) March 27, 2016
"Let us remember the victims … as we gather strength and resolve to defeat all who threaten our values." pic.twitter.com/vGOoWzQfLH

— John Kasich (@JohnKasich) March 27, 2016
We are grieving today for the families affected by the deplorable attack in Lahore. No one should ever fear taking their children to a park.

— Bernie Sanders (@BernieSanders) March 27, 2016
Another radical Islamic attack, this time in Pakistan, targeting Christian women & children. At least 67 dead,400 injured. I alone can solve

— Donald J. Trump (@realDonaldTrump) March 27, 2016
My prayers are with the victims of the horrific Easter Day attack in Lahore. Pakistan and all nations must confront & defeat terrorists. -H

— Hillary Clinton (@HillaryClinton) March 28, 2016
Notable voices from around the region, like Indian tennis star Sania Mirza and Nobel Peace Prize–winning education activist Malala Yousafzai. Mirza, who is married to Pakistani cricketer Shoaib Malik, opined the attack was "disgusting," while Yousafzai said she was "devastated by the senseless killing of innocent people."
What kind of a sick world are we living in ? Disgusting .. Heart and prayers go out for Lahore.. Ya Allah rehem ?

— Sania Mirza (@MirzaSania) March 27, 2016
Malala's statement on the tragic #LahoreBlast today. pic.twitter.com/2xrSoGK6Yq

— Malala Fund (@MalalaFund) March 27, 2016
Seemingly the perfect scenario to test out its 'Safety Check' feature, Facebook activated the program for the eighth time this year. However, a bug caused many subscribers several thousand miles away from the bombing to mistakenly ask whether or not they were safe. Subscribers in New York, London, Washington D.C. and throughout the Bay Area received the alert, and took to social media, expressing their confusion, annoyance and in some cases, alarm, after erroneously receiving 'Safety Check' texts or notifications.
Some of the push notifications referenced an explosion without stating its location, leading some to worry an explosion had taken place near them that they weren't aware of.
this really freaked me out until I realized that Facebook thought I was in Pakistan pic.twitter.com/3w6iHCsIaC

— Rachel Zarrell ✨ (@rachel) March 27, 2016
In a statement, Facebook said "many users" were affected by the bug but did not release an official number. The company said it "worked quickly to resolve the issue" and apologized to any users who unintentionally received the alert. "We activated Safety Check today in Lahore, Pakistan, after an explosion that took place there,"
Facebook

said in a post. "Unfortunately, many people not affected by the crisis received a notification asking if they were okay. This kind of bug is counter to our intent."
Facebook first launched 'Safety Check' in October 2014 to enable users to quickly tell their friends they were safe after a disaster such as an earthquake or flood. The company has since added a feature to include violent attacks to the tool, for the first time after the terrorist attacks in Paris in November and after the attacks in Brussels last week. It allows Facebook users to mark on their profile that they are safe as well as tag other users who might be safe with them.
"Look at India. It's filthy!" Trump exclaims during debate
NASHVILLE (Diya TV) — Former Vice President Biden and President Trump held their second and final debate in Nashville. The tone of the event was markedly improved from the first debate, thanks largely because of a rule implemented that muted the microphone during dedicated speaking times. We'll analyze the key moments, including when President Trump called China, India and Russia "filthy" when discussing climate change.
WATCH what the President said about India here:
The State of California's Department of Fair Employment and Housing voluntarily dismissed their federal lawsuit accusing Cisco Systems Inc. and two of their former employees of discriminating against an Indian American Dalit engineer. No explanation was given, but state officials said they will refile the matter in state court.
Dr. Mukul Chandra, a prominent cardiologist in the Toledo, Ohio area, has died from complications related to COVID-19. He was 57. 
Dr. Chandra was the medical director of Cardiac Preventive Care and Research at Miami Valley Hospital and received a plasma donation as a possible remedy for the virus. And hundreds of people around the globe offered their help.
WATCH the full debate here:
Ravi Kapur contributed to this report.
Biden & Harris issue happy Navratri greetings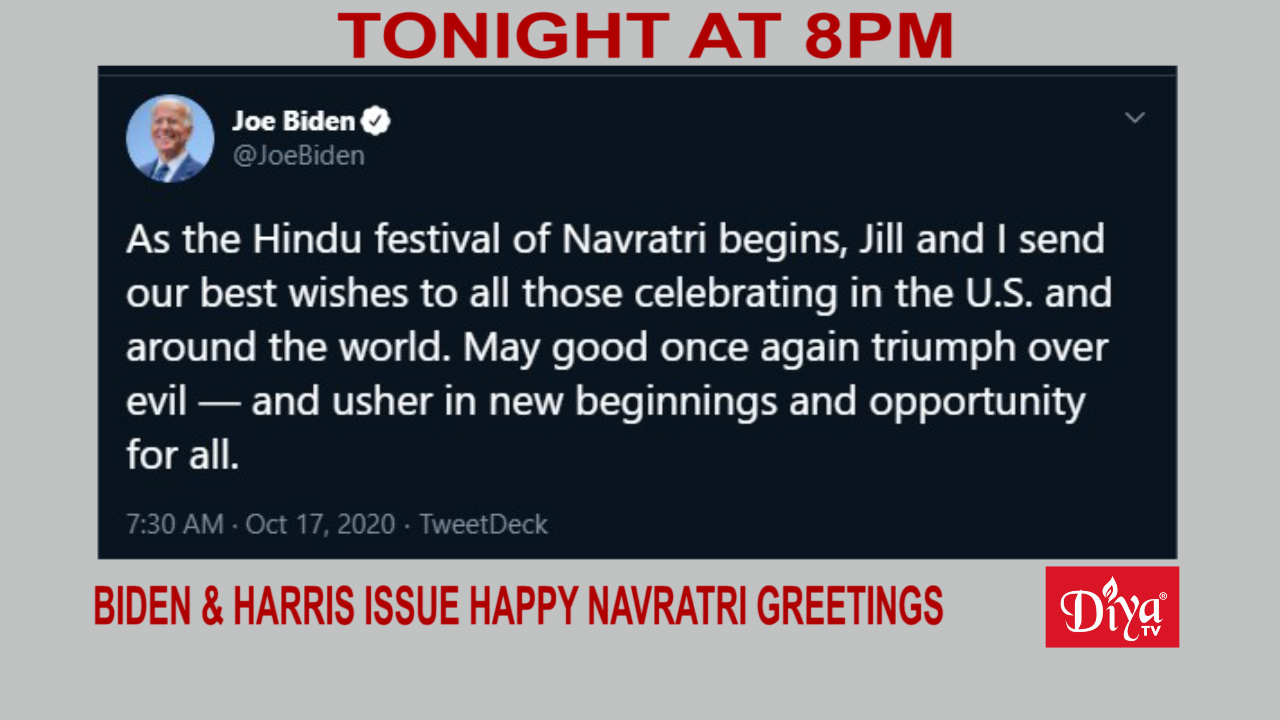 WILMINGTON, Delaware (Diya TV) — Vice President Joe Biden and Senator Kamala Harris continue their efforts to court the Indian diaspora, as each issued Navratri greetings. Biden & his wife Jill sent their best wishes, tweeting "may good once again triumph over evil." And Harris and her husband Doug added "may this holiday serve as an inspiration to…build a more inclusive and just America."
But at the same time, Harris' niece Meena deleted an image she posted of her auntie being depicted as Goddess Durga, which led to a petition asking her to apologize. Meena Harris is a lawyer, entrepreneur and daughter of Kamala Harris' sister, Maya. The image she posted photoshopped Kamala Harris' face onto Hindu Goddess Durga, showing Joe Biden as her lion and President Trump as a demon she slays.
The chances of finding Indian American professor Sam Dubal, who has been missing for nearly two weeks, appear to be waning. Dubal went on a backpacking trip near Mt. Rainier in Washington state and hasn't been seen since. Authorities say cold and snowy weather is hampering their chances of finding the University of Washington professor.
Ravi Kapur contributed to this report.
Man stabbed during brawl at Sikh temple near Seattle
RENTON, Wa. (Diya TV) — At least six people were injured and one of them was briefly hospitalized with stab wounds during a brawl at the Gurudwara Singh Sabha in Renton, Washington. Renton Police say at least 20 people at the temple were fighting when police arrived. Police added a similar incident happened last week at a Sikh temple in Kent, Washington. Sources tell Diya TV the skirmish was between people that were pro-India and folks that did not view India in a favorable light. No arrests were made.
The Quad military alliance is complete after Australia agreed to be part of the Malabar Exercise to be held in Bay of Bengal next month, joining the United States, India and Japan as part of the naval exercise.
As seen on Diya TV, the South Asian Bar Association held a Presidential Town Hall featuring Asheesh Agarwal, a member of Indian Voices for Trump advisory board and Neera Tanden, the CEO of the Center for American Progress, moderated by journalist and professor Sree Sreenivasan.
Ravi Kapur contributed to this report.