South Asian Bar Association's 24th annual gala sells out
SAN FRANCISCO (Diya TV) — Over 300 of the Bay Area's best and brightest attorneys, judges, politicians and other guests sold out San Francisco's Design Center for the South Asian Bar Association's swanky gala.
This year's was the 24th edition of the annual event, which honors deserved attorneys for their contributions in the community — this year, Nadia Aziz, Sasha Rao, Shaamini Babu and Sharan Dhanoa were the guests of honor.
Aziz, a senior attorney at the Fair Housing Law Project of the Law Foundation of Silicon Valley, received the association's Public Interest Award, for her vigorous work to ensure that all people may freely choose a place to live, regardless of their race, color, religion, ancestry or sexual orientation. Her efforts were key in the defense of 400 Palo Alto mobile home residents who were facing eviction. Additionally, she has taken a stance against San Jose's proposal of allowing property owners to evict tenants based on the involvement of criminal activity, and has opposed Santa Clara County's reduction in Section 8 vouchers for some of the county's most vulnerable residents.
Rao, who serves as a partner at Maynard, Cooper & Gale, received the association's Trailblazer Award in recognition of her decorations in the practice of intellectual property. Rao's patent litigation has spanned across various arenas of district courts throughout the United States, and International Trade Commission investigations.
Babu, a shareholder and vice president at Saltzman & Johnson Law Corporation, was honored with this year's Mentorship Award. She spent countless hours and dedicated her energy to the professional development of South Asian attorneys and South Asian law students throughout the Bay Area.
Dhanoa, coordinator for the South Bay Coalition to End Human Trafficking, received the Imapct Award. Her efforts have been key in combating all forms of human trafficking, and she has worked diligently to focus on prevention, while at the same time ramping up efforts to increase the prosecution of traffickers, and the protection of survivors. Over the course of two years, Dhanoa led the development of No Traffick Ahead, the largest multi-county workgroup focused on combatting the issue. With over 65 agencies spanning eight counties, No Traffick Ahead has developed into a nationally recognized organization for its level of collaboration and focus on collective impact.
At the ceremony's conclusion, the crowd welcomed its new president, Anant Pradhan, and honored the outgoing president, Vid Prabhakaran.
Harvard to host 17th annual India Conference this February
CAMBRIDGE, Mass. (Diya TV) — For the 17th year in a row, the graduate students at Harvard University will host an India Conference. It will take place during the weekend of February 15-16, 2020. Two days of exciting discussions through panels, mixers and networking will fill the halls of the Harvard Business School and Kennedy School of Government.
The theme for this year's conference is Foresight 20/20 – a look at what to expect from India in 2020 and beyond. As one of the largest student led conferences in the USA, the Harvard India conference attracts the biggest headliners from every field – from politics, business, entertainment & the arts. And this year is no different.
With more than 100 speakers and 1000 attendees, the conference promises to have something for everyone. This year's biggest draw from the entertainment genre is veteran Bollywood actor and self proclaimed ambassador to India, Anupam Kher. Kher has a long standing list of accolades within the film industry. In addition to his acting roles, he has been a producer, director and teacher at his own acting school. Most recently he played the role of Dr. Vijay Kapur on NBC's primetime drama 'New Amsterdam'.
Some other notable speakers this year include founder of the India Today Group, Aroon Purie, Indian Olympic athelete Dutee Chand, comedian and actor, Vir Das, partner at Softbanks' Vision Fund Lydia Jett & politician and India's ruling party (BJP)'s sherpa to the G20, Suresh Prabhu.
The harsh winter in Harvard doesn't seem slow down or dull these brilliant minds in any way. The India Conference at Harvard continues to retain its standing as the conference of choice for deliberating issues ranging from technology, media, politics and eduction to creating solutions for India's path towards global leadership. The event features brainstorming sessions and sincere discussions on the very real and large scale problems that are uniquely Indian.
Diya TV is a media sponsor to the event and will be on-site covering conference. To receive a 20% discount use code RDAY20 here and to know more about the conference or speakers, head to the IndiaConference.com
Indian Ambassador, Shringla speaks to U.S. Congress about Kashmir
WASHINGTON (Diya TV) — Indian Ambassador to the U.S. Harsh Shringla met with members of Congress at a private roundtable briefing, hosted by Southern California Congressman Brad Sherman. Sherman, who has been a supporter of India, took to Twitter recently to share his concerns about Kashmir and said serious questions about Kashmir were asked at the briefing.
President Trump is being urged to fix the H1-B visa process and do away with country-specific limits, with the latest effort for reform being spearheaded by 60 U.S. business school deans and CEO's.
In an earthquake, seconds matter. So on the anniversary of the deadly 1989 Loma Prieta earthquake that rocked Northern California, state officials announced the launch of America's first statewide earthquake early warning system.
Tabla Maestro Zakir Hussain will be coming to Boston next month to perform at the Berklee India Exchange, where he will also be conferred with an honorary doctorate by the esteemed music school. A Zakir Hussain Scholarship at Berklee is also being established.

And we have incredible video of three kids from India rescuing their dog from a snake that's equal parts courageous and nuts.
Ravi Kapur contributed to this report.
Federal Court rules Trump must turn over tax returns | Diya TV News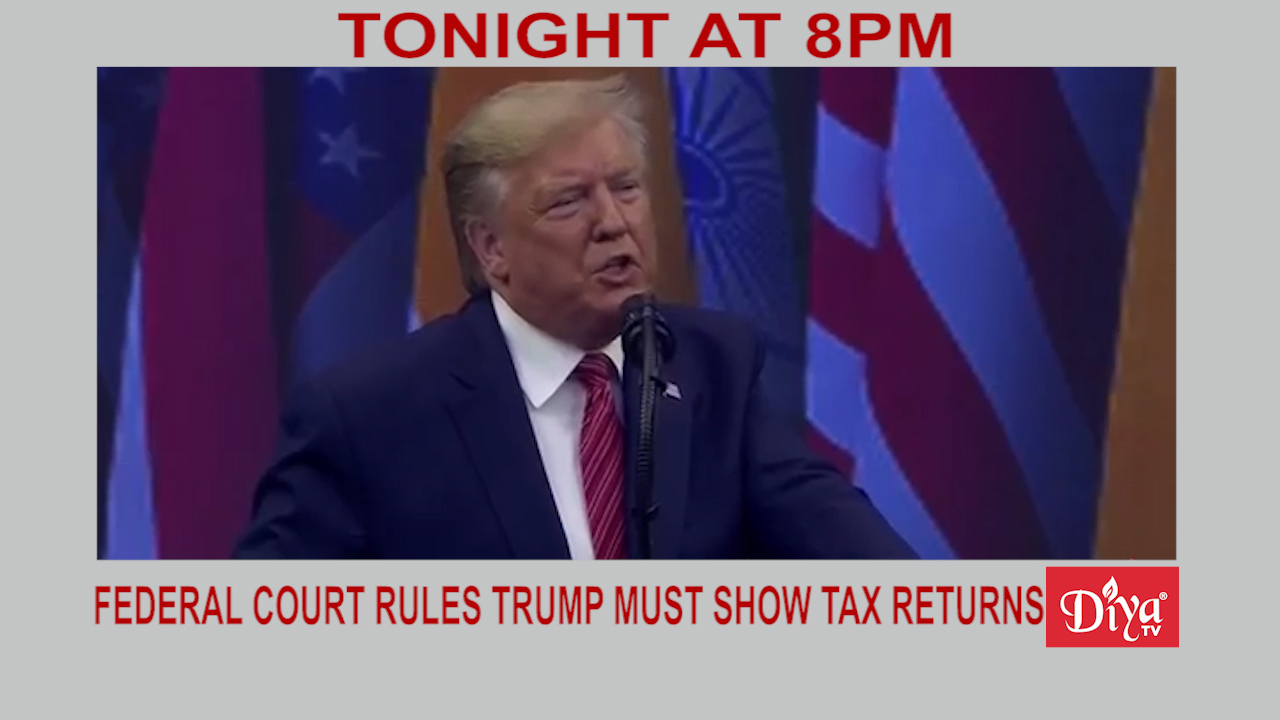 NEW YORK (Diya TV) — A federal judge ruled President Trump must turn over eight years of his personal and corporate tax returns to Manhattan prosecutors, striking down the President's argument that a sitting president cannot be criminally investigated. The ruling was quickly appealed and this case could end up in the Supreme Court to answer the constitutional question of whether presidents can be charged with a crime.
Meanwhile, the President celebrated a victory by FCC Chairman Ajit Pai, as a federal appellate court upheld most of the FCC's repeal of net neutrality. It also ruled the FCC cannot preempt state net neutrality laws, meaning the rules of the road in states like California remain in place.
The U.S. House Foreign Affairs Committee announced their Asia-Pacific and Non-Proliferation Subcommittee will be holding a hearing asking State Department officials and human rights activists to chime in on Human Rights in Kashmir, the Tamils of Sri Lanka, Muslims in Assam and the human rights situation in Pakistan, which includes the Sindh Province.
Lockheed Martin announced they will build F-16 wings exclusively in India, helping in integrating Indian industry into the $165 billion fighter aircraft market.
Ravi Kapur contributed to this report.