UC Berkeley Law School Dean Resigns Amid Sexual Harassment Lawsuit
BERKELEY, Calif. (Diya TV) — Sujit Choudhry, dean of the University of California at Berkeley's prestigious law school, is taking an "indefinite leave of absence" from his position after a lawsuit filed against him from his former executive assistant alleged claims of sexual harassment.
The complaint was filed Tuesday against Choudhry and the University of California Board of Regents. Amongst the allegations are claims that Choudhry made inappropriate advances towards the woman, and retaliation and failure to stop the sexual harassment.
Tyann Sorrell, the former executive assistant and 41-year-old mother of five, claims in her complaint that from a period between September 2014 to March 2015, Choudhry sexually harassed her — rubbing her shoulders and arms, kissing her cheeks and giving her bear hugs that pressed her body against him, according to court documents. "Choudhry's kissing and hugging Plaintiff was a near daily occurrence, Choudhry's conduct made Plaintiff feel disgusted, humiliated, exposed and dirty," the lawsuit states.
Soon thereafter, the lawsuit claims the harassment became more frequent — on a daily basis — and much more explicit. "The hugs became tighter and more lingering and the kissing more intimate in that over time Choudhry's kisses began to land closer and closer" to her mouth, according to the court documents.
"She wondered what she had done to make him think it was OK for him to touch her," according to the documents. "She was worried about her reputation and what her work colleagues thought of her. At the same time, she worried about upsetting him and possibly losing her job, on which her family depended."
Additionally, Sorrell claims in her suit that she is a past victim of domestic and sexual abuse. When the situation in her workplace began, it ushered in a pattern of anxiousness and depression — causing her to lose sleep and dread her going to work. She said she suffered "insomnia, hair loss, depression and anxiety" as a result.
Choudhry, 46, could not be reached for comment. However, a UC Berkeley spokesman told Diya TV that Choudhry formally announced he would resign a day after the university imposed his indefinite leave of absence.
Sorrell began working at the university in 2012, and the lawsuit states she made multiple complaints to her superiors regarding Choudhry's alleged conduct. It took the university months to investigate her claims, the lawsuit states. Berkeley's internal investigation concluded in July, and determined by a preponderance of evidence that the dean had violated the university's sexual harassment policy.
"A thorough investigation of this case found that Dean Choudhry's behavior in this situation violated policy," university Executive Vice Chancellor and Provost Claude Steele said. "He demonstrated a failure to understand the power dynamic and the effect of his actions on the plaintiff personally and in her employment.
"Based on the findings of the investigation I believed that a combination of disciplinary actions, monitoring of his behavior and formal training would be an appropriate and effective response, and would produce the necessary changes in his behavior."
Berkeley's law program — widely regarded as one of the nation's best and brightest — is no stranger to scandal. Specifically, allegations of sexual misconduct against its leaders.
In 2002, then-dean John Dwyer was forced to resign after he was accused of sexually harassing a former student. The story, reported on by the school's student newspaper, wrote that Dwyer had "admitted to having a single consensual encounter with a student two years ago but denied charges of sexual harassment."
"I acknowledge that this reflected a serious error in judgment on my part and was inappropriate," he had written in an internal memo, according to the newspaper. "I believe I can no longer effectively lead the school."
House of Representatives holds South Asia human rights hearing
WASHINGTON (Diya TV) — The House Foreign Affairs Committee held a full day hearing on human rights in South Asia, featuring speakers from the U.S. State Department and members of the community with different vantage points. As you can well imagine, narratives over Jammu & Kashmir differed greatly, especially over India's recent constitutional change to integrate the region more closely. The hearing also touched upon Pakistan's treatment of minorities in Balochistan and Sindh and the crisis faced by Rohingya Muslims in Bangladesh and Myanmar. Congressmembers Pramila Jayapal and Ami Bera made remarks at the hearing held before a capacity crowd on Capitol Hill. We'll have full reaction to this contentious debate and we will broadcast the hearing in full this weekend on Diya TV.
Justin Trudeau will continue to lead Canada, but his Liberal Party lost their majority in Parliament, opening the door for Jagmeet Singh, leader of the New Democrats, to potentially play kingmaker if Trudeau wants to pass any major legislation.
And in a huge development for Prime Minister Modi's 'Make in India' efforts, the first Apple iPhone's are rolling off the assembly lines in India.
Ravi Kapur contributed to this report.
Sanders defends Gabbard over Clinton accusation
NEW YORK (Diya TV) — Sparks flew when Hillary Clinton implied Russians were 'grooming' Tulsi Gabbard for a third-party run. Gabbard blasted Clinton and got a fresh jolt of support for her campaign. Staunch supporters for Clinton like Neera Tanden continue to criticize Gabbard for her meeting with Syrian President Bashar al-Assad, among other reasons. Presidential candidates are also chiming in, with Andrew Yang, Marianne Williamson and Bernie Sanders all standing up for Gabbard. Sanders, who Gabbard supported in 2016 over Clinton, said in a tweet "people can disagree on issues, but it is outrageous for anyone to suggest that Tulsi is a foreign asset.
Indian American attorney Rik Mehta announced he intends to challenge Sen. Cory Booker in New Jersey's Democratic primary, criticizing Booker for spending more time running for President than looking after New Jersey.
The U.S.-India Strategic Partnership Forum held its annual meeting in New Delhi, featuring prominent business leaders, American ambassador to India Ken Juster and Indian Prime Minister Narendra Modi, who spoke about India's efforts to aid startups and bolster innovation.
Ravi Kapur contributed to this report.
Breaking: Clinton, Gabbard spar in 2016 rehash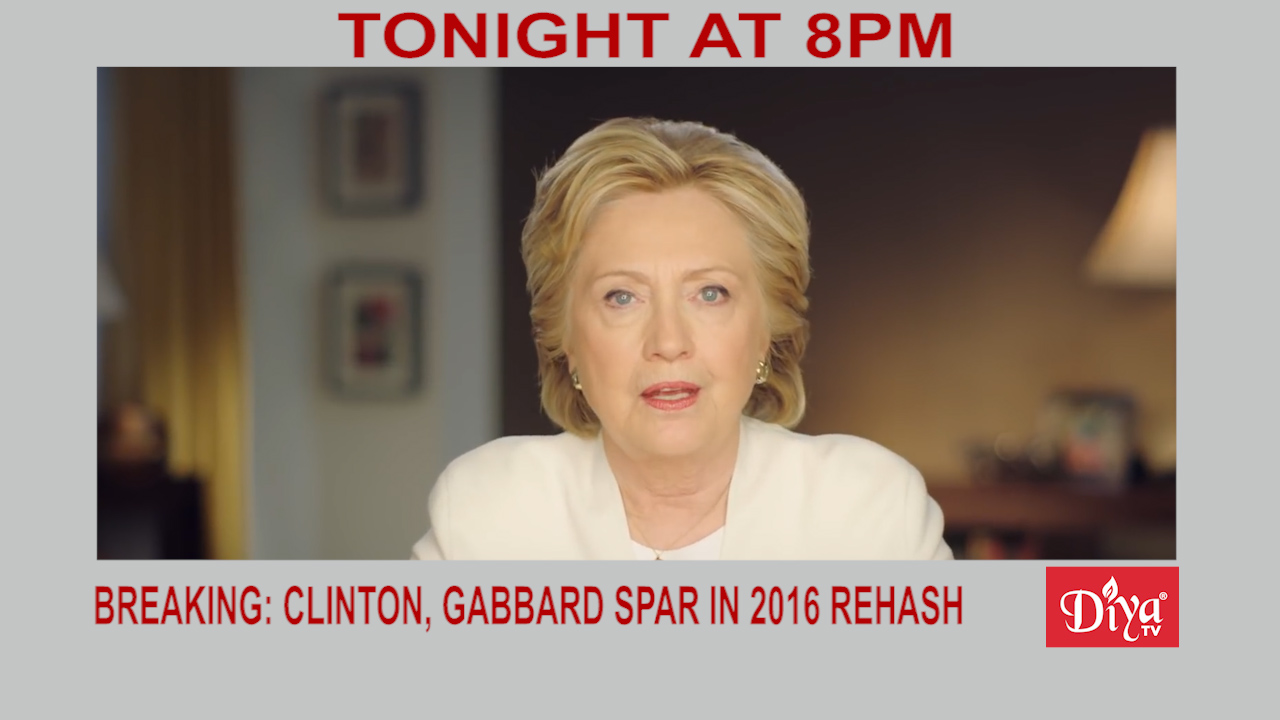 NEW YORK (Diya TV)  — In 2016, former Secretary of State Hillary Clinton was the Democratic nominee, staving off a fierce challenge from Sen. Bernie Sanders. Rep. Tulsi Gabbard decided to resign from her post as Democratic National Committee Vice-Chair to support Sanders over Clinton. Now, both ladies have taken the gloves off, after Clinton on a podcast indirectly referenced Gabbard by saying the Russians were "grooming her to be the third-party candidate." Gabbard responded on Twitter, calling Clinton the "queen of warmongers [and] embodiment of corruption."
The granddaughter of Mahatma Gandhi, Ela Gandhi, spoke at an event organized by Cal State Fresno about how her grandfather's work, was not only was significant in its time, but how those principles still hold relevance in a new century.
The University of Houston announced an endowment to support the study of the Tamil language and culture. Non-profit Houston Tamil Studies Chair made a $2 million commitment to the university to kickstart the study of Tamil heritage. The Tamil language is considered the oldest in the world, spoken by more than 70 million people worldwide, with 250,000 Tamilians in the United States.
President Trump announced Energy Secretary Rick Perry is stepping down from his role to pursue other interests. His deputy Dan Brouillette was nominated as his replacement.
And for all of our incredible viewers in Chicagoland, rescan your TV sets this weekend to watching Diya TV and the rest of the channels in the market. We recommend a high quality VHF/UHF antenna so you can keep getting Diya TV on WRJK Channel 22.1 for free!
Ravi Kapur contributed to this report.