Sri Sri Ravi Shankar refuses to pay fine levied by India's Green Tribunal
NEW DELHI, (Diya TV) — India's National Green Tribunal has fined a group led by Sri Sri Ravi Shankar, 50m rupees for its construction of features that altered the topography and flow of a Delhi river before a cultural festival set to take place this weekend.
The environmental watchdog ruled it would allow the procession to take place, led by the Art of Living Foundation, but first, payment of the fine must be received. The group's leader and founder, Sri Sri Ravi Shankar, has refused, and said he would challenge the order in appeals court. "We have done nothing wrong. I will go to jail but not pay the fine," he said, adding that the foundation would clean the riverbank after the festival.
The order was issued by the tribunal on Wednesday after outcry from environmentalists claimed the roads, ramps and platoon bridges could cause irreversible damage to the Yamuna floodplains. Prime Minister Narendra Modi has been tapped to inaugurate the festival on Friday, however, the president's office said Pranab Mukherjee would not attend the closing ceremony on Sunday. The festival is anticipated to draw crowds in the millions and will feature performances by thousands of musicians and dancers.
The river is a tribute of the Ganges that swells during the monsoon. The body of water does not see much recreational swimming, but Hindus use the river to bathe in during religious festivals — despite its grunge look and foul smell, which officials say is tainted with sewage and industrial pollution. Luckily, the water is treated before being distributed to Delhi's population of nearly 18 million.
Rev. Jesse Jackson pushes for India COVID relief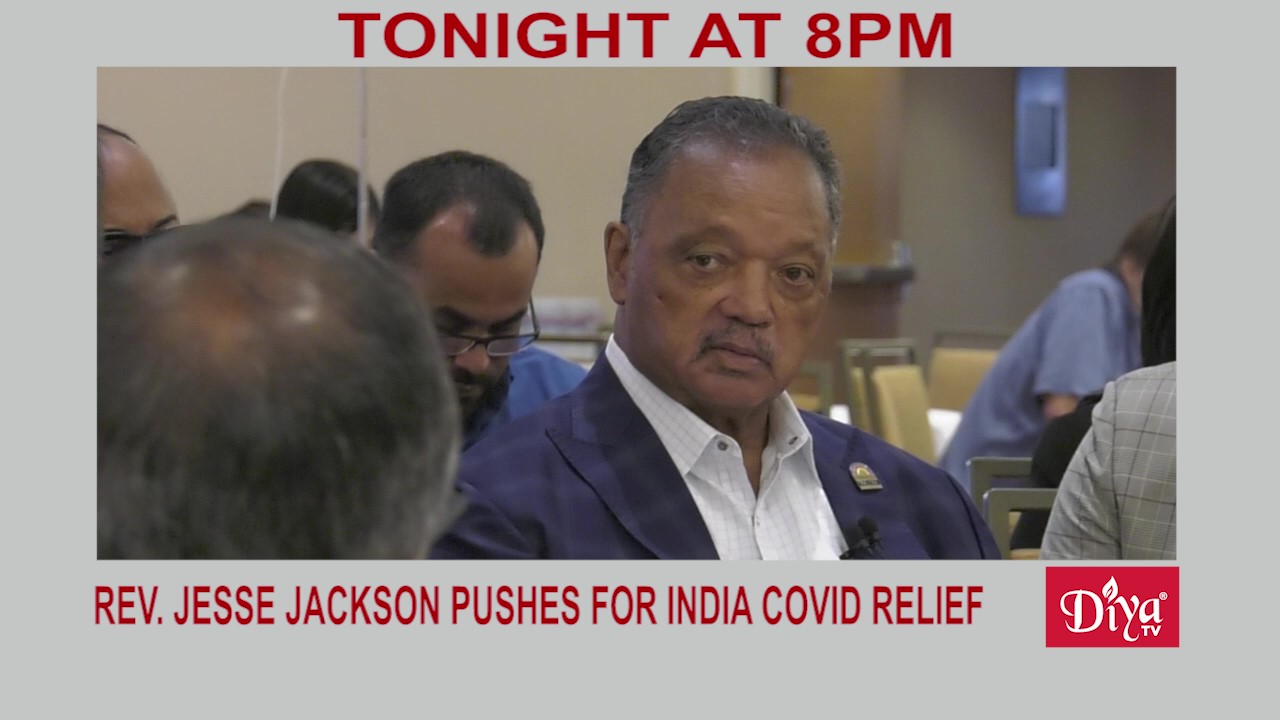 SAN FRANCISCO (Diya TV) — The Reverend Jesse Jackson is standing in solidarity with Indian Americans in California who are rallying the community to send more Covid-19 relief to India. Reverend Jackson is also voicing solidarity for other communities of color as African Americans celebrate Juneteenth, the new Federal holiday marking the end of slavery in the U.S.
And Satya Nadella is now even more powerful at Microsoft. The tech giant's CEO was named chairman of the board elevating his current role atop one of the world's most valuable companies. The Indian American has served as chief executive since 2014, has helped transform the PC maker into a leader in cloud computing in recent years, resulting in a market cap of close to $2 trillion.
Billionaire philanthropist MacKenzie Scott has given away another massive chunk of her fortune. This time nearly 3 billion dollars to a variety of charities. Several Indian organizations like Goonj, Antara Foundation, and GiveIndia have also benefited from this generosity.
Ravi Kapur contributed to this report.
US – India trade hits record $9 billion
SANTA CLARA, Calif. (Diya TV) — For the second month in a row, the U.S.-India bilateral goods trade crossed $9 billion dollars.  It had never happened once before that. This is a comprehensive document covering trade in goods and services, and shows India and the U.S. remain strong strategic partners.
the U.S. Senate confirmed Radhika Fox as the first Indian American and woman of color to lead the office of water at the Environmental Protection Agency. Her supporters say she will focus on making sure everyone's point of view is heard and taken into account.
And British Pakistani rapper Frenzo Harami is being criticized for his anti Hindu post on Instagram. Harami uses vulgar language to describe Hindu minorities living in Kashmir. He apparently went on this tirade after claiming youtube banned one of his videos.
Ravi Kapur contributed to this report.
India's COVID rate drops dramatically
NEW DELHI (Diya TV) — India' s Covid-19 infection rates are starting to consistently drop each day. The ministry of health reported a little more than 60,000 cases in the past 24 hours. That's a dramatic decrease from the peak of more than 400,000 cases in one day just a few months ago.
India has also decided to partially open the Taj Mahal to visitors. And as restrictions ease, several shops, malls, and restaurants have started to reopen in multiple cities this week. but Authorities continue to advise mask wearing and social distancing.
Vice President Kamala Harris hosted a dinner party for a bipartisan group of female senators at her official Washington, DC residence. 16 Democrats and eight Republicans. Vice President Harris is doing this against the backdrop of intense negotiations over President Biden's agenda in Congress and a border crisis raging on her watch.
And one of the fiercest critics of Big Tech companies like Apple and Amazon is now leading the Federal Trade Commission. Lina Khan will be tasked with voting on enforcement matters in areas of both competition and consumer protection. the 32 year old South Asian will be the youngest person to ever lead the agency.
Ravi Kapur contributed to this report.