Indian American Scholars awarded fellowships with Sloan Foundation
NEW YORK (Diya TV) – Among the crowd of 126 scholars and researchers from the U.S. and Canada selected as this year's fellowship grantees for the Alfred P. Sloan Foundation were seven Indian Americans.
Venkat Chandrasekaran of the California Institute of Technology, Abhinav Gupta of Carnegie Mellon, Ankur Moitra and Yogesh Surendranath of the Massachusetts Institute of Technology, Devi Parikh of Virginia Tech, and Surjeet Rajendran and Nikhil Srivastava of the University of California at Berkeley were the Indian American recipients of the awards this year.
The research fellowships have been handed out since 1955, and honor career scientists and scholars who are identified early as the industry's future. Often charged with spearheading the next generation of scientific research, those who are selected by the foundation receive a grant of $55,000 to further their research and studies.
Chandrasekaran, an assistant professor in the computing and mathematical sciences department at the California Institute of Technology, leads a research team focused on mathematical optimization. Specifically, Chandrasekaran is searching for an understanding of the power and limitations of convex optimization. His thesis, which also studied the specifics of convex optimization, received the Jin-Au Kong Outstanding Doctoral Thesis Prize for the best Ph.D. thesis in electrical engineering at MIT. He's also been the recipient of the Young Researcher Prize in Continuous Optimization for his work on matrix decomposition.
Gupta serves as an assistant professor in Carnegie Melon's Robotics Institute. His research has put the magnify glass on how humans interact with their environment and how their perception of visual world depends on these interactions and their abilities.
Moitra works as an assistant professor at MIT's department of mathematics, and is also a member of the computer science and artificial intelligence lab at the school. Prior to his arrival in Cambridge, Moitra was an NSF CI Fellow at the Institute for Advanced Study, and also a senior postdoc in the computer science department at Princeton University. Moitra's work has specialized in multiple areas of algorithms, and lately has been working on the intersection of algorithms and machine learning.
Surendranath, Moitra's MIT counterpart, spends his time in a lab focused on addressing global challenges in the areas of chemical catalysis, energy storage and utilization, and environmental stewardship. The technological advances discovered by him and his team have allowed for new methods for controlling the selectivity and efficiency of inner-sphere reactions at solid-liquid interfaces.
Parikh, leader of Virginia Tech's computer vision lab, was previously awarded the Allen Distinguished Investigator Award from the Paul G. Allen Family Foundation in 2014. She is using her prize money to help computers "read" complex images with the use of cartoon clip art scenes. Correspondingly, she is hopeful that her research will be able to shine a light on new ways to use synthetic data to deepen our current understanding of computer vision.
Rajendran, a graduate of both Caltech and Stanford University, with degrees in both mathematics and a Ph.D. in physics respectfully, has very broad interests. His studies range from theoretical physics, to a strong focus physics beyond the standard model. Physics' standard model has withstood multiple experimental tests, leaving many questions unanswered. His desire is to seek out a new invention; one which would develop new experimental avenues to clear the path for discoveries of new types of physics.
Rev. Jesse Jackson pushes for India COVID relief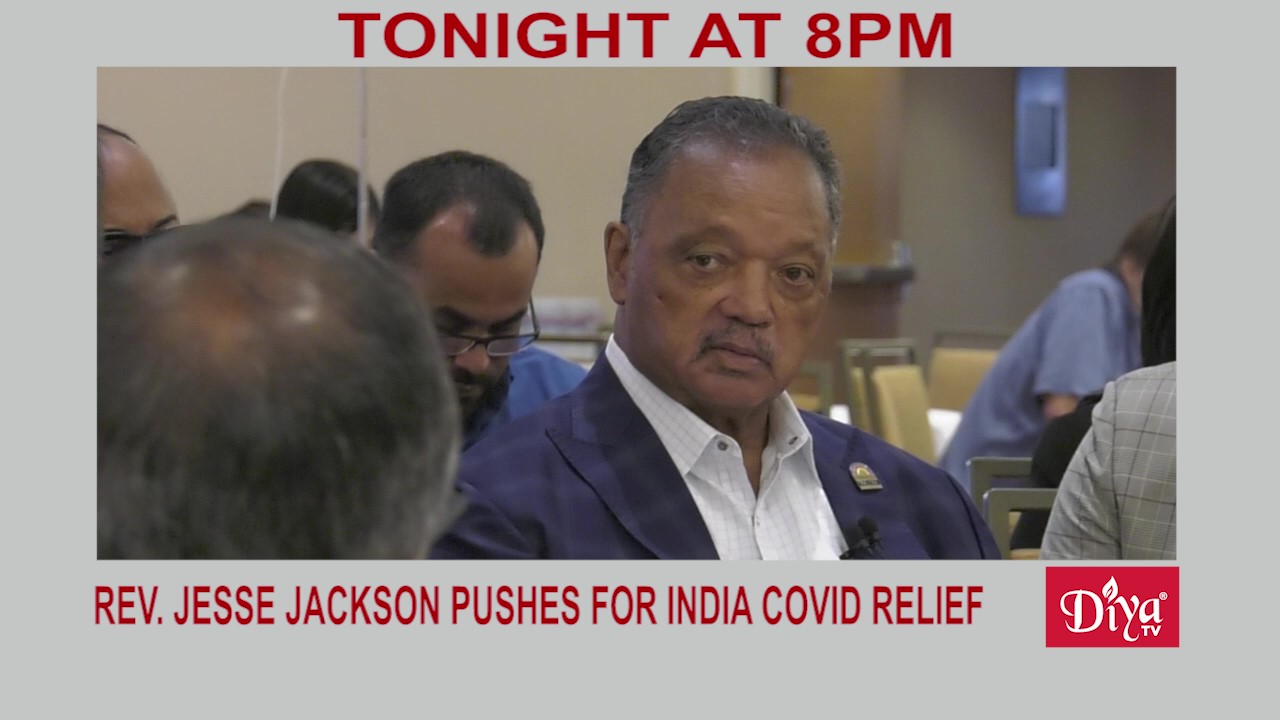 SAN FRANCISCO (Diya TV) — The Reverend Jesse Jackson is standing in solidarity with Indian Americans in California who are rallying the community to send more Covid-19 relief to India. Reverend Jackson is also voicing solidarity for other communities of color as African Americans celebrate Juneteenth, the new Federal holiday marking the end of slavery in the U.S.
And Satya Nadella is now even more powerful at Microsoft. The tech giant's CEO was named chairman of the board elevating his current role atop one of the world's most valuable companies. The Indian American has served as chief executive since 2014, has helped transform the PC maker into a leader in cloud computing in recent years, resulting in a market cap of close to $2 trillion.
Billionaire philanthropist MacKenzie Scott has given away another massive chunk of her fortune. This time nearly 3 billion dollars to a variety of charities. Several Indian organizations like Goonj, Antara Foundation, and GiveIndia have also benefited from this generosity.
Ravi Kapur contributed to this report.
US – India trade hits record $9 billion
SANTA CLARA, Calif. (Diya TV) — For the second month in a row, the U.S.-India bilateral goods trade crossed $9 billion dollars.  It had never happened once before that. This is a comprehensive document covering trade in goods and services, and shows India and the U.S. remain strong strategic partners.
the U.S. Senate confirmed Radhika Fox as the first Indian American and woman of color to lead the office of water at the Environmental Protection Agency. Her supporters say she will focus on making sure everyone's point of view is heard and taken into account.
And British Pakistani rapper Frenzo Harami is being criticized for his anti Hindu post on Instagram. Harami uses vulgar language to describe Hindu minorities living in Kashmir. He apparently went on this tirade after claiming youtube banned one of his videos.
Ravi Kapur contributed to this report.
India's COVID rate drops dramatically
NEW DELHI (Diya TV) — India' s Covid-19 infection rates are starting to consistently drop each day. The ministry of health reported a little more than 60,000 cases in the past 24 hours. That's a dramatic decrease from the peak of more than 400,000 cases in one day just a few months ago.
India has also decided to partially open the Taj Mahal to visitors. And as restrictions ease, several shops, malls, and restaurants have started to reopen in multiple cities this week. but Authorities continue to advise mask wearing and social distancing.
Vice President Kamala Harris hosted a dinner party for a bipartisan group of female senators at her official Washington, DC residence. 16 Democrats and eight Republicans. Vice President Harris is doing this against the backdrop of intense negotiations over President Biden's agenda in Congress and a border crisis raging on her watch.
And one of the fiercest critics of Big Tech companies like Apple and Amazon is now leading the Federal Trade Commission. Lina Khan will be tasked with voting on enforcement matters in areas of both competition and consumer protection. the 32 year old South Asian will be the youngest person to ever lead the agency.
Ravi Kapur contributed to this report.