RNC appoints Raj Shah to dig up dirt on Sanders, Clinton
WASHINGTON (Diya TV) — With November's general election creeping up on the American voting populous, candidates from both parties are turning up the heat and making their respective arguments, soliciting for as many delegates and super delegates as possible. In the background, a Republican research team, spearheaded by a group of young Indian Americans, have gathered information for presentation, which they believe will exploit the flaws of the two Democratic frontrunners, Sen. Bernie Sanders and former Secretary of State Hillary Clinton.
Leading the research team is 31-year-old Raj Shah — he has compiled scores of documents through America's Freedom of Information Act. The information, he believes, exposes Clinton, the party's current leader for presidential nomination, as the complete opposite of the values she and her party preaches to the public.
"What we are seeing, a candidate (Clinton) after decades of living in a bubble, whether secret service protection, living in high-end mansions and nice fundraiser with elite crowd seems to be out of touch and out of step with the struggles of middle-income voters," Shah said.
Shah, a graduate of Cornell University, was appointed as research director by Republican National Committee (RNC) chair Reince Priebus. "Raj is the expert on the subject of all things Clinton, and his expertise will be an asset to our party," Priebus said at the time of his appointment last February.
He previously served in the same capacity to the RNC during the 2012 general election, which saw republican nominee Mitt Romney defeated by incumbent Barack Obama by nearly four percent. Additionally, he served former President George W. Bush's cabinet in various research roles during his second term.
Shah's research is nearly complete, and he believes when his team's report is released, serious doubts will be raised regarding the legitimacy of Clinton's candidacy. The lingering conversations about Clinton's "character," and "honesty" would be questioned the most, Shah said, adding that documents in his possession will be turned over to whomever ultimately receives the Republican presidential nomination.
"Her record as Secretary of State, when you scratch the surface, there is a whole lot of vulnerability there, whether it is foreign policy, whether you look at actions of Russia, look at chaos in the Middle East, Libya and other places."
"Then, there is how she handled managing State Department in particular secret email server that has got her into hot water," Shah alleged.
Shah refused to elaborate on what he's learned, but said the campaign to expose Clinton begins during her first term as a United States Senator — she served as a Senator from New York from 2001 through 2009. He also said similar dirt has been dug up on Sanders, a United States Senator from Vermont. "Our primary mission in the campaign is to make the case that Clinton and Sanders can take the country further down the wrong direction," he said.
Shah's bias against Clinton is nothing unfamiliar to the candidate herself, or the party — after co-founding the America Rising political action committee, Shah wrote a book titled, "Failed Choices: A Critique of the Hillary Clinton State Department," with the help of co-authors Stephen Thompson and Tim Miller.
While he likes his party's chances, Shah conceded at this time that he isn't sure whom of the two candidates would be "easiest" to defeat. "With Sanders there is inexperience factor, his positions are more outside the mainstream," Shah said.
"We are seeing a pattern in public life that stretches back decades now, shifting positions in ways that are politically convenient. Some of the stuff that she is being criticized for the campaign trail whether it is speaking fee, she has a long history with that as well.
Shah is a second generation Indian American. His parents lived in Mumbai, and moved to the US in the late 70's. They lived in Chicago and later moved to Connecticut, where Shah was born and spent most of his childhood.
The Economic Times article contributed to this report.
Rev. Jesse Jackson pushes for India COVID relief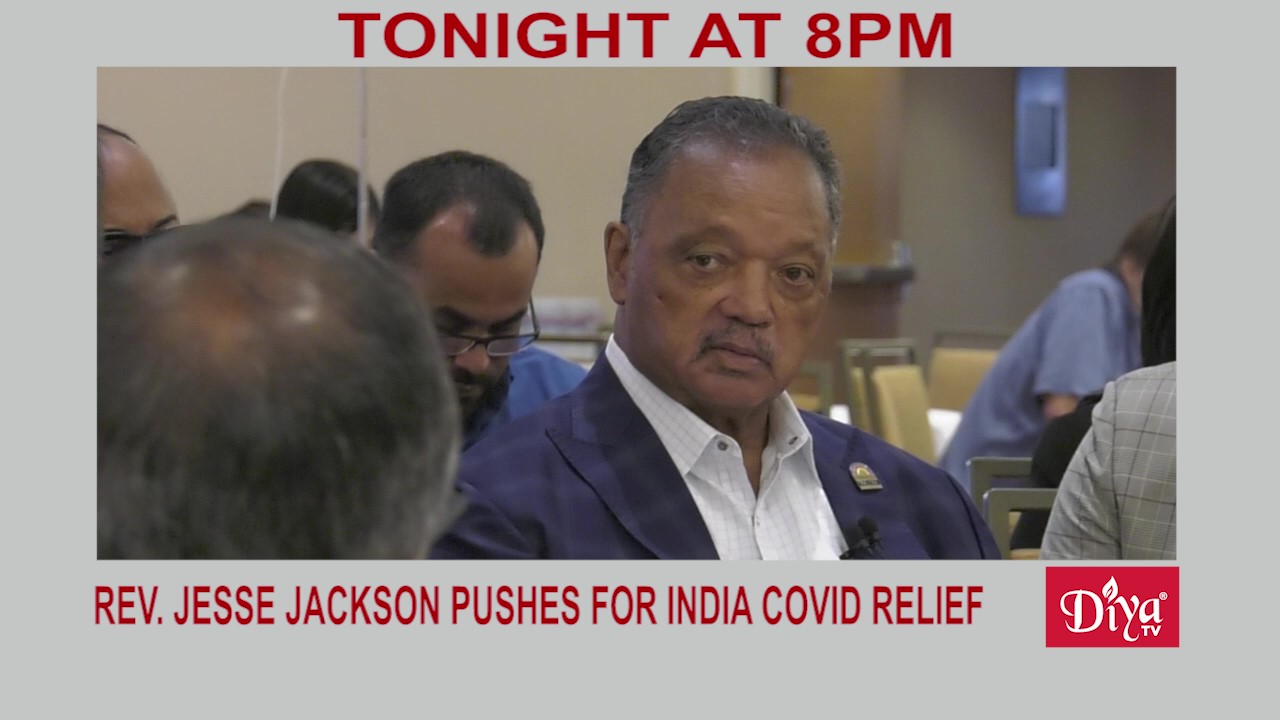 SAN FRANCISCO (Diya TV) — The Reverend Jesse Jackson is standing in solidarity with Indian Americans in California who are rallying the community to send more Covid-19 relief to India. Reverend Jackson is also voicing solidarity for other communities of color as African Americans celebrate Juneteenth, the new Federal holiday marking the end of slavery in the U.S.
And Satya Nadella is now even more powerful at Microsoft. The tech giant's CEO was named chairman of the board elevating his current role atop one of the world's most valuable companies. The Indian American has served as chief executive since 2014, has helped transform the PC maker into a leader in cloud computing in recent years, resulting in a market cap of close to $2 trillion.
Billionaire philanthropist MacKenzie Scott has given away another massive chunk of her fortune. This time nearly 3 billion dollars to a variety of charities. Several Indian organizations like Goonj, Antara Foundation, and GiveIndia have also benefited from this generosity.
Ravi Kapur contributed to this report.
US – India trade hits record $9 billion
SANTA CLARA, Calif. (Diya TV) — For the second month in a row, the U.S.-India bilateral goods trade crossed $9 billion dollars.  It had never happened once before that. This is a comprehensive document covering trade in goods and services, and shows India and the U.S. remain strong strategic partners.
the U.S. Senate confirmed Radhika Fox as the first Indian American and woman of color to lead the office of water at the Environmental Protection Agency. Her supporters say she will focus on making sure everyone's point of view is heard and taken into account.
And British Pakistani rapper Frenzo Harami is being criticized for his anti Hindu post on Instagram. Harami uses vulgar language to describe Hindu minorities living in Kashmir. He apparently went on this tirade after claiming youtube banned one of his videos.
Ravi Kapur contributed to this report.
India's COVID rate drops dramatically
NEW DELHI (Diya TV) — India' s Covid-19 infection rates are starting to consistently drop each day. The ministry of health reported a little more than 60,000 cases in the past 24 hours. That's a dramatic decrease from the peak of more than 400,000 cases in one day just a few months ago.
India has also decided to partially open the Taj Mahal to visitors. And as restrictions ease, several shops, malls, and restaurants have started to reopen in multiple cities this week. but Authorities continue to advise mask wearing and social distancing.
Vice President Kamala Harris hosted a dinner party for a bipartisan group of female senators at her official Washington, DC residence. 16 Democrats and eight Republicans. Vice President Harris is doing this against the backdrop of intense negotiations over President Biden's agenda in Congress and a border crisis raging on her watch.
And one of the fiercest critics of Big Tech companies like Apple and Amazon is now leading the Federal Trade Commission. Lina Khan will be tasked with voting on enforcement matters in areas of both competition and consumer protection. the 32 year old South Asian will be the youngest person to ever lead the agency.
Ravi Kapur contributed to this report.