Hindu priest decapitated in Bangladesh
(DIYA TV) — Attackers decapitated a top Hindu priest in northern Bangladesh Sunday in the latest assault targeting minorities in the Muslim-majority nation. Additionally, two worshipers were also wounded.
The attackers, reportedly armed with pistols and cleavers, attacked Joggeshwar Das, 50, the head priest of Sri Sri Sant Gourio Math, at his home in the temple on Sunday morning around 7 a.m. while he was praying, Gias Uddin, the superintendent of police in the district said. Uddin said two men hurled a bomb and fired two rounds as they fled Das's home after the attack. There was a third man waiting close-by on a motorcycle to help them escape, police said.
Shafiqul Islam, a government administrator in the sub-district Debiganj where the temple is located, described the grisly scene of the attack.
"The priest was preparing for morning prayers when they pounced on him and slit his head from the body at the verandah of his home inside the temple," Islam said. "We recovered a blood-stained cleaver from the spot," he added.
As mentioned previous, two worshipers were also wounded in the attack. One was shot while attempting to save the life of the priest, officials said. The motive for the murder remains unclear, but police said Islamist militants were among the prime suspects behind the attack. The three men suspected of the crime are now in custody, Uddin said the manhunt for the attackers was launched immediately. Security checkpoints were set up across the region in an effort to find the assailants.
"The Jamayetul Mujahideen Bangladesh (JMB) is also in our list of suspects," Ahmed said before the three men were captured.
The same group is believed to have been behind an attack on an Italian Catholic priest in the neighboring district of Dinajpur late last year. Bangladesh has recently experienced a spike in attacks against minorities including Shiites, Sufis, Christians and Ahmadis by Islamist militant groups. The government has rejected the Islamic State's claims it was responsible for several recent attacks, including one of which two foreigners were shot.
Sunday morning, ISIS claimed responsibility for the killing of the priest via Twitter. As of Monday, it remains unclear whether or not the arrested have any association with ISIS. Mohammad Babul Aker, an officer in charge of the Debiganj police station in the Panchagarh District, said two of the three men are known members of the banned JMB. The third man arrested is suspected to be a part of the student-wing of Jamaat-e-Islami, Bangladesh's largest Islamic political party.
All three have been charged with murder and weapons counts.
Prime Minister Sheikh Hasina's government has instead accused the JMB, a group which has been banned in the country, other local militant groups and the Islamist-allied political opposition of leading efforts in trying to destabilize the country. Hindu's, the country's largest minority body, represent almost 10 percent of Bangladesh's 160 million people.
Rev. Jesse Jackson pushes for India COVID relief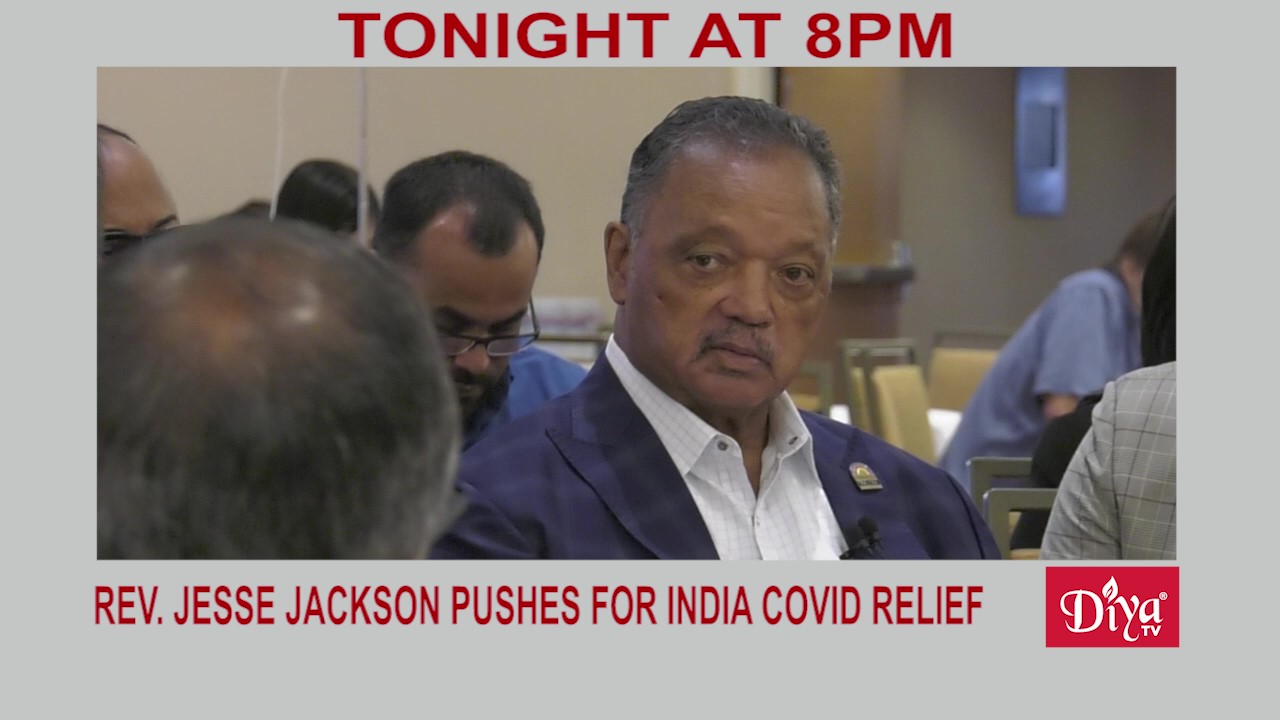 SAN FRANCISCO (Diya TV) — The Reverend Jesse Jackson is standing in solidarity with Indian Americans in California who are rallying the community to send more Covid-19 relief to India. Reverend Jackson is also voicing solidarity for other communities of color as African Americans celebrate Juneteenth, the new Federal holiday marking the end of slavery in the U.S.
And Satya Nadella is now even more powerful at Microsoft. The tech giant's CEO was named chairman of the board elevating his current role atop one of the world's most valuable companies. The Indian American has served as chief executive since 2014, has helped transform the PC maker into a leader in cloud computing in recent years, resulting in a market cap of close to $2 trillion.
Billionaire philanthropist MacKenzie Scott has given away another massive chunk of her fortune. This time nearly 3 billion dollars to a variety of charities. Several Indian organizations like Goonj, Antara Foundation, and GiveIndia have also benefited from this generosity.
Ravi Kapur contributed to this report.
US – India trade hits record $9 billion
SANTA CLARA, Calif. (Diya TV) — For the second month in a row, the U.S.-India bilateral goods trade crossed $9 billion dollars.  It had never happened once before that. This is a comprehensive document covering trade in goods and services, and shows India and the U.S. remain strong strategic partners.
the U.S. Senate confirmed Radhika Fox as the first Indian American and woman of color to lead the office of water at the Environmental Protection Agency. Her supporters say she will focus on making sure everyone's point of view is heard and taken into account.
And British Pakistani rapper Frenzo Harami is being criticized for his anti Hindu post on Instagram. Harami uses vulgar language to describe Hindu minorities living in Kashmir. He apparently went on this tirade after claiming youtube banned one of his videos.
Ravi Kapur contributed to this report.
India's COVID rate drops dramatically
NEW DELHI (Diya TV) — India' s Covid-19 infection rates are starting to consistently drop each day. The ministry of health reported a little more than 60,000 cases in the past 24 hours. That's a dramatic decrease from the peak of more than 400,000 cases in one day just a few months ago.
India has also decided to partially open the Taj Mahal to visitors. And as restrictions ease, several shops, malls, and restaurants have started to reopen in multiple cities this week. but Authorities continue to advise mask wearing and social distancing.
Vice President Kamala Harris hosted a dinner party for a bipartisan group of female senators at her official Washington, DC residence. 16 Democrats and eight Republicans. Vice President Harris is doing this against the backdrop of intense negotiations over President Biden's agenda in Congress and a border crisis raging on her watch.
And one of the fiercest critics of Big Tech companies like Apple and Amazon is now leading the Federal Trade Commission. Lina Khan will be tasked with voting on enforcement matters in areas of both competition and consumer protection. the 32 year old South Asian will be the youngest person to ever lead the agency.
Ravi Kapur contributed to this report.