IDC: Apple leads global tablet market
WASHINGTON (Diya TV) — Tablet sales worldwide suffered another hit in 2015, a double-digit drop in sales across all brands, however, Apple still holds almost a quarter of the market, with 24.5 percent, according to the marketing research firm IDC.
The firm reported a 13.7 percent year-over-year drop in worldwide sales in the fourth quarter of 2015 (October-December), with 69.5 million total units shipped. For the full year, IDC said the number of tablets purchased dropped 10.1 percent from a year earlier, with a total of 206.8 million. Entering 2014, the tablet market had been gaining momentum, but failed to live up to analysts predictions as consumers opted to purchase slimmer laptop computers in an effort to prolong the life of their already purchased tablets.
One significant area of growth in the tablet market was observed in the "detachable" segment—removable keyboards and other tablet accessories being sold are growing at a surmountable rate, according to IDC. In 2015, detachable tablets reached an all-time high of 8.1 million units.
"One of the biggest reasons why detachables are growing so fast is because end users are seeing those devices as PC replacements," said IDC's Jean Philippe Bouchard.
"We believe Apple sold just over two million iPad Pros while Microsoft sold around 1.6 million Surface devices, a majority of which were Surface Pro and not the more affordable Surface 3. With these results, it's clear that price is not the most important feature considered when acquiring a detachable — performance is."
Jitesh Ubrani, an IDC analyst, has deemed Apple's iPad Pro as "the clear winner this season, as it was the top selling detachable, surpassing notable entries from Microsoft and other PC vendors." He opined this could have been at least partly fueled by Google's "lackluster" launch of its new detachable tablet, and added that its Android interface "will require a lot more refinement to achieve any measurable success."
Apple's success, and king of the hill status, was cemented by No. 1 fourth quarter sales of 16.1 million units, a market share of 24.5% despite a drop in unit sales of nearly 25%. Samsung filed in at a distant second place, moving nine million units for a 13.7 percent share, and Amazon crossed the finish line in third place, moving five million units and a 7.9 percent share. Not everyone can afford an apple tablet and if that's the case for you hopefully this cheap tablet guide will be of some help.
IDC noted that while Amazon's tablet sales have soared 175.7 percent in the last quarter, it was due largely in fact to the relatively low price—bargain tablets are priced as low as $50 on the site.
Indian Ambassador, Shringla speaks to U.S. Congress about Kashmir
WASHINGTON (Diya TV) — Indian Ambassador to the U.S. Harsh Shringla met with members of Congress at a private roundtable briefing, hosted by Southern California Congressman Brad Sherman. Sherman, who has been a supporter of India, took to Twitter recently to share his concerns about Kashmir and said serious questions about Kashmir were asked at the briefing.
President Trump is being urged to fix the H1-B visa process and do away with country-specific limits, with the latest effort for reform being spearheaded by 60 U.S. business school deans and CEO's.
In an earthquake, seconds matter. So on the anniversary of the deadly 1989 Loma Prieta earthquake that rocked Northern California, state officials announced the launch of America's first statewide earthquake early warning system.
Tabla Maestro Zakir Hussain will be coming to Boston next month to perform at the Berklee India Exchange, where he will also be conferred with an honorary doctorate by the esteemed music school. A Zakir Hussain Scholarship at Berklee is also being established.

And we have incredible video of three kids from India rescuing their dog from a snake that's equal parts courageous and nuts.
Ravi Kapur contributed to this report.
Federal Court rules Trump must turn over tax returns | Diya TV News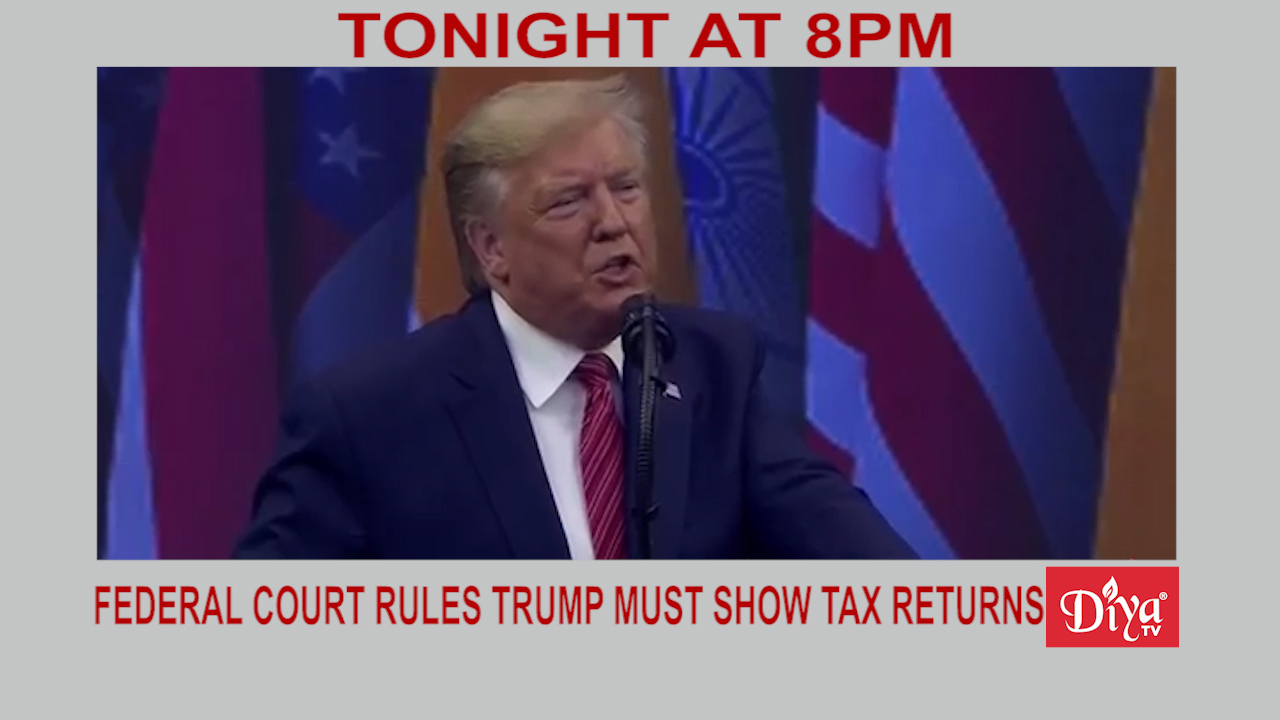 NEW YORK (Diya TV) — A federal judge ruled President Trump must turn over eight years of his personal and corporate tax returns to Manhattan prosecutors, striking down the President's argument that a sitting president cannot be criminally investigated. The ruling was quickly appealed and this case could end up in the Supreme Court to answer the constitutional question of whether presidents can be charged with a crime.
Meanwhile, the President celebrated a victory by FCC Chairman Ajit Pai, as a federal appellate court upheld most of the FCC's repeal of net neutrality. It also ruled the FCC cannot preempt state net neutrality laws, meaning the rules of the road in states like California remain in place.
The U.S. House Foreign Affairs Committee announced their Asia-Pacific and Non-Proliferation Subcommittee will be holding a hearing asking State Department officials and human rights activists to chime in on Human Rights in Kashmir, the Tamils of Sri Lanka, Muslims in Assam and the human rights situation in Pakistan, which includes the Sindh Province.
Lockheed Martin announced they will build F-16 wings exclusively in India, helping in integrating Indian industry into the $165 billion fighter aircraft market.
Ravi Kapur contributed to this report.
Tech CEO Pradyumna Samal convicted of large scale H1B fraud
SEATTLE (Diya TV) — Tech CEO Pradyumna Samal was convicted of large scale H1B fraud. The CEO of two companies that supplied workers to companies like Microsoft and Amazon plead guilty to using fake documents to get H1-B visas. The Indian national Samal was sentenced to seven years in prison for what federal authorities say "was the largest and most sophisticated H-1B visa fraud scheme we have prosecuted in Western Washington." 
Inder Singh, a Los Angeles-based Indian American community leader, has died. He was 86 years old. Singh was involved in the inception of a number of Indian American non-profit organizations in the effort to build a stronger relationship between the U.S. and India. Indian Ambassador to the U.S. Harsh Shringla said on Twitter that Singh's contributions have been "significant and his leadership will be greatly missed."
Indiaspora launched ChaloGive.org, their first online giving campaign that runs October 2nd to the 8th. The goal is to increase levels of giving by the Indian diaspora, inspired in part by the success of Giving Tuesday in the U.S. and Daan Utsav in India.
Ravi Kapur contributed to this report.