Indian American Graduate Student Wins AHA Grant
(Diya TV) — Naga S. Annamdevula, a graduate medical student at the University of South Alabama, was awarded with a grant from the American Heart Association. Annamdevula, and her classmate Emily Turner, plan to use the $52,000 grant to further their studies of helping to further support their doctoral research as part of an interdisciplinary biomedical engineering track.
The program benefiting from the grant brings together the university's college of medicine and engineering, and was launched six years ago in an effort to develop a more "synergistic educational environment," College of Medicine dean Dr. Samuel J. Strada said in a statement.
"Naga and Emily are both very qualified and promising doctoral students working on highly interdisciplinary biomedical engineering projects," Dr. Silas Leavesley, who teaches in the program said. "Having both of them receive a highly competitive, nationally recognized extramural fellowship is a testament to the dynamic and interdisciplinary training environment we have been working to establish between the Colleges of Engineering and Medicine."
Annamdevula, a native of Rajahmundry, India, is conducting the research, which is titled,"Spatial distribution of PDE4 isoforms regulates cAMP compartmentalization and endothelial barrier permeability in PMVECs," on a two-year grant. In layman's terms, Annadevula is working towards finding a cure for acute respiratory distress syndrome, a condition which fluid collects in the lungs' air sacs, depriving organs of oxygen.
"The major focus of my research is to study the role of Phosphodiesterases in regulating cAMP signal specificity and thus maintain the endothelial permeability," Annamdevula said. "Acute Respiratory Distress Syndrome is one of the leading causes of death in the United States. A key characteristic of ARDS is disruption of the endothelial barrier of the blood vessel leading to pulmonary edema."
The merger of the engineering school is paramount to Annamdevula's research—she's using a five-dimensional imaging process to map x, y and z spatial components. It's half biological science, and half engineering, at its core, the school said.
House of Representatives holds South Asia human rights hearing
WASHINGTON (Diya TV) — The House Foreign Affairs Committee held a full day hearing on human rights in South Asia, featuring speakers from the U.S. State Department and members of the community with different vantage points. As you can well imagine, narratives over Jammu & Kashmir differed greatly, especially over India's recent constitutional change to integrate the region more closely. The hearing also touched upon Pakistan's treatment of minorities in Balochistan and Sindh and the crisis faced by Rohingya Muslims in Bangladesh and Myanmar. Congressmembers Pramila Jayapal and Ami Bera made remarks at the hearing held before a capacity crowd on Capitol Hill. We'll have full reaction to this contentious debate and we will broadcast the hearing in full this weekend on Diya TV.
Justin Trudeau will continue to lead Canada, but his Liberal Party lost their majority in Parliament, opening the door for Jagmeet Singh, leader of the New Democrats, to potentially play kingmaker if Trudeau wants to pass any major legislation.
And in a huge development for Prime Minister Modi's 'Make in India' efforts, the first Apple iPhone's are rolling off the assembly lines in India.
Ravi Kapur contributed to this report.
Sanders defends Gabbard over Clinton accusation
NEW YORK (Diya TV) — Sparks flew when Hillary Clinton implied Russians were 'grooming' Tulsi Gabbard for a third-party run. Gabbard blasted Clinton and got a fresh jolt of support for her campaign. Staunch supporters for Clinton like Neera Tanden continue to criticize Gabbard for her meeting with Syrian President Bashar al-Assad, among other reasons. Presidential candidates are also chiming in, with Andrew Yang, Marianne Williamson and Bernie Sanders all standing up for Gabbard. Sanders, who Gabbard supported in 2016 over Clinton, said in a tweet "people can disagree on issues, but it is outrageous for anyone to suggest that Tulsi is a foreign asset.
Indian American attorney Rik Mehta announced he intends to challenge Sen. Cory Booker in New Jersey's Democratic primary, criticizing Booker for spending more time running for President than looking after New Jersey.
The U.S.-India Strategic Partnership Forum held its annual meeting in New Delhi, featuring prominent business leaders, American ambassador to India Ken Juster and Indian Prime Minister Narendra Modi, who spoke about India's efforts to aid startups and bolster innovation.
Ravi Kapur contributed to this report.
Breaking: Clinton, Gabbard spar in 2016 rehash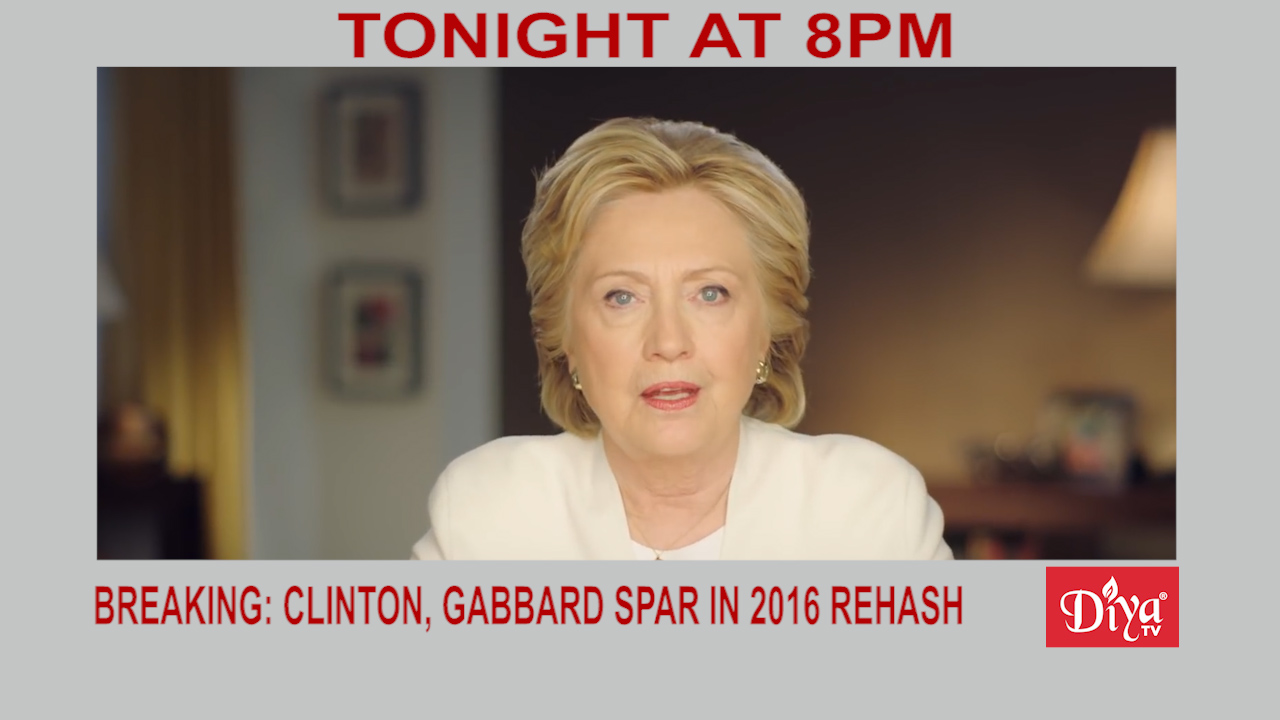 NEW YORK (Diya TV)  — In 2016, former Secretary of State Hillary Clinton was the Democratic nominee, staving off a fierce challenge from Sen. Bernie Sanders. Rep. Tulsi Gabbard decided to resign from her post as Democratic National Committee Vice-Chair to support Sanders over Clinton. Now, both ladies have taken the gloves off, after Clinton on a podcast indirectly referenced Gabbard by saying the Russians were "grooming her to be the third-party candidate." Gabbard responded on Twitter, calling Clinton the "queen of warmongers [and] embodiment of corruption."
The granddaughter of Mahatma Gandhi, Ela Gandhi, spoke at an event organized by Cal State Fresno about how her grandfather's work, was not only was significant in its time, but how those principles still hold relevance in a new century.
The University of Houston announced an endowment to support the study of the Tamil language and culture. Non-profit Houston Tamil Studies Chair made a $2 million commitment to the university to kickstart the study of Tamil heritage. The Tamil language is considered the oldest in the world, spoken by more than 70 million people worldwide, with 250,000 Tamilians in the United States.
President Trump announced Energy Secretary Rick Perry is stepping down from his role to pursue other interests. His deputy Dan Brouillette was nominated as his replacement.
And for all of our incredible viewers in Chicagoland, rescan your TV sets this weekend to watching Diya TV and the rest of the channels in the market. We recommend a high quality VHF/UHF antenna so you can keep getting Diya TV on WRJK Channel 22.1 for free!
Ravi Kapur contributed to this report.