Entrepreneur receives $500,000 app investment
Struggling to balance the coexistence of a work and family life, Avni Patel left her swanky corporate job in 2015 in favor creating her own idea, and starting her own company—now, she has received an angel investment north of $500,000 in funding to develop her idea into an app.
"Poppy," a childcare platform, has already launched in Seattle, and is reportedly anticipated to go national. Patel got the idea to create the platform while working at a startup in corporate branding—while preparing for an event, she suddenly realized she'd forgotten to book a babysitter for her two small children. After rushing through her usual list of candidates and having no luck, she broke a sacred rule of parenting: asking for the service of her friends' babysitters.
As you might have guessed, Patel still had no luck.
"It baffled me that in this day and age every family was on their own in this most fundamental area," Patel said. "Every family was inefficiently trying to find their own sitters that they hoarded zealously, lest they be stuck without care when they needed it."
Poppy was born.
She cut ties with startup No. 1, and began developing the on-demand childcare platform in its place. Poppy curates a list of verifiable and trusted child caregivers, by neighborhood, so that when parents are in need, it becomes as simple as accessing a roster of qualified talent. From there, parents can make contact with the caregiver via text, or the Poppy app.
Patel recently closed a round of funding, drawing $589,305 from multiple Seattle-area investors, Madrona Venture Group, and Y Combinator. As mentioned previously, Poppy is already active in several Seattle neighborhoods, serving from Wedgwood to West Seattle and Queen Anne. Next week, the app will expand its network, and begin servicing the Eastside area, starting with Bellevue and Sammamish, according to GeekWire.
"We built out the Poppy platform that allowed us to continue to grow, while maintaining the highest standards in childcare vetting in the industry," Patel said. "What started as a test now has the chance to be something that solves childcare for parents around the country and I am so incredibly excited about that."
Patel knows babysitting is a serious business—parents won't assign their children to just anyone, and she said Poppy uses a rigorous system to vet candidates before they are placed on the roster of available caregivers. Applicants are required to have at minimum, five years of childcare experience, pass a video interview screening, and be able to provide three references, all before landing an in-person interview. Once the screening process is complete, providers are trained in CPR and first aid.
If you are already living in neighborhoods serviced by Poppy, rates for babysitters are as follows: $16 per hour for one child, $17 per hour for two children, and so on, and so forth.
House of Representatives holds South Asia human rights hearing
WASHINGTON (Diya TV) — The House Foreign Affairs Committee held a full day hearing on human rights in South Asia, featuring speakers from the U.S. State Department and members of the community with different vantage points. As you can well imagine, narratives over Jammu & Kashmir differed greatly, especially over India's recent constitutional change to integrate the region more closely. The hearing also touched upon Pakistan's treatment of minorities in Balochistan and Sindh and the crisis faced by Rohingya Muslims in Bangladesh and Myanmar. Congressmembers Pramila Jayapal and Ami Bera made remarks at the hearing held before a capacity crowd on Capitol Hill. We'll have full reaction to this contentious debate and we will broadcast the hearing in full this weekend on Diya TV.
Justin Trudeau will continue to lead Canada, but his Liberal Party lost their majority in Parliament, opening the door for Jagmeet Singh, leader of the New Democrats, to potentially play kingmaker if Trudeau wants to pass any major legislation.
And in a huge development for Prime Minister Modi's 'Make in India' efforts, the first Apple iPhone's are rolling off the assembly lines in India.
Ravi Kapur contributed to this report.
Sanders defends Gabbard over Clinton accusation
NEW YORK (Diya TV) — Sparks flew when Hillary Clinton implied Russians were 'grooming' Tulsi Gabbard for a third-party run. Gabbard blasted Clinton and got a fresh jolt of support for her campaign. Staunch supporters for Clinton like Neera Tanden continue to criticize Gabbard for her meeting with Syrian President Bashar al-Assad, among other reasons. Presidential candidates are also chiming in, with Andrew Yang, Marianne Williamson and Bernie Sanders all standing up for Gabbard. Sanders, who Gabbard supported in 2016 over Clinton, said in a tweet "people can disagree on issues, but it is outrageous for anyone to suggest that Tulsi is a foreign asset.
Indian American attorney Rik Mehta announced he intends to challenge Sen. Cory Booker in New Jersey's Democratic primary, criticizing Booker for spending more time running for President than looking after New Jersey.
The U.S.-India Strategic Partnership Forum held its annual meeting in New Delhi, featuring prominent business leaders, American ambassador to India Ken Juster and Indian Prime Minister Narendra Modi, who spoke about India's efforts to aid startups and bolster innovation.
Ravi Kapur contributed to this report.
Breaking: Clinton, Gabbard spar in 2016 rehash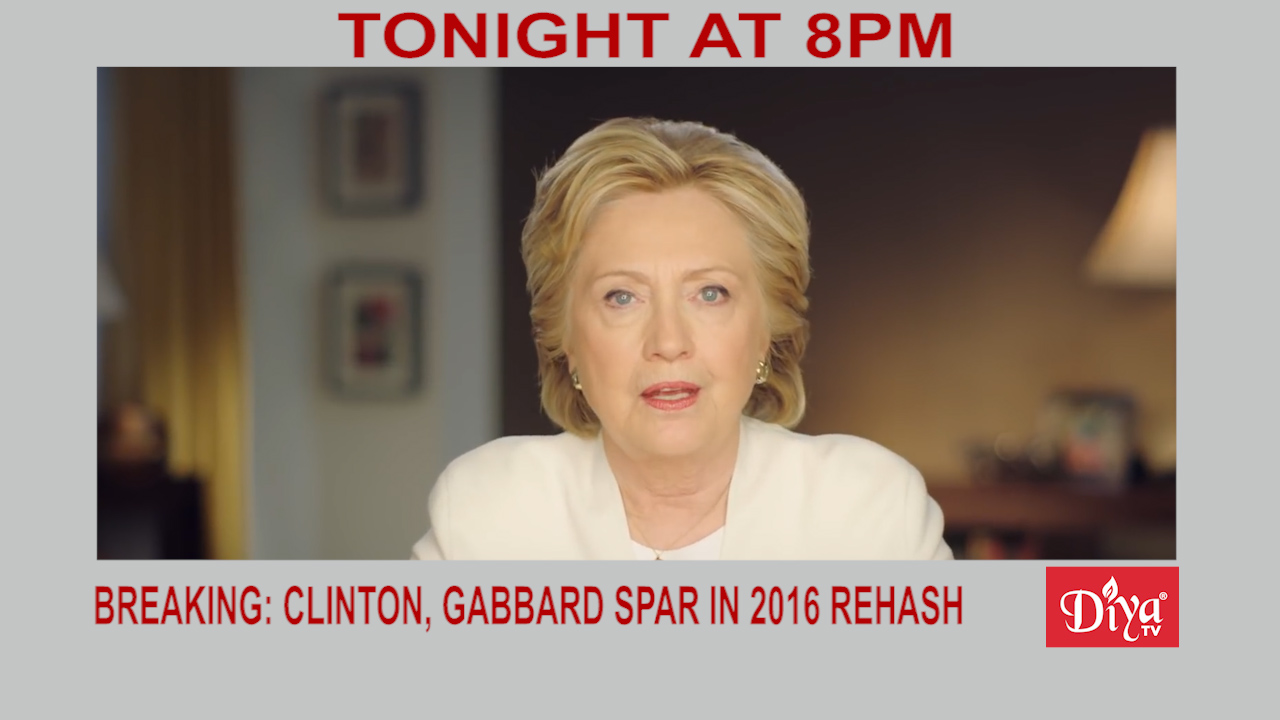 NEW YORK (Diya TV)  — In 2016, former Secretary of State Hillary Clinton was the Democratic nominee, staving off a fierce challenge from Sen. Bernie Sanders. Rep. Tulsi Gabbard decided to resign from her post as Democratic National Committee Vice-Chair to support Sanders over Clinton. Now, both ladies have taken the gloves off, after Clinton on a podcast indirectly referenced Gabbard by saying the Russians were "grooming her to be the third-party candidate." Gabbard responded on Twitter, calling Clinton the "queen of warmongers [and] embodiment of corruption."
The granddaughter of Mahatma Gandhi, Ela Gandhi, spoke at an event organized by Cal State Fresno about how her grandfather's work, was not only was significant in its time, but how those principles still hold relevance in a new century.
The University of Houston announced an endowment to support the study of the Tamil language and culture. Non-profit Houston Tamil Studies Chair made a $2 million commitment to the university to kickstart the study of Tamil heritage. The Tamil language is considered the oldest in the world, spoken by more than 70 million people worldwide, with 250,000 Tamilians in the United States.
President Trump announced Energy Secretary Rick Perry is stepping down from his role to pursue other interests. His deputy Dan Brouillette was nominated as his replacement.
And for all of our incredible viewers in Chicagoland, rescan your TV sets this weekend to watching Diya TV and the rest of the channels in the market. We recommend a high quality VHF/UHF antenna so you can keep getting Diya TV on WRJK Channel 22.1 for free!
Ravi Kapur contributed to this report.